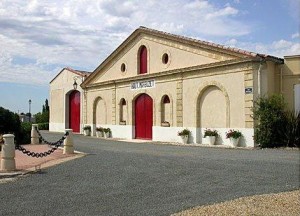 To read tasting notes on the wines of Chateau Haut Marbuzet .
From 1982 to 1990, Haut Marbuzet was on top of their game as they produced outstanding Bordeaux wine. The wines which showed well young were opulent, lush, oaky and filled with soft, ripe fruit. And the best thing was, they were always fairly priced. While their wines remain well priced, the quality seems to have slipped since the 1990 vintage.
Haut Marbuzet has a long history in the St. Estephe appellation. The chateau found the inspiration for their name from the sector they reside in, Marbuzet. Haut Marbuzet was established by Alexander de Segur, who owned a myriad of Bordeaux wine properties. At his death, the land was divided and sold. In fact a portion of the vineyards became a part of Le Crock. In 1825, the land was purchased by the MacCarthy family, who officially established what became Haut Marbuzet.
.
The interesting Duboscq family owns the estate today. Herve Duboscq may have been illiterate until he was at least nine, but he was shrewd.  He built the estate from 17 acres into 143 acres over time.  In 1962 Herve  was joined by his son Henri, who now manages the estate today with his two sons.
It was said that the elder Duboscq at times described Bordeaux wines by comparing them to different female body parts.  He was a character!
The estate is planted to 50% Cabernet Sauvignon, 40% Merlot and 10% Cabernet Franc on a gravel and clay soil, with limestone.  The production of this Bordeaux wine includes being fermented in wood vats and is raised in 100% new oak.