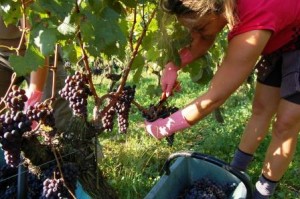 Chateau L'Enclos is a Pomerol with potential. To help bring the level of their Bordeaux wine up to par, in 2010, the American owners made a change in management in the estate they bought in 2006. They hired the smart, energetic, Jean-Christophe Meyrou as their managing director for L'Enclos as well as Chateau Fonplegade, their property in St. Emilion. Meyrou spoke with us about the 2011 L'Enclos and all the changes that are taking place at their Pomerol estate.
Jeff Leve What is the most difficult aspect of running two estates in different appellations?
Jean-Christophe Meyrou "It is very basic time management that takes place when you share the time of the team from one estate to the other and the distance it takes to travel between the properties. The estates are only a few kilometers apart and you need to do that several times a day. In other words, it is only a minor logistic problem. It's not a big deal".
Jeff Leve In 2011, do you think the vintage is stronger in St. Emilion or in Pomerol with your2011 L'Enclos ?
Jean-Christophe Meyrou "I can tell you with 200% certainty. 2011 L'Enclos is the best L'Enclos since 2006. But this is because we have made many improvements in the vineyard selection and also with our microvinification techniques".
Jeff Leve Why were your vines more stressed from the heat on your limestone terroir, than on your gravel based Pomerol soils?
Jean-Christophe Meyrou "Our Cote Sud terroir is a much warmer terroir with its southern exposure than we have in Pomerol. During some of the heat spikes, in St. Emilion at Fonplegade, we reached up to 42°c. It was much less pronounced in Pomerol".
Jeff Leve What took place during your growing season for 2011 L'Enclos?
Jean-Christophe Meyrou "We were lucky because of the exceptional spring. But July and August were too cold. And there was draught. The July rains helped the vineyard to avoid the hydric stress Bordeaux experienced in 2003. Those rains were really needed in St. Emilion and Pomerol. Fortunately things turned around at the end of the harvest as we experienced great conditions in September".
Jeff Leve Do you practice organic farming techniques in Pomerol and St. Emilion?
Jean-Christophe Meyrou "We just started converting to organic in Pomerol. We wanted to have a good experience with this at Fonplegade first to make sure we knew how to control all processes before we did it everywhere".
Jeff Leve What date did you start and finish picking each of your grapes for your 2011 L'Enclos harvest?
Jean-Christophe Meyrou "We started September 16 with the Merlot. Most of the Merlot was harvested between September 20 and September 22. We finished with our Cabernet Franc on September 28".
Jeff Leve Pomerol is often picked earlier than most St. Emilion estates. Yet in 2011, you harvested Fonplegade earlier. Is this normal for your two estates?
Jean-Christophe Meyrou "Yes, normally Pomerol first and then we harvest Fonplegade after". 
Jeff Leve However, this year, you waited longer than usual for the 2011 L'Enclos, didn't you?
Jean-Christophe Meyrou "This year I took the risk to wait as much as possible in Pomerol. For the first time in its history, L'Enclos was one of the very last properties to start harvesting. It was a bet. I am pleased with the results with all three terroirs. Each parcel needed to be looked at differently. This was helped because everything is smaller in Pomerol".
Jeff Leve Do you use different vinification techniques in Pomerol than you utilize in St. Emilion?
Jean-Christophe Meyrou "Yes. At Fonplegade we are starting to age 20% of the wines in cement egg shaped vats. We do not use them at L'Enclos. Each property has its own needs. Part of my job is to make sure we adapt out human influence to each properties unique terroir".
Jeff Leve 2010 is known in part for the combination of high alcohol and low pH. What do you think 2011 L'Enclos will be known for?
Jean-Christophe Meyrou "2011 will be much lower in alcohol than either of the previous vintages, 2009 and 2010. The average potential is around 13.5%. In 2010, we achieved 14.5%. We will also have lower pH levels".
Jeff Leve What were your yields in Pomerol?
Jean-Christophe Meyrou "About 32 hectoliters per hectare at L'Enclos".
Jeff Leve  What specific choices did you make during the vinification?
Jean-Christophe Meyrou "We performed manual pigeage. We also conducted more pump overs at the beginning to help us achieve more of velvet extraction. Our maceration period was a long 38 days. We also performed Micro vinification for the first time in oak barrels & oak tanks. This will help us obtain more elegance, structure and a better definition of the wine".
Jeff Leve Can you explain the process of micro vinification at L'Enclos?
Jean-Christophe Meyrou "We collect the bunches in small crates. Then we make a very strong selection on our manual sorting tables. The berries are placed directly in barrels for the first fermentation. The entire winemaking process takes placed in the barrel".
Jeff Leve What is the result you're seeking with this labor intensive process?
Jean-Christophe Meyrou "The target is to give a better, nicer structure to the wine. It allows for more respect to the grapes. We want to push the fruit in the bottle, and with this microvinification, the integration of oak is always much better at the end. This will bring more elegance and better structure to L'Enclos".
Jeff Leve What about your barrel aging program this year?
Jean-Christope Meyrou "The wine will be aged in 50% new oak and 50% one year old oak for about 18 months".
Jeff Leve Can you please share some technical information about the 2011 L'Enclos? What are your potential alcohol levels, pH numbers and IPT numbers?
Jean-Christophe Meyrou "At L'Enclos, we will be at 13.5% alcohol with a pH of 3.6 and an IPT of 94".