Blind tasting humbles every wine taster.  They could be drinking Bordeaux wine, or wine from any wine region, it does not matter. Tasting wines blind can be an eye opening wine tasting experience.  Any wine lover who argues with point, or does not understand that statement, doesn't participate in enough blind tastings. 
Blind tastings serve multiple purposes.  Blind tasting helps sharpen a taster's palate.  It offers an unbiased view of wines and most importantly, with the right group of people in the proper setting, it's a lot of fun. Blind tasting is not the best way to enjoy wine. It is not always the best way to evaluate a wine.  But it is a good way to sharpen your skills as a taster.
"7 Blind Men is my favorite tasting group." As the name implies, the group is dedicated to blind tasting.  Wines are served in peer groups.  Each member takes turns hosting one dinner a year. The host picks all the wines being served. Steve Matthesen hosted this special night at Valentino's in Los Angeles.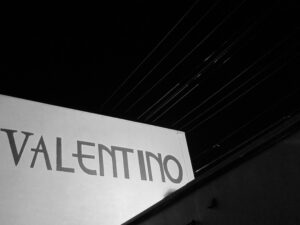 As you'll see, flights ranged from Bordeaux wine, Rhone wine with both Chateauneuf du Pape and Hermitage, along with some very interesting older California Cabernets.
Flight #1 1990 Chateauneuf du Pape
1990 Rayas – Spicy cherries, earth, kirsch, jammy raspberry and spice scents explode from the glass. The palate enjoys layers of soft, ripe, polished, sweet red fruits. This is the epitome of finesse in Chateauneuf du Pape. Fully mature, and stunning in every way, but it's not as deep as it was a 3-5 years ago. There is no reason to hold this wine any longer. 97 Pts
1990 Clos Mt Olivet Papet – Kirsch, barnyard, sour cherry, jammy black raspberry and pepper aromatics open to a wine reeks of wild animal. This is a positive comment. The full bodied, concentrated, powerful wine combines boatloads of ripe and over ripe fruit. The wine finishes with a big mouthful of jammy black cherry and earth. 95 Pts
1990 Beaucastel Hommage to Perrin –  Explosive, pungent aromas of barnyard, black pepper, plum liqueur, black cherry jam, truffle, meat and spice. This wine is huge. But everything is in perfect balance and harmony. Concentrated and dense, this powerful wine coats your palate with essence of Chateauneuf. Still young at 20, this can easily improve for another 20-30 years. This is an amazing wine that offers a mind blowing tasting experience. 100 Pts
Flight #2 Jean Louis Chave Hermitage
1990 Chave – Crushed stone, earth, kirsch, fresh strawberry, red plum forest floor, spice and blackberry aromas make up the complex perfume. The wine is powerful, refined and balanced with an intensity of flavor ending in ripe cassis and cherry sensations. This is edging closer to maturity and merits being tasted today as it's such a stunning Hermitage wine.. 97 Pts
2003 Chave – Inky, black, purple in color, with a nose filled with jammy blackberry, cassis, oak, plum liqueur, licorice and black cherry. Thick, rich, intense, powerful, juicy and concentrated with multiple layers of fat, sexy fruit. The seamless finish remains on your palate for over 90 seconds! This is not a typical Chave. But for me, who cares? It's an amazing wine! Drink now, or hold for decades. This is a serious Rhone wine that deserves to be experienced by wine lovers. 100 Pts
1978 Chave Corked!
Flight #3 Mature California Cabernet
1978 Diamond Creek Red Rock Terrace – Cassis, stone, earth, blackberry, truffle and tobacco get you interested in a powerful full bodied, concentrated wine that served blind, would fool any taster into thinking it was an upper level Pauillac from a good vintage. 96 Pts
1978   Diamond Creek  Volcanic Hill – This sublime wine once again showed why it remains in such high regard. Stunning aromas of Cuban cigar, truffle, stone, cassis, blackberry and forest floor paired perfectly with the layers of pure cassis and black fruits. Powerful, rich, balanced and at 32, still youthful. This was served to me in a blind tasting and was sure it was First Growth Bordeaux! Life is too short not to try this wine at least once. 98 Pts
1978 Gravelly Meadow Diamond Creek Corked!
Flight #4 1989 Bordeaux Wine
1989 Haut Brion Pessac Leognan  – The perfume pops from the glass like a Jack in Box that has been waiting to be released for decades. Cassis, earth, Cuban cigar, hot rocks, truffle, plums, earth, tobacco, smoke, tar and mocha scents take over your nose. Intense purity of fruit, powerful, refined and elegant, this is what great Bordeaux is all about. The seamless finish is pure silk and velvet. 100 Pts
1989 Clinet-  Pomerol Filled with fresh, ripe, juicy black and red plums, smoke, coconut, truffle, floral and dark chocolate in the nose, the wine feels like crushed silk and velvet on your palate. This sensuous, rich, opulent deep plummy Pomerol wine is drinking perfectly today. 97 Pts
1989 La Mission Haut Brion Pessac Leognan – Intense smoky aromas complicated by scents of hot stone, tobacco, cassis, blackberry, truffle, earth and spice. Full bodied, concentrated and powerful, with layers of ripe, juicy dark berries, the wine remains in your mouth for close to 60 seconds! At 21 years of age, this compelling Pessac Leognan is still young. While it offers an intense experience today, the sublime Bordeaux wine is is only going to get better with more time. 99 Pts
Flight #5  Cheval Blanc
1983 Cheval Blanc – Floral, spice, truffle, plum, earth and black cherry aromas lead to waves of soft, opulent, rich, ripe, polished plums. Round, soft, sweet and sexy, this is fully mature and due to the reputation of the vintage, this wine sells for a fair price for a Cheval Blanc of this quality. 97 Pts
1982 Cheval Blanc – Coconut, truffle, flowers, plums, cassis, black cherry, chocolate, fresh herbs, Asian spice and espresso bean. Silky, soft and round, medium/full bodied and sexy in style, this Bordeaux wine is slightly past full maturity. 95 Pts
1990 Cheval Blanc – Deep, dark and filled with fresh plums, flowers, truffles, chocolate and coconut, that reminded me of an almond joy candy bar with hints of black cherries. Luscious, soft, sexy, refined elegance with a sense of purity. This intense, decadent wine coats your palate with plush, ripe, black and red fruits. The length finish is seamless. Along with the perfect 2000, this St. Emilion  remains my favorite current of Cheval Blanc. 99 Pts
Next week, it's time for the next dinner and tasting. It's going to be another night that everyone in the group is already looking forward to attending!  Details will be posted…
If you have any questions or comments, please feel free to post.