Vieux Chateau Certan Pomerol, Bordeaux wine producer profile, with a history of the property, plus information on their wine making techniques and their terroir, along with wine tasting reviews and links.
Vieux Château Certan is one of the oldest Bordeaux wine properties in Pomerol. The estate's history dates all the way back almost 1770! At that time, it was owned by the popular Demay family. The Demay's were well known for their work in the Bordeaux wine trade. They were successful negociants and wine merchants. The wines were orginally sold under the name of Sertan.
In 1924, the right bank estate was sold to the Belgian Bordeaux wine merchant, Georges Thienpont. property. Many successful wine merchants and negociants have owned various chateaux at one time or another. But this was a special case. as the relationship to Georges Thienpont was important.
Thienpont wanted to know which of his client's were buying his wine. But he needed to be discreet about it. That gave him the idea of placing the now famous pink capsule on the bottle. The capsule stood out making it easy for Thienpont to see if his clients were purchasing his wine without having to ask them.
The estate is currently managed by Alexandre Thienpont.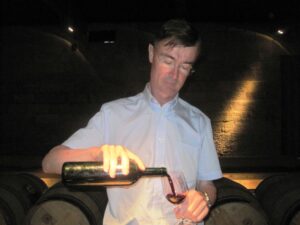 Vieux Chateau Certan sits on the top of the Pomerol plateau. It's located directly across the street from Certan de May and not far from Petrus, Lafleur or Le Pin. Le Pin is owned by a different member of the Thienpont family. Alexandre runs Vieux Chateau Certan and manages the vineyards for Jacques Theinpont.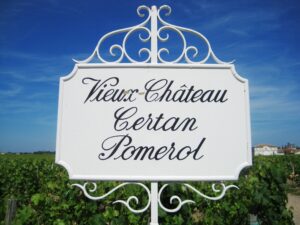 Vieux Chateau Certan is an elegant Pomerol. It's full bodied, rich and offers ripe blackberry, plum, floral, chocolate and spice aromas. The texture can be pure silk and velvet. The wine is effortless to drink, yet it's complex and ages well. The style varies depending on the vintage. Some years are better for Cabernet Franc which provides a more structured style of wine. Other vintages allow the Merlot to develop more ripeness and opulence along with a lush quality.
For an idea on which vintages were better for Merlot, Cabernet Franc or both;
2009 is a Merlot year, 2008 Cabernet Franc, 2007 Merlot, 2006 Cabernet Franc, 2005 Merlot, 2004 Cabernet Franc, 2003 Cabernet Franc (The vintage is considered an off vintage by Thienpont), 2002 Merlot, 2001 Merlot, 2000 Merlot and Cabernet Franc, 99 Merlot, 98 Merlot, (No Cabernet Franc made the blend, 90% Merlot, 10% Cabernet Sauvignon), 97 Merlot, 96 Cabernet Franc and 95 favored Merlot.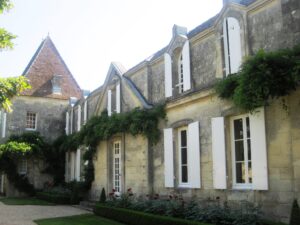 Previously, I thought the best vintages, which only happen on rare occasions produce equally strong Merlot and Cabernet Franc. I changed my mind after tasting the amazing 2009, which is a year that favored Merlot. In that year, the blend is 84% Merlot, 8% Cabernet Franc and 8% Cabernet Sauvignon. In 2009, the chateau produced on the best Pomerol's as well as one of the top wines from the vintage. The 13.5 hectares are planted on clay and gravel soil. The vineyards are planted to 60% Merlot, 30% Cabernet Franc and 10% Cabernet Sauvignon that average 35 years of age. Average production is 50,000 to 60,000 bottles.