This is the cover of the just released graphic novel about the famed wine writer and critic, Robert M. Parker. The Robert Parker Comic book, "The Seven Heady Sins" (Les sept péchés capiteux) – subtitled "L'Anti-Guide Parker" is a supposedly humorous look at Parker who commits "seven heady sins" against French wine.
Parker wrote on his web site,  "At least my daughter thinks this is the coolest thing to happen to her Dad…and as a lover of humor, I guess it might be hilarious." Bob has one of the best senses of humor of anyone I know.  He took it all in stride saying,  "I was holding out for a puppet spot on South Park's next movie Team America II….or at least a brief cameo as a bartender in the next Pirates of the Caribbean." And why not? At the famed Parisian bistro l'Ami Lous, Johnny Depp asked Parker for his autograph!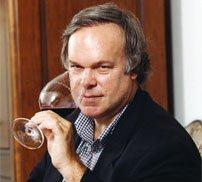 The graphic novel takes on wine makers and owners from Jean-Luc Thunevin,  Alain Raynaud,  Michel Rolland and the Bordeaux wine negociant Jeffrey Davies. Davies who also sports a wicked sense of humor, along with a sense of fun, (or is that pun?) commented on the pun in the books title saying, "Seven Cardinal Sins" vs. "Seven Heady Sins" is no pun at all. Why is it the name of the Filipino ecclesiastic is not recognized as one of the punniest of all time? After all, his name IS Cardinal Sin!"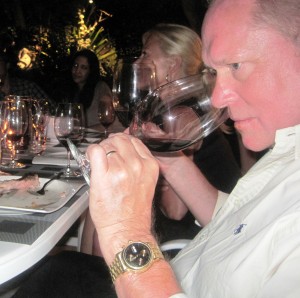 The graphic novel makes fun of Parker for promoting over ripe wines. Rolland and  Davies are cast as abusing the 100-point scoring system. The novel opens after Parker retires at the age of 70. Bob was born in 1947. In the story, Parker receives a personal invitation to return to Bordeaux. When Bob arrives, he's blindfolded and brought to a secret underground cellar in St Emilion.
At that point, seven purple hooded judges, condemn him for committing sins against French wines.
Bob is forced to blind  taste three different wines.  In the tasting, Bob says the wines taste like marmalades.  To his surprise, the wines turn out to be 2005 Valandraud. Plus 1995 Le Pin. And a wine Bob has scored 100 Pts on numerous occasions, 2000 Pavie.  The Wine Cellar Insider agrees with Bob on the greatness displayed by 2000 Pavie.
Parker in another display of good sportsmanship told Decanter magazine, "'I loved it…absolutely hilarious…and to be a member of TOON TOWN a great honor….hope it is a great success and gets translated into English and other languages….all the best…Bob."
Davies told us on the phone, "He was disappointed that the comic did not have the same sense of humor was displayed in the title, which he felt was very clever.  As for the content, it was a rehash of the Agostini tome, titled Parker, Anatomy of a Myth and the Elin McCoy book, the Emperor of Wine."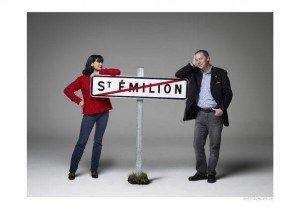 Jean-Luc Thunevin wrote in his blog, "Well, it always makes an impression to see my face (designed by Philippe Bercovici), my history, my name and Valandraud in a comic book! and as Denis Saverot says, being in the legend."
Parker wrote this morning that after reading it, he had tears in hiseyes, he was laughing so hard. He added, "I hope it comes out in English as you have to have a good understanding of idiomatic French to get the full sarcasm and wicked humor in parts. The caricatures are precious…I suspect some of the "victims" mocked and ridiculed (but in a belly-busting way),won't be happy about their portrayal, particularly if they don't have a perverse and politically incorrect sense of humor as I do…but I put this up there with my greatest accomplishments….a full-fledged heroic member of TOON TOWN…..HIGHLY RECOMMENDED. 96+ too bad I don't get any commissions on the sales….but I suspect my lecture fee rates can easily be doubled."
As we wrote, Bob clearly has a sense of humor!
If you have comments on Parker or this article, please feel free to share your views. We want to hear from you.