Chateau Pichon Lalande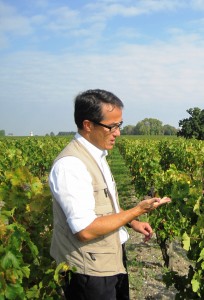 The Wine Cellar Insider talks with Thomas Do Chi Nam of Pichon Lalande about the 2010 Pichon Lalande Harvest.
Thomas, when did you start your 2010 harvest?
"We started harvest at Pichon the 22th of  September. We worked on a very
precocious merlot block. Then we stopped for a few days."  When did you resume?   "The 27th we restarted with the whole team, picking young vines, interplant's, then all merlot blocks. We stopped again for a while until Monday the 4th of October". What happened next? "The 4th of October we started cabernets sauvignons blocks. We are still still
harvesting the cabernet.
Many producers in the Medoc  have shared that 2010 will be a small vintage. You have confirmed that for Pichon Lalande as well.  Why is 2010 a year marked by low yields?
"The yield is low because of coulure and millerandage on merlots. And, because the dry summer berries are small. However, the grapes are healthy because of viticulture process and the very dry summer."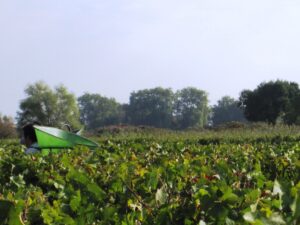 I was with you in the vineyards  this same time last year. Have you made changes  in the vineyards or in your Bordeaux wine making techniques?
"Since last year we  changed the working organization of the vineyard team. This is a key point. The quality of the work is more precise thus better."
Some Pauillac vintners are trying new ideas with the  2010 harvest. Is Pichon Lalande experimenting as well?   We are working on an experimental extraction process. But because it is experimental, it is still confidential. We prefer not to communicate before knowing interesting results."
We understand and look forward to hearing about it after you have seen if it works for you or not.  Many chateaux  in Pauillac are using optical sorting machines in 2010.  Are you also using them at Chateau Pichon Lalande ?
"We visited wineries which use these machines.  It would be very interesting to observe these machines during a difficult vintage with a lot of things to sort. But the grapes are almost perfect in 2009 and 2010."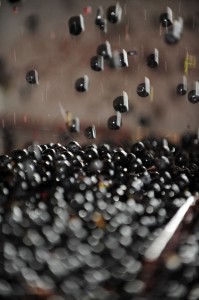 Pichon Lalande may not be using optical sorting in 2010, but they are happy with the results of their destemming process. 
"The other important point in the grape reception process is the  destemer. If the machine works properly, you can obtain nice berries without green shoots coming from the stems. If it doesn't, you may have damaged berries and too much stem shoots in your must. Even if you would installed an optical sorting machine, after a bad distemper the result would not be very good."
While it's still early, it's natural for consumers to speculate on the quality and style of the harvest.  At this stage of the game, what are you thinking about 2010?
"I am not able to tell you today what this vintage exactly look like because
we are still harvesting and wine making. But I can tell you, I am very
optimistic about 2010 vintage."