1989 Chateau Lynch Bages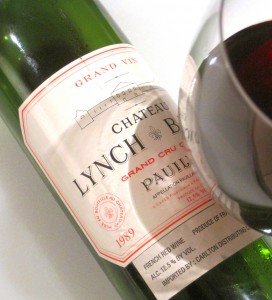 1989 Lynch Bages is the product of a mixed year for the Medoc.  The First Growth's did not perform at their level.  But some of the Second Growth's hit it out of the park.   I've tasted 89 and 90 Lynch Bages blind and not on several occasions over the years. At times, I've often felt the more elegant 1990, with its refined structure and riper tannins was the better wine, The 89, as good as it is, tasted bigger and more concentrated. Yet at times I thought the 90 was the better wine.  At 21 years of age, it was time to discover which had finally matured, the wine, or me?  The only way to find out was to pop the cork!  The wine remained in the decanted one hour before tasting. 
The wine paired perfectly with a grilled Pork Rib Cap, demi glace and slow roasted, seasonal squash.
I remember buying this close to a year after it was released for about $30 a bottle!  Those were the days… 96 Pts
I asked Jean-Michel Cazes which year he liked more, 1989 or 1990. Cazes replied, "2 vintages for the long haul. I like both but I believe 89 will outlive 90 in a distant future… But I won't be around to verify !"
If anyone reading this has tasted 1989 or 1990 Lynch Bages recently and wants to share their thoughts, please feel free to post.