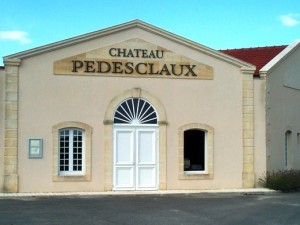 Chateau Pedesclaux, Pauillac, Bordeaux wine , Fifth Growth, producer profile, with wine tasting notes, wine ratings, a history of the property, information on wine making and terroir, along with wine tasting reviews. If you want to read about other important, Bordeaux Chateaux: Links to all Bordeaux Wine Producer Profiles
Chateau Pedesclaux was created by its namesake, Pierre Urbain Pedesclaux in 1810 when he purchased vineyard land from another Pauillac estate, Grand Puy. Pedesclaux eventually sold the Left Bank estate to Count Gastebois. Pedesclaux passed through numerous owners hands until 1950, when Lucien Jugla bought Chateau Pedeasclaux. Jugla was not a wealthy landowner. He worked at the estate for 20 years before he as able to purchase it.
In 1965, Pedesclaux was passed to his five children. Chateau Pedesclaux was moderenized over a three year period, finishing in 2007. In 2009, the family sold Pedesclaux to Jacky Lorenzetti who already owned Château Lilian Ladouys in St. Estephe. The transaction was completed with the financial engineering assistance of Vincent Mulliez to whom Lorenzetti has given responsibility for managing the new acquisition, as he did earlier for Lilian Ladouys. In February, 2013, Jacky Lorenzetti added to his list of Bordeaux estates when he purchased 50% of Chateau d'Issan in Margaux.
Jacky Lorenzetti enlarged the vineyards of Chateau Pedesclaux with the purchase of 12 hectares from the of Milon plateau. These Medoc vines are situated next to parcels owned by Chateau Lafite Rothschild and Chateau Mouton Rothschild.
The 48 hectare, Left Bank vineyards of Pedesclaux are planted to 50% Cabernet Sauvignon, 45% Merlot and 5% Cabernet Franc. The overall average density is close to 8,333 vines per hectare. On average, the vines are 35 years of age, although some vines are much older and date back as far as 1950. The terroir of Chateau Pedesclaux is gravel over clay subsoil. Since Jacky Lorenzetti purchased the estate, a new style of vineyard management took place which includes debudding, desuckering, deleafing, crop thinning and hand-harvesting into small plastic lugs.  Laser optical sorting was conducted for the first time in 2009 at Pedesclaux.
The wines of Pedesclaux are produced in the following manner; After a 10 day cold soak at 8° Celsius, the juice was fermented in 29, stainless steel tanks that range in size from 50 hectoliters ro 150 hectoliters. The extraction is achieved through délestages and pigeages. Malolactic fermentation takes place in a combination of vat and French oak barrels with 30% of the wine going through malolactic in barrel. The wine of Chateau Pedesclaux is aged in 60% new, French oak barrels for an average of 12 months. For the first two months of barrel aging, the wine is aged on its lees. On average, Chateau Pedesclaux produces close to 9,000 cases of Bordeaux wine per year. There is a second wine, Lucien de Pedesclaux.
Wine Tasting Notes
Displaying 3 notes | 4251 Views Sorted by vintage
2012 Château Pedesclaux

63% Cabernet Sauvignon, 32% Merlot and 5% Cabernet Franc which reached 13.2% alcohol. The wine opens with cassis, stone and lead pencil notes. Medium/full-bodied with fresh, crunchy cassis flavors, the wine shows a bit of dust in the tannins. 89-91 Pts

89

points - Tasted

Apr 23, 2013

340 Views

2011 Château Pedesclaux

Blending 65% Cabernet Sauvignon, 30% Merlot and 5% Cabernet Franc, the wine reached 12.83% alcohol. This is the second vintage to feature more Cabernet Sauvignon due to newly purchased vines. Consulted by Emmanuel Cruse from Chateau d'Issan in Margaux, the wine offers cedar wood, gravel, pepper and cassis. One of the most obscure classified growths in the Medoc, Curse decided on a more stringent selection for the wine. Opening with earth, cassis and spice, this medium-bodied wine ends with crisp cassis. 88-89 Pts

89

points - Tasted

Apr 10, 2012

1624 Views

2010 Château Pedesclaux

Pedesclaux, a contender for the most obscure classified growth in Pauillac opens with earth, cassis and spice. This medium/full bodied wine ends with a tannic cassis and blackberry finish. 88-90 Pts

89

points - Tasted

Apr 20, 2011

2287 Views