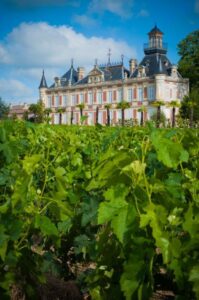 Chateau Marquis d'Alesme Becker Margaux Third Growth, Bordeaux wine producer profile, with wine tasting notes, wine ratings, a history of the property, information on wine making and terroir, along with wine tasting reviews. If you want to read about other important, Bordeaux Chateaux: Links to all Bordeaux Wine Producer Profiles
Chateau Marquis d'Alesme can trace their roots all the way back to 1585. 31 years after the estate was created, they began planting vines creating their Bordeaux wine vineyard. The name of the property, Marquis d'Alesme comes from one of the early aristocratic families from the Bordeaux wine region. Like many Bordeaux chateaux, Marquis d'Alesme changed hands during the French revolution.  In 1809. the Medoc chateau was sold to a Dutch wine merchant, Jean Bekker Terrlink, who changed the name of the property to include his middle name, Château Marquis d'Alesme Becker.
Comte Jean-Jules Théophile Chaix-d'Est-Ange bought the Bordeau wine estate in the early 18th century. He was also the owner of Château Lascombes, which he obtained from his father. He wanted to combine both Bordeaux wine making estates into one large Medoc property. He passed away in 1923 before he was able to create the single vineyard. The original Marquis d'Alesme château became the office for Chateau Lascombes, with the original château of Desmirail taking its place.
A succession of owners followed until 1938 when the property was sold to Edmond Ritz from Alsace. His grand-son, Jean Claude Zuger inherited the estate. If the Zuger name sounds familiar, it is because they are the owners of another Bordeaux wine property, Chateau Malescot St. Exupery which is also located in the Margaux appellation.
In 2006, Marquis d'Alesme was once again sold. Hubert Perrodo purchased it. Perrodo already owned another Margaux vineyard, Chateau Labegorce, which he obtained in 1989. Sadly, Perrodo was killed in a skiing accident shortly after buying the property.  The estate is currently managed by the daughter, Nathalie Perrodo.
The 15 hectare Left Bank vineyard of Chateau Marquis d'Alesme is divided into 3 unique terroirs. A plot located next to the chateau that consists of silica and gravel soil and some clay is planted to 100% Merlot. A parcel with silica and gravel situated close to the D2 highway is planted to 50% Cabernet Sauvignon, 45% Merlot and 5% Petit Verdot. The third section is mostly young vines and is the source for their second wine, Marquise d'Alesme.
Chateau Marquis d'Alesme is vinified in temperature controlled, traditional cement vats. Malolactic fermentation takes place in tank. The wine of Chateau Marquis d'Alesme is aged in 60% new, French oak barrels for an average of 18 months.
The new owners now use the shorter version of the wineries name, Chateau Marquis d'Alesme. They dropped the word Becker, helping to make the wine easier to market. There is a second wine, Marquise d'Alesme. On average, the annual production of Chateau Marquis d'Alesme is 4,000 cases per year.
Prior to 2010, the wines from Chateau Marquis d'Alesme were not exciting. But things turned around for the estate with their 2010 Bordeaux wine. With a spare no expense attitude, which included building a new fermentation cellar equipped with a combination of state-of-the-art stainless steel vats and new French oak tanks. The selection process both in the vineyards and cellars is also much more severe. The estate has also hired Michel Rolland as their consultant.  All of this adds up to the fact that this is now a Margaux property to watch.
www.chateau-marquis-dalesme.fr
Wine Tasting Notes
Displaying 4 vintages | 6933 Views Sorted by vintage
2012 Château Marquis d'Alesme

Medium-bodied with good freshness and a floral, earthy, licorice and cassis nose, the wine is a success for the vintage. 89-91 Pts

90

points - Tasted

Apr 25, 2013

326 Views

2011 Château Marquis d'Alesme

From an assemblage of 58% Cabernet Sauvignon, 30% Merlot and 12% Petit Verdot, the wine will be aged in 80% new oak for between 18 and 20 months. Yields were 32 hectoliters per hectare. Ruby in color with coffee, licorice and blackberry. Round and plush in texture, the wine finishes with sweet, ripe cassis and dark chocolate. 90-91 Pts

91

points - Tasted

Apr 19, 2012

1237 Views

2010 Château Marquis d'Alesme

Deep purple in color, licorice, earth, espresso and blackberry, the wine is concentrated, round and polished, ending with sweet blackberry, chocolate and a kiss of oak.

91

points - Tasted

May 4, 2012

1635 Views

Marquis d'Alesme From an assemblage of 70% Cabernet Sauvignon, 15% Merlot, 10% Cabernet Franc and 5% Petit Verdot, the wine reached 14% alcohol, but there is no sensation of heat in the beautiful Margaux wine. Deep purple in color, with a perfume of licorice, flowers, earth and sweet dark berries, the full bodied, round textured wine ends with a long, fresh, chocolate covered blackberry finish. With the efforts of Marjolaine Maurice De Coninck, Delphine Kolasa, new cellars and the hiring of Michel Rolland, this property is experiencing a much needed renaissance. If prices remain fair, this could be one of the top wines to seek out for a combination of quality and value in the Medoc. 92-94 Pts

93

points - Tasted

Apr 20, 2011

1963 Views

2009 Château Marquis d'Alesme

Blending 60% Cabernet Sauvignon, 17% Cabernet Franc, 15% Merlot and 8% Petit Verdot, this ruby colored wine offers light aromas of chocolate covered cherry, pepper, licorice, earth and mint. On the palate, this medium bodied, soft textured wine features bright, tart cherry and green olive flavors. I'd drink this on the young side. Things took a big step in the right direction with the 2010 wine, which is one of the better value plays from Margaux.

88

points - Tasted

Feb 9, 2012

1772 Views