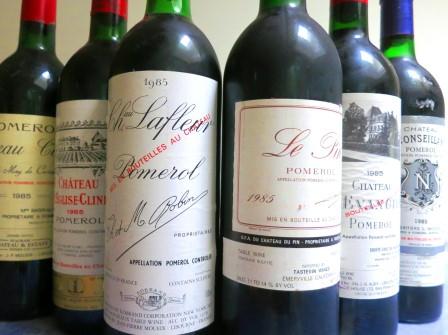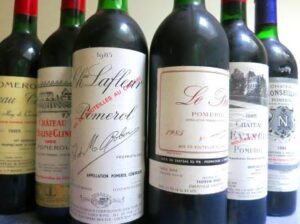 1985 Bordeaux Wine Vintage Summary with harvest information, vintage characteristics, buying tips and links. If you are seeking more in-depth information on anything and everything related to the Bordeaux wine region please see the: All About Bordeaux Wine Guide
1985 Bordeaux wine is charming. It's not a vintage of power, it's about elegance and refinement. However, 1985 Bordeaux wine is not a vintage that performed well in every appellation. The stars of 1985 Bordeaux wine clearly come from Pomerol.
While the majority of the growing season was average, the 1985 Bordeaux vintage did not get off to a good start. January recorded the coldest temperatures since 1956! April, May and June were at best, close to average. Flowering occurred in early June, under cool, damp conditions. July was slightly warmer and wetter than usual. This was followed by a cool August. September was perfect, which once again, saved the vintage! September was the perfect combination of  hot, sunny and dry. The 1985 Bordeaux harvest got off to a good, but late start September 29. In fact, this was latest Bordeaux harvest start in the decade! Merlot excelled in 1985, which is naturally how Pomerol became the appellation of choice. Cabernet Sauvignon and Cabernet Franc did not achieve full ripeness for many Bordeaux chateaux.
.
1985 Bordeaux wine are generally speaking, elegant, round and polished.  They lack the depth of the great years and the ability to age for generations. But few vintages offer this much harmonious charm. Due to the quality of the Merlot, Pomerol is the most succesfull appellation in the vintage. Interestingly, in Pomerol, the famed Petrus is at best, a moderate wine. The same thing can be said about Trotanoy. Better wines were produced by L'Evangile, Certan de May, La Conseillante, Lafleur, Le Pin and L'Eglise Clinet. In fact, 1985 marked the resurgence of Chateau L'Eglise Clinet which has continued to improve and excel in vintage after vintage since their 1985 Bordeaux wine was first released. 1985 Bordeaux wine is moderate in St. Emilion. Some nice wines, that are fully mature were also produced in the Medoc and Pessac Leognan. In fact, in recent tastings, Chateau Haut Brion has consistently proven to be one of the top wines of the vintage.
1985 Bordeaux is not a vintage for the sweet, white Bordeaux wines of Sauternes and Barsac. While the dry conditions led to outstanding growing conditions for the red wines, the drought brought on good sugar levels,  there was not enough moisture to aid in the development of botrytis.
Fully mature, most 1985 Bordeaux wine require drinking by 2020.  Old timers say, this is a modern day version of 1953.  If that's the case, perhaps the wines have a longer life than expected as many 1953 Bordeaux wines are drinking great today.
The following list of Bordeaux wines represent the wines offering a high ratio of price and quality for the vintage:  1985 Best Bordeaux wine for the money today
To read about other Bordeaux vintages from 1945 to today: Bordeaux Year to Year Detailed Vintage Reports & Guide 1945 to Today