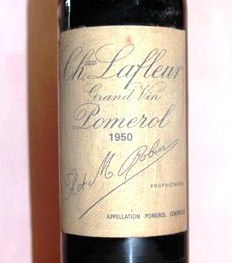 1950 Bordeaux Wine Vintage Summary with harvest information, vintage characteristics, buying tips and links. If you are seeking more in-depth information on anything and everything related to the Bordeaux wine region please see the: All About Bordeaux Wine Guide
The 1950 Bordeaux vintage is the result of a hot, dry summer. June was perfect. With average temperatures of 69 degrees, with warm days, that reached up to 101 degrees June 29, cool nights and no rain. July was also close to perfect with average temperatures into the low 70's with temperatures spiking up to 92 degrees July 20. It was a dry month with no rain. August was quite similar with temperatures peaking at 91 degrees August 20. September was cooler, with average temperatures into the mid 60's. Everything was in place for a strong 1950 Bordeaux vintage, until the rains came during harvest.
Those conditions created a large harvest for the vintners. As a comparison, 1950 Bordeaux yielded twice as much fruit as was produced the year before, in 1949.  1950 Bordeaux wine is a legendary vintage for Pomerol. St. Emilion  and Pessac Leognan, which all produced wines of very high quality.
Because the Pomerol appellation picked early as always, many of the best wines from that Right Bank commune were of superb quality in that year.  The wines of Pomerol avoided the problems suffered by the other Bordeaux appellations as the harvest progressed. 1950 Bordeaux wine is almost impossible to find today. If they do come up for sale, prices are very high. If you have the money, and the wines have been stored correctly, they can deliver stellar tasting experiences.
1950 Bordeaux wine from Pomerol are in fact modern day legends!  However, 1950
Cheval
Blanc
tasted a few years ago was also stunning. It's quite possible that other 1950 Bordeaux wine from
St. Emilion
that came the best terroir were also successful,
Ausone
,
Figeac
,
Pavie
,
Angelus
,
Beausejour Duffau
and
Canon
are worth considering, if you can find a bottle. The wine of the 1950 Bordeaux vintage, according to reliable sources is Chateau
Lafleur
. All the wines from the Pomerol plateau are well-worth buying, if you can afford it.
Petrus
,
Vieux Chateau Certan
,
Le Gay
,
Trotanoy
,
Latour
a' Pomerol and L'Eglise
Clinet
are a few of the more famous examples. The sweet 1950 Bordeaux wine of
Sauternes
and
Barsac
were also quite successful in this vintage. The white Bordeaux harvest did not get off to good start with damp conditions, but it was saved by the warmth brought on by the much needed, Indian summer.
.