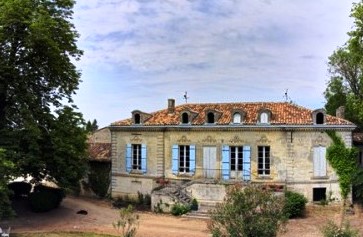 Learn everything about Chateau Coutet St. Emilion with wine tasting notes, wine and food pairings, best vintages, a history of the property, information on the vineyards, and winemaking. If you want to read about other important, Bordeaux Chateaux: Links to all Bordeaux Wine Producer Profiles
Chateau Coutet History, Overview
When most people think of Chateau Coutet, they focus on the Barsac estate. However, there is a red wine producer in Saint Emilion that shares the same name. The two vineyards share the same name but are not connected, except that both properties share a long history.
Dating back to the early 1600's Chateau Coutet St. Emilion was already a small, vineyard. The property has remained in the hands of the Beaulieu family for almost 300 years! In fact, the Beaulieu family has owned the vineyard since 1784! That is close to a record in all of Bordeaux, let alone, St. Emilion for continuous ownership by the same family.
Chateau Coutet in St. Emilion has not grabbed a lot of attention from consumers. Perhaps that could change in 2014, due to a recent invention for vineyard management created by the owner of Chateau Coutet, Xavier David Beaulieu.
In 2014, Xavier David Beaulieu, the current of Chateau Coutet introduced the Vitirover. The Vitirover is a drone for growers to use in their vineyards. Powered by solar energy. using GPS technology to maneuver in the vineyards, vineyard managers can fly the drone using an app on their smartphones!
The Vitirover will help growers with instant diagnostics allowing for immediate identification of any problems in the vines. The Vitirover also comes equipped with infrared camera lenses that allow growers the ability to also detect levels of ripeness on a parcel by parcel basis, as well as even on a vine by vine basis!
Bernard Magrez of Chateau Pape Clement in Pessac Leognan and Basile Tesseron of Chateau Lafon Rochet in St. Estephe was among the first chateau owners to embrace the new technology.
Chateau Coutet Vineyards, Terroir, Grapes, Winemaking
The 13-hectare vineyards of Chateau Coutet are planted to 60% Merlot, 35% Cabernet Franc and 5% Malbec, with vines that are on average 32 years of age. It might not seem like a lot to find as much as 5% Malbec in a Bordeaux vineyard, but with their Malbec vines, Chateau Coutet St. Emilion has one of the higher densities of Malbec plantings in the Right Bank.
The vineyard is planted in one, large, single parcel, not far from Chateau Franc Mayne or the village of Saint Emilion. They have a terroir of sand, clay, and limestone soils. The vineyards are farmed using 100% organic farming techniques.
The wine is vinified in traditional, cement tanks. 85% of the wine is aged in 20% new, French oak barrels for about 18 months. The other 15% is aged in the cement vats.
The best vintages of Chateau Coutet Saint Emilion are: 2022, 2021, 2020, 2019, 2018, 2017, 2016, 2015, 2010 and 2009.
On average, the production of Chateau Coutet St. Emilion is close to 4,000 cases of wine per year. There is a second wine, Demoiselle de Coutet, which was previously sold under the name of La Chartreuse de Coutet. The property also makes a special Cuvee, Cuvee Emeri, that is made from a selection of their best parcels.
When to Drink Chateau Coutet, Anticipated Maturity, Decanting Time
Chateau Coutet is better with 1-3 years of bottle age. Of course, that can vary slightly, depending on the vintage. Chateau Coutet is best enjoyed in the first 2-8 years of life. Younger vintages can be decanted for up to 1 hour or so. This allows the wine to soften and open its perfume. Older vintages might need very little decanting, just enough to remove the sediment.
Serving Chateau Coutet with Wine, and Food Pairing Tips
Chateau Coutet is best served at 15.5 degrees Celsius, 60 degrees Fahrenheit. The cool, almost cellar temperature gives the wine more freshness and lift.
Chateau Coutet is best served with all types of classic meat dishes, veal, pork, beef, lamb, duck, game, roast chicken, roasted, braised, and grilled dishes. Chateau Coutet is a perfect match with Asian dishes, hearty fish courses like tuna, mushrooms, and pasta as well as cheese.
Château Coutet (St. Émilion) Wine Tasting Notes
1 Vintage 3,682 Views Sort by Vintage-Rating
2010
Château Coutet (St. Émilion) (St. Émilion Grand Cru)

Medium bodied, easy drinking with fresh, bright red, plums and cherries, paired with earth, spice and leafy notes. This is ready to go.

3,682 Views

Tasted

Nov 8, 2017