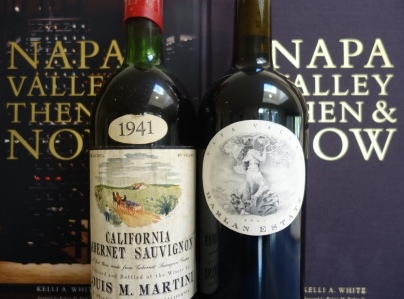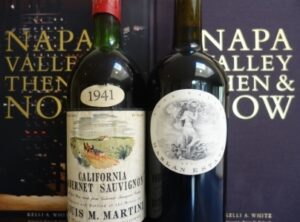 "Napa Valley Then & Now" is a coffee table book. No, it's bigger than that. I have friends in New York that wish they had a coffee table this big! This book is huge, making it difficult to hold and read. But that should not stop you from checking it out. At 1,255 pages, there is a lot discover and even more to like in "Napa Then and Now." Portions of the book are great. Parts of the book are superfluous. Similar to wine tasting, it's going to come down to personal taste and what you're hoping to find. But make no mistake, it's a book penned by a passionate author, that loves and clearly understands the subject she has written about.
While the book is titled "Napa Valley Then & Now," the book focuses more on the now, and less on the then. In the historical chapter, 17 pages are devoted to Napa Valley history starting in 1821. But with 9 pages of vintage photographs, only 7 pages covered the regions rich History of California Wine and the Napa Valley.
"Napa Valley Then & Now" is going to appeal to some readers more than others. For the true California wine geek, and those that are interested in understanding what goes into a vineyard, as far as the soils, terroir and a quick historical overview has to offer, this is a good book. It's certainly not complete. Even with its whopping 1,255 pages, there is a lot of ground that is not covered. There are estates I would consider minor in the book, that if I were the author, I would not have included. There are other wineries I would have added to the book, had I penned it. Additional photographs of people and wineries, instead of pages that consist of a point of sales bottle shot would have made this book a more enjoyable read.
One last minor quibble before I return to what's good about "Napa Valley Then & Now." My guess is, due to the subject matter and presentation, most of the people buying this tome will be older. Darker print would have made this a little easier for its targeted audience to read. But Kelli White is the author. This is her point of view on what matters to her, as well as her artistic vision, and she certainly spent a lot of time working on this opus.
The tasting notes on many of the great Cabernet Sauvignon based wines have their own style. Striving to be different, Kelli White avoids the commonly accepted 100 Pt system, leaving you trying to guess which wines she likes more or less than other wines tasted. This will of course thrill all those folks that cannot stand reviews utilizing the 100 Pt system. In her opening chapter, Kelli White explains she prefers letting the narrative stand on its own, without scores. I do not agree. But this is her book. The biggest loss of value in her tasting notes was not including the date when the wine was tasted. This is a problem for those that are not aware of when they were tasted. For example, she might have found a wine, fresh, vibrant and lively. But that was how the wine could have shown years ago. That point of reference is vitally important. There are very few people other than Kelli White that have tasted this many different wines from "Napa Valley Then & Now," especially when it comes to vintages from the 1970's, 1960's and 1950's. The date of the tasting note is a crucial piece of information excluded from the book.
Let's get back to why "Napa Valley Then & Now" deserves a place on your book shelves, or on top of a very large table. OK, as a table! Wines are made in the vineyard. That is the number one concept in making fine wine. Without great terroir that allows you to produce ripe grapes, you are never going to make great wine. It's that simple. The soil, terroir and how the vineyard is farmed, along with choices made by the grower and wine maker will create the wine, awarding it its unique character and style. She covers that in detail. Something else I enjoyed about this book. The central characters in the book are the wines and wineries. The book is not about the author. Far too many wine books focus on the writer, and not the subject at hand. Stylistically, there is not a lot of fluff here. It gets straight to the point and stays there.
"Napa Valley Then & Now" excels at informing readers about the differences in the vineyards, soils, terroirs and cellars. I do not think that type of information has been cobbled together in any one book before, at least not to this extent. For wine geeks, and lovers of Napa Valley wine, this is worth the purchase price alone. That means, this is a specialized book that is not for everyone. But if you like getting into the dirty part of wine, "Napa Valley Then & Now" could be for you.
You can only purchase this book direct from the author Kelli A. White Order the Napa Valley Then and Now Book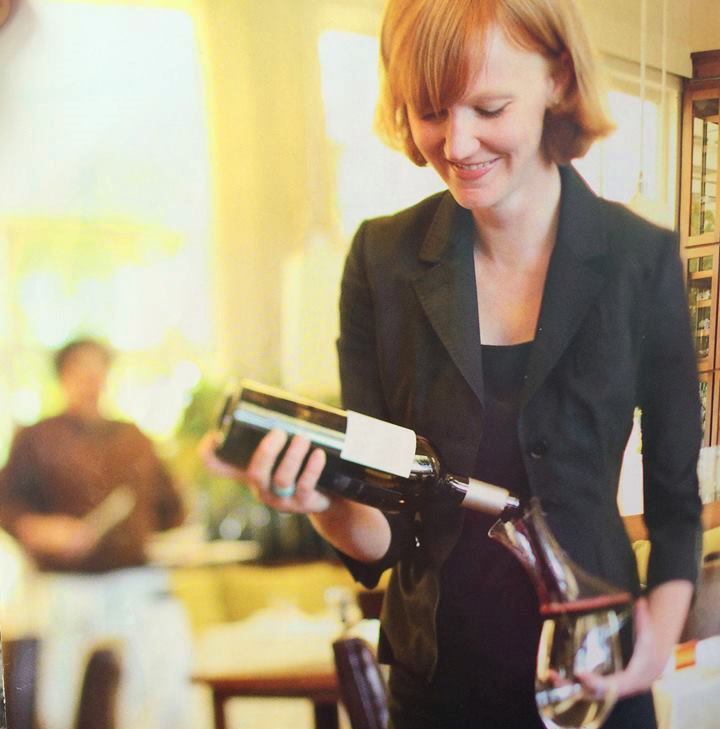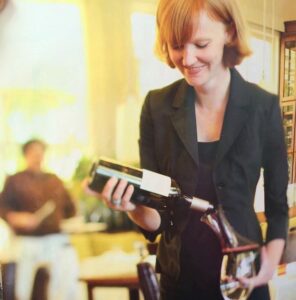 After spending time with "Napa Then & Now", I spoke with the author, Kelli A. White, and was able to ask her several questions about the book, and about Kelli A. White, Then and Now.
Q: What was the wine that got you interested in wine?
Kelli White "It was a white Chateauneuf du Pape from Domaine Vieux Lazaret. I don't recall the vintage. The warm flavors were so embracing– I was hooked. Prior to that, I was "teaching myself" wine by buying a lot of inexpensive Bordeaux, etc, but I think my palate was too unaccustomed to that much structure and intensity so I wasn't loving what I was drinking. Nothing drew me in so completely as that CDP Blanc".
Q: When did you know you wanted a career in wine?
Kelli White "I worked in wine stores during college while still trying to pursue a career in the art world (museums, galleries). I liked wine, but I wasn't a drinker. That white Southern Rhone wine opened up my mind to the aesthetic possibilities of wine, and engaged my academic side. I couldn't stop thinking about it; I needed to know why it tasted like that, who made it, and how it was so different from most of the others I tried. Once I dug into the research, I was mesmerized by all the history, culture, science, philosophy, and magic that make up the wine industry. It was so much more than a beverage."
Q: Aside from wines made in Napa, what are your favorite wines?
Kelli White "I'm a Burgundy nut– when I was 25 I worked a harvest in Burgundy with Domaine Maillard in Chorey-les-Beaune, then I moved to NYC and opened the market for Burgundy importer Olivier Daubresse. Later, I worked as a sommelier at the temple of Burgundy, Veritas. And even though I now work exclusively with Napa, they let me work La Paulee two years ago, which was a treat. I'm also very passionate about Austrian wines, and drink a fair share of Champagne."
Q: You've worked at some of America's leading, wine oriented restaurants, on both coasts. You were at Veritas in New York and you're currently at Press in the Napa Valley. Is there a difference in how customers on either coast look at, and enjoy wine?
Kelli White "It's hard for me to say, because the two restaurants I've worked at are so different, but I will say that I was shocked at how much crossover there was between my NY and Napa clientele. Regulars of mine from Veritas, and regulars of Scott's from Aureole, would regularly wander into Press. We were surprised because, when in New York, they only ever seemed to want Burgundy or Bordeaux, and here they were in Napa. I know that it's changing now, but 5 years ago in NYC there wasn't a lot of discussion of Napa wines beyond the "cults", whereas in Napa, you're actually inside of wine country, so there's a lot more domestic drinking. Bear in mind that it takes nearly the same amount of time to fly from NYC to Europe as it does to SF- plus it's such an international city- that it's naturally a very international wine scene."
Q: What motivated you to write "Napa Then and Now?"
Kelli White "Effectively, it's the book I wish I had when Scott and I were building our wine program. Having dealt mainly with European wines during the course of our careers, we both had a big blind spot when it came to CA wine. I looked for the Clive Coates' Cote d'Or of Napa but didn't find it. Plus, the websites of most Napa producers are bare and mysterious, inviting you to sign up for their mailing list but offering no actual data for consumers. We were buying these wines, and customers would ask, "who was making Beaulieu in 1978? Where does the fruit from Colgin Cariad come from? Whatever happened to Souverain?" This information was almost never readily available, so I started to write it all down."
Q: How did you decide which wineries to feature in "Napa Then and Now?
Kelli White "Choosing what wineries were featured in the book was one of the more challenging aspects. My goal was to paint an overall picture of Napa, not just choose my "top" 200 producers. I felt it was important to include the more broad-market brands like Rombauer, Caymus, and Cakebread, along with the more esteemed micro-producers. A special emphasis was given to historic wineries, but only if I had reasonably deep knowledge of their back vintages. In many ways, the producers profiled in the book are a reflection of the brands I worked with at the restaurant. I did ponder including ALL of the wineries in Napa (over 500!) in the book, but that would have meant sacrificing the level of detail and nuance and anecdote that attracted me to this project in the first place."
Q: When did you decide to start including your tasting notes?
Kelli White "We decided to build the program around older Napa vintages, and there was just nothing out there in regards to tasting notes. Or if we could find tasting notes from some wine writer of an older vintage, the note itself was generally quite old. As we got more and more comfortable with older Napa wine, and were sharing it with the customers, our friends, and our colleagues, there was a real feeling of discovery. People don't generally think of Napa wines as capable of great age– you can see that lack of belief reflected in the after-market prices– but we were pulling corks on one beauty after another. I wrote notes for almost all of them, and hope that the next person who decides to seek out older CA wine, or may be sitting on a cellar full of them that they gave up hope on, will be able to reference my notes and drink with confidence."
Q: How long did it take you to write the book?
Kelli White "Four and a half years."
Q: WOW! That is a lot of time to devote. What are some of the most interesting things you learned while researching and writing "Napa Then and Now?"
Kelli White "I was very surprised at the way in which so many people and places overlapped throughout the history. If you select the name of one of Napa's established winemakers, like John Kongsgaard, Ric Forman, David Ramey, or Mike Grgich, and look them up in the index, you will see that they touched so many people and places over the course of their careers. It makes sense, though, when you consider how small Napa is, that everything would be so interconnected, but I found it fascinating to untangle. There were things I didn't know about Napa, like the Agricultural Preserve and what a sculpting effect it has had on the valley, and the fact that Cabernet Sauvignon wasn't the dominant grape of Napa until the early 90s…. Basically, the whole history fascinated me. I think that many if not most people, think that Napa's always been like it is today, but the history is so diverse, with so many viticultural and stylistic twists and turns. You can taste it in the wines."
Q: What are the oldest vintages of Napa wine you have been able to taste?
Kelli White "I have had a handful of wines from the 1940's, one or two from the 30s', and two pre-1900 Inglenooks that were pretty spectacular."
Q: OK, I am officially jealous. In case I could turn even more green with envy, if you get to taste it, and I don't, is there one Napa Valley wine you wish you could tasted?
Kelli White "In general, I would like to be more familiar with Inglenook from the 1940s. I would also love to taste the first Beaulieu Vineyards Georges de Latour Private Reserve (1936) and see how it's doing."
Q: Me too! In writing your tasting notes, why didn't you include the date of the tasting?
Kelli White "Aside from a few of the more recent releases, all of the wines were tasted between the beginning of 2011 to the end of 2014. With very few exceptions, I tasted multiple bottles of each, many times across that entire span of time. The book was already big enough, to include a note for each time a wine was tasted would be impractical. So instead, my tasting notes are composites of several notes and always indicated whether bottle variation was an issue, or if the wine was solidly consistent throughout, or if it was maturing at a particularly fast rate. This to me seemed the most useful and effective way to communicate what a consumer or professional could expect from a given wine."
Q: You wrote that you did not include scores, because you felt your prose was sufficient. Do you think scores have a positive or negative effect on wines and the wine buying public?
Kelli White "I'm of two minds on this. I think scores are a tool and can be really useful for consumers if used correctly, but often it seems that the total value of the wine becomes that number and the description is overlooked. I think part of my resistance comes from my experience as a sommelier. As a sommelier, you are a match maker, seeking to find the perfect wine for the guest in front of you, given their likes, dislikes, budget, and- ideally- what they are having for dinner. There are wines on the list that I like more than others. Often I will recommend a wine to a table that I like less than other wines, because it is the right wine for that table. If I were to give the wines scores based on my judgment of their quality, that hypothetical table might choose a higher-scoring wine over the wine that made them happiest. Does this make sense?"
Q: When you are acting as a sommelier, I see your point. But as an author, you wear a different hat. There is something it appears we do agree on, not placing a lot of value in drinking window dates. There are close to 12,000 tasting notes on this site, and none of them have drinking windows listed.
Kelli White "I also dislike drinking windows, as I've seen way too many consumers take them way too seriously, Once I was asked "this tasting note said the wine would drink through 2008 and it's 2009– is it still good?" Or you see drinking windows from older tasting notes that predicted the wine would have died 10, 15 years ago and its still going strong. I think, fundamentally, the point of drinking windows is indicate how close the wine is to its peak, and to act as a general indication for length of cellaring. These predictions are always just informed guesses, but by affixing actual dates (in my opinion), the advice becomes way too literal. I created my maturity indicators, to provide a sense of whether the wines currently are on their evolution– my hope was that by being more vague, I would ultimately be more accurate. My system also allows for the consumer to take their personal tastes into account. If they know they like autumnal, mature flavors, they can seek out wines further along the dial, whereas those that like the punch and pop of youth, can look for those in the front. The gauges were an experiment, and certainly a risk, but I think that once you get used to them they are quite useful."
Q: As your tasting notes cover several decades of Napa wine, for you personally, do you have more of a fondness for wines from previous decades, or current vintages?
Kelli White "Speaking personally, I believe that Cabernet Sauvignon as a grape wants to age– it Needs to age! So I admire many of the new creations, but I won't be drinking them any time soon. When I drink Napa Cabernet Sauvignons, I look to the late 60s, anytime in the 70s, a handful of vintages in the 80s, and the early/mid 90s depending on the producer."
Q: As a sommelier, what Napa Valley wines do you recommend decanting?
Kelli White "I learned the hard way that these older Napa Cabernet Sauvignons require air to shine. When we first started at Press, it would often happen that we would open an older wine and it would seem too musty or tired to serve, and we would throw it away. On busy nights, there was no time to dispose of the bottles, so they got set aside. We would retaste them at the end of the night and WOW what a transformation! We also, early on, got a lot of feedback from the guests that the wines just got better and better. So yes I decant the majority of older Cabernet Sauvignons. I always taste before making this decision and only stop myself if the wine is flirting with oxidation, as that will only get worse in the decanter."
Q: Would you decant white California wines as well?
Kelli White "This is more of a case-by-case decision. If for example the wine is going to be consumed rapidly– i.e. with the first course of a meal or over a quick lunch, and the wine is high in acidity, then yes. If this is the one bottle getting me through my whole dining experience, I might prefer not to decant it and enjoy marking its slow evolution. Older Mayacamas Chardonnay, for example, can put out a musty note when first opened that blows off with some air."
Q: What do you see as the future for Napa Valley wines?
Kelli White "I see a bright future! Like any other (relatively) young wine region, Napa is constantly refining and perfecting its viticulture, and knowledge of its own land and soil. It's a remarkably complex place, geologically. Now, more and more vintners are paying attention to these nuances."
Q: Speaking of the future, do you have another book project lined up?
Kelli White "I have ideas, but nothing concrete yet."