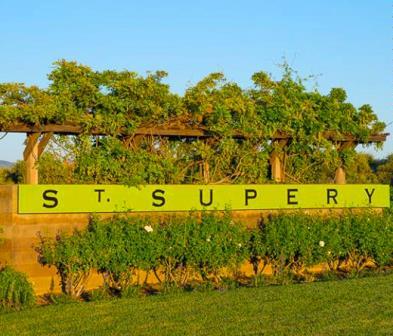 Everything about St. Supery Napa Valley California wine producer wine producer profile, wine tasting notes, wine and food pairing tips, best vintages, history of the property, information on their wine making techniques, terroir and soil. You can also read about the Grapes used for California wine and learn about the extensive History of Napa Valley, California Wines
St. Supery, located in Napa Valley, in the Rutherford AVA was first purchased by the Skalli family in 1982. While their first foray into the Napa Valley was relatively recent, the Skalli family has been involved in the wine industry since 1920. They started out producing wine in Algeria before expanding into Corsica with the Terra Vecchia winery in 1961, and then later into Northern California.
St. Supery Vineyards, Wines, Winemaking
At the time of the original purchase of Saint Supery, the large estate included 1,530 acres in the Napa Valley. While much of that land was used for cattle ranching, the deal included 500 acres of fully cultivated vineyards. Those vines are where they get the fruit for their Dollarhide Estate Vineyard wines today. The Dollarhide vineyards ranges in elevations from 600 to 1,100 feet. The vineyards are planted to all the major Bordeaux varietals.
3 years later, in 1985, under the direction of Robert Skalli, they added 56 more acres of vines located in the Rutherford appellation. The alluvial soils, with sand, clay and loam are planted with red wine, Bordeaux varieties.
In time, that purchase became their new headquarters. After years of construction, St. Supery officially opened their new winery in 1989. St. Supery is committed to self sustainable vineyard techniques and using solar generated power when possible for all their vineyards and winery operations. They were one of the first estates in the Napa Valley to use optical sorting technology. For a period time, St. Supery brought in Michel Rolland to consult on their wine making and vineyard management. He has since left the estate.
Today, St. Supery produces a plethora of popular wines including Cabernet Sauvignon, Cabernet Franc, Merlot, Malbec and Petit Verdot and various Bordeaux blends as well as white wines from Chardonnay, Semillon and Sauvignon Blanc grapes.
While St. Supery produces a wider array of wines in various price ranges, their top wines are:
St. Supery Cabernet Sauvignon Rutherford Estate
St. Supery Cabernet Franc Rutherford
St. Supery Dollarhide Elevation
St. Supery Cabernet Sauvgnon Dollarhide Ranches
St. Supery Red Elu.
Serving and Decanting St. Supery with Wine, Food, Pairing Tips
St. Supery wines are best served at 15.5 degrees Celsius, 60 degrees Fahrenheit. The cool, almost cellar temperature gives the wine more freshness and lift. Young vintages of their red wine can be decanted for 1-3 hours, depending on the character of the vintage. This allows the wine to soften and open its perfume. Older vintages might need very little decanting, just enough to remove the sediment.
The red wine of St. Supery is best served with all types of classic meat dishes, veal, pork, beef, lamb, duck, game, roast chicken, ribs, hamburgers, barbecue, roasted, braised, grilled dishes and stews. St. Supery is also good with Asian dishes, hearty fish courses like tuna, salmon, mushrooms and pasta.
The white wine of St. Supery is best served with all types of seafood and shellfish, sushi, sashimi, chicken, veal, pork and cheese.
In late 2015, St. Supery was sold to the Chanel Group. The Chanel Group is well versed in running wineries as they own two leading chateau in Bordeaux, Rauzan Segla, a Second Growth in the Margaux appellation and Chateau Canon, Premier Grand Cru Classe in St. Emilion.
It is expected that the team already in place that is in charge of the production, sales and distribution of the wines from St. Supery will remain in place. The 2015 harvest has just finished in the Napa Valley and in Bordeaux. While the vintage is thought to be of good quality in California, the yields were small. In Bordeaux, 2015 is already being talked about as being of very high quality.
It will be interesting to see how this purchase becomes incorporated into the other wine and winery assets owned by the Chanel Group. For example, the Chanel group owns a large Bordeaux Negociant, Ulysse Cazabonne. With this obvious symmetry, it's possible that this will lead to the availability of St. Supery wines for sale on the Place de Bordeaux. That could be a great decision as that would only lead to more international recognition to the St. Supery brand.
St. Supéry Wine Tasting Notes
13 Vintages 39,289 Views Sort by Vintage-Rating
2016
St. Supéry Virtu (Napa Valley)

Medium bodied, very fresh and with a strong lean to the lemon, grapefruit and crisp citrus side of the style range. This would make a nice, around the pool, refreshing, summer wine.

2,428 Views

Tasted

Nov 25, 2017

2015
St. Supéry Cabernet Sauvignon Dollarhide Ranch (Napa Valley)

Medium/full bodied, soft, polished, forward in style, with sweet, ripe, red and black plums, dusty tannins and a blend of cherry and cassis in the open finish.

3,056 Views

Tasted

Mar 15, 2018

2015
St. Supéry Cabernet Sauvignon (Napa Valley)

Medium bodied, with a soft, forward, open character, leaning to the bright, red berry side of the style range. You should be able to enjoy this on release.

3,242 Views

Tasted

Mar 15, 2018

2013
St. Supéry Cabernet Sauvignon Dollarhide Elevation (Napa Valley)

Ripe, with loads of fresh juicy, sweet, dark, red fruits, with soft tannin and fleshy, round textures. This is already delicious and ready to go.

3,210 Views

Tasted

Nov 25, 2017

2013
St. Supéry Élu Meritage (Napa Valley)

Medium bodied, forward, soft and sweet, with dark red fruits, earth, spice and just a hint of vanilla, the wine is classic in nature and ready for its prime time drinking window. The wine was made from a blend that would be at home in the Left Bank of Bordeaux, with 65% Cabernet Sauvignon, 22% Merlot, 9% Malbec, 2% Cabernet Franc, 2% Petit Verdot.

2,710 Views

Tasted

Nov 25, 2017

2013
St. Supéry Cabernet Sauvignon (Rutherford)

Blending dark red, black and blue fruits, with soft, round textures and a soft, polished finish. This almost 100% Cabernet Franc exchanges power for flesh and freshness.

2,886 Views

Tasted

Nov 25, 2017

A blend of Bordeaux, with its freshness, ripe cassis, juicy blackberries, thyme, smoke and oak. Medium/full bodied, with a softness to the tannins, this is a nice wine.

2,661 Views

Tasted

Nov 29, 2016

2013
St. Supéry Cabernet Franc Rutherford Vineyard (Napa Valley)

Blending dark red, black and blue fruits, with soft, round textures and a soft, polished finish. This almost 100% Cabernet Franc exchanges power for flesh and freshness.

1,960 Views

Tasted

Nov 25, 2017

2012
St. Supéry Élu Meritage (Napa Valley)

Ripe, juicy dark fruits, licorice and vanilla. Round, soft, easy to drink with a lush, chocolate covered, black cherry finish.

3,082 Views

Tasted

Nov 12, 2014

2012
St. Supéry Cabernet Sauvignon (Napa Valley)

Forward, round, plush, fat, juicy and fruity, this is ready for immediate pleasurable drinking.

3,285 Views

Tasted

Nov 30, 2015

2012
St. Supéry Cabernet Franc (Napa Valley)

Spice, herbs, earth and espresso notes add to the ripe, fresh, plum and black cherry notes in this medium bodied, forward wine.

2,430 Views

Tasted

Nov 30, 2015

2012
St. Supéry Cabernet Sauvignon Dollarhide Ranch (Napa Valley)

Medium/full bodied, earthy red and black fruit notes, with freshness in the mouth and an oaky, ripe, round, fruity finish.

2,217 Views

Tasted

Nov 30, 2015

2012
St. Supéry Merlot (Rutherford)

Medium bodied, fresh, bright, crisp black cherry and black raspberry fruits mix with a blast of espresso and cocoa in this forward, soft, early drinking Merlot.

1,969 Views

Tasted

Nov 30, 2015

2010
St. Supéry Cabernet Sauvignon (Rutherford)

Forward, full bodied, concentrated and ready for prime time drinking. The chocolate covered black cherries, licorice, vanilla and coffee character is shining. The round, polished textures and sweet, lush, ripe fruits in the finish seal the deal. The wine was made from a blend of 77% Cabernet Sauvignon, 13% Merlot, 8% Petit Verdot and 2% Cabernet Franc.

4,153 Views

Tasted

Oct 26, 2015