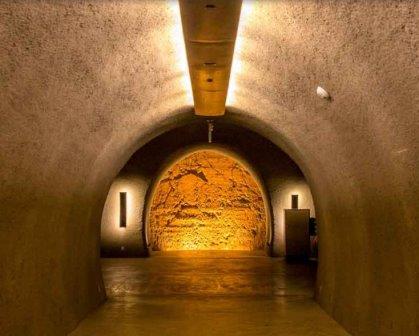 Everything about Brand Napa Valley California Cabernet Sauvignon wine producer profile, wine tasting notes, wine and food pairing tips, best vintages, history of the property, information on their wine making techniques, terroir and soil. You can also read about the Grapes used for California wine and learn about the extensive History of Napa Valley, California Wines
Brand was created in 2005, when Ed Fitts purchased the land and vineyards on Pritchard Hill that was previously owned by Long Vineyards. One of the first moves made by Ed Fitts was to bring in Philippe Melka, who was known for his work with several different estates on Pritchard Hill. The logo for Brand combines some of the very important interests in the life of the owner, Ed Fitts, horses, which you probably guessed, due to the double image of the embossed horse shoes and of course, wine.
Brand Vineyards, Terroir, Grapes, Winemaking
While Brand is a large 110 acre spread, at this point, only 12 acres are planted with grape vines. The vineyard combines hillside elevations and exposures with red volcanic soils, rocks and stones. The hillside vineyard has an elevation that is close to 1,600 feet at its peak.
Te vineyard is divided into an upper and lower section, and the parcels are divided once again. So on the top part of the vineyard, those 8 acres are split into 12 different parcels. The Brand vineyard is planted to 6 acres of Cabernet Sauvignon, 4 acres of Cabernet Franc and 2 acres of Petit Verdot.
Brand produces 3 red, Cabernet Sauvignon based wines from their various parcels.
Brand Cabernet Sauvignon is created from 100% Cabernet Sauvignon, aged in an average of 85% new, French oak barrels for up to 24 months before bottling. The production averages slightly less than 500 cases per year.
Brand Proprietary Blend is made from a blend of 80% Cabernet Franc, 20% Cabernet Sauvignon. The wine is aged in about 60% new, French barrels for close to 22 months before bottling. Only 185 cases of wine are produced each vintage.
Brand is produced using 82% Cabernet Sauvignon, 12% Cabernet Franc and 6% Petit Verdot in the blend. The wine is aged in about 60% new, French barrels for close to 22 months before bottling. Close to 400 cases of wine are produced each vintage.
Serving and Decanting Brand with Wine, Food, Pairing Tips
Brand wines are best served at 15.5 degrees Celsius, 60 degrees Fahrenheit. The cool, almost cellar temperature gives the wine more freshness and lift. Young vintages of their red wine can be decanted for 1-3 hours, depending on the character of the vintage. This allows the wine to soften and open its perfume. Older vintages might need very little decanting, just enough to remove the sediment.
The red wine of Brand is best served with all types of classic meat dishes, veal, pork, beef, lamb, duck, game, roast chicken, ribs, hamburgers, barbecue, roasted, braised, grilled dishes and stews. Brand is also good with Asian dishes, hearty fish courses like tuna, salmon, mushrooms and pasta.
BRAND Napa Valley Wine Tasting Notes
2 Vintages 5,940 Views Sort by Vintage-Rating
2012
BRAND Cabernet Sauvignon (Napa Valley)

Inky dark in color, with layers of ripe, fat, sweet, juicy, lush, dark fruits, a blast of oak and a sweet, ripe, round textured finish with the right amount of licorice and dark chocolate that makes you happy, that the flavors linger.

3,852 Views

Tasted

Nov 28, 2016

2009
BRAND Cabernet Sauvignon (Napa Valley)

The debut vintage for this new property located on the famous Pritchard Hill in Napa offers a nose packed with licorice, olives, blackberry and herbs. Made from 100% Cabernet Sauvignon and consulted by Philippe Melka, this delicious, ripe, polished, plush, supple textured wine is a winner!

2,088 Views

Tasted

Dec 18, 2012