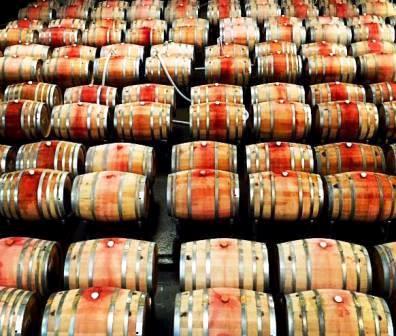 Everything about Ramey Wine Cellars Sonoma, California wine producer profile, wine tasting notes, wine and food pairing tips, best vintages, history of the property, information on their wine making techniques, terroir and soil. You can also read about the Grapes used for California wine and learn about the extensive History of Napa Valley, California Wines
Ramey Wine Cellars History, Overview
David Ramey has had a long career in the world of wine. After graduating from UC Davis, he interned at Petrus, where he developed a friendship with Christian Moueix. He learned the wine business working for several different, Northern California wineries including; Dominus, Chalk Hill, Rudd and Matanzas Creek. Ready to strike out on his own, David Ramey founded Ramey Wine Cellars in 1996, with his wife Carla Ramey.
Once he was ready to start producing his own wine, he needed a grape source, which found in the famous Hyde Vineyards in Sonoma County. He also needed a place to crush his grapes and make his wine, so he went to John Kongsgaard, which is where he made his wine for the first 2 years. The debut vintage for Ramey was quite small, as they only produced 260 cases of wine. Still needing his own cellars, he asked Christian Moueix of Dominus, where David Ramey was still working, if he could make his wine there. Christian Moueix said yes, and from that point forward, Ramey Wine Cellars continued to thrive. In fact, they added a new grape source from Husdon Vineyards that same year.
Starting with the 1998 vintage, David Ramey and Ramey wines moved to Rudd Vineyards in Oakville. By 2001, they continued expanding their output with new grape sources from Carneros. That was also the first vintage where they began producing red wine. It was only a few years later that Ramey Wine Cellars was able to open their own winery in Healdsburg. In 2014, Ramey Wine Cellars added Pinot Noir to their lineup of wines.
Ramey Wine Cellars Vineyards, Wines, Winemaking
Ramey Wine Cellars produces a plethora of red and white wines from Sonoma and Napa that range from single vineyard designated wines to appellation specific wines:
Chardonnay, Sonoma Coast
Chardonnay, Russian River Valley
Chardonnay, Platt Vineyard, Sonoma Coast
Chardonnay, Ritchie Vineyard, Russian River Valley
Chardonnay, Woolsey Road Vineyard, Russian River Valley
Chardonnay, Hyde Vineyard, Napa-Carneros
Pinot Noir, Russian River Valley
Pinot Noir, Platt Vineyard, Sonoma Coast
Cabernet Sauvignon, Napa Valley
Cabernet Sauvignon, Annum, Napa Valley
Cabernet Sauvignon, Pedregal Vineyard, Oakville
Merlot, Template, Mount Veeder
Claret, Napa Valley
Syrah, Sonoma Coast
Syrah, Cole Creek Vineyard, Russian River Valley
Syrah, Rodgers Creek Vineyard, Sonoma Coast
Serving and Decanting Ramey Wine Cellars with Wine, Food, Pairing Tips
Ramey Wine Cellars is best served at 15.5 degrees Celsius, 60 degrees Fahrenheit. The cool, almost cellar temperature gives the wine more freshness and lift. Young red wine vintages can be decanted for 1 hour or a but longer, depending on the character of the vintage. This allows the wine to soften and open its perfume. Older vintages might need very little decanting, just enough to remove the sediment. Fisher Vineyards is best served with all types of classic meat dishes, veal, pork, beef, lamb, duck, game, roast chicken, ribs, hamburgers, barbecue, roasted, braised, grilled dishes and stews. Fisher Vineyards is also good with Asian dishes, hearty fish courses like tuna, salmon, mushrooms and pasta.
The white wine of Ramey Wine Cellars is best served with all types of seafood and shellfish, sushi, sashimi, chicken, veal, pork and cheese.
Ramey Wine Tasting Notes
12 Vintages 29,953 Views Sort by Vintage-Rating
2013
Ramey Chardonnay Platt Vineyard (Sonoma Coast)

Lots of freshness to this tasty blend of citrus peel, apples, pear and crushed rocks with honeysuckle. Good mix of sweet, citrus and acidity in the finish.

3,616 Views

Tasted

Dec 10, 2016

2012
Ramey Chardonnay (Russian River Valley)

Forward, fresh, fruity and fun to drink young, there is a bright, vanilla tinged, sweet citrus note that is easy to like in this wine.

1,513 Views

Tasted

Apr 20, 2015

2012
Ramey Cabernet Sauvignon (Napa Valley)

This Left Bank Bordeaux blend shows there's still value in Napa Valley, if you know where to look. With its plush, soft, black cherries and dark chocolate nose, round, easy drinking style and forward character, there is a lot to like about this wine.

3,245 Views

Tasted

Apr 20, 2015

2012
Ramey Claret (Napa Valley)

Easy to drink, with its soft textures, medium body, soft tannins and light, red berries, this should be fun for uncomplicated drinking for a few years.

2,719 Views

Tasted

Mar 10, 2014

2011
Ramey Chardonnay Platt Vineyard (Sonoma Coast)

Floral notes, with honeydew, citrus and vanilla, medium bodied, soft, sweet, fresh and showing a nice, sweet, citrus note in the finish.

1,340 Views

Tasted

Mar 10, 2014

2011
Ramey Chardonnay Hudson Vineyard (Carneros)

Citrus peel, honeysuckle and vanilla scents open to an approachable, lemon, apple and lime dominated wine that will be ready to drink on release.

1,369 Views

Tasted

Mar 10, 2014

2011
Ramey Chardonnay (Russian River Valley)

Honeydew melon, citrus and bananna notes lead to lighter style of early drinking Chardonnay that ends with a light citrus finish.

1,286 Views

Tasted

Mar 10, 2014

2011
Ramey Chardonnay (Sonoma Coast)

Light in color, light in fruit, light in style, this wine requires consumption over the next year or two.

1,166 Views

Tasted

Mar 10, 2014

2010
Ramey Cabernet Sauvignon (Napa Valley)

Earth, some, tobacco and dark, spicy berries open to a medium/full bodied mouthful of black cherries and tannin that will be better after a few years of bottle age.

4,118 Views

Tasted

Nov 16, 2013

2009
Ramey Cabernet Sauvignon (Napa Valley)

With rich textures and layers of sweet, ripe, juicy berries, fresh herbs, forest floor, vanilla and cassis, this concentrated, lush, Cabernet Sauvignon should drink well young, yet age for a decade.

4,176 Views

Tasted

Oct 13, 2012

2008
Ramey Chardonnay Hyde Vineyard (Carneros)

Fresh, bright, crisp, tropical fruit and apple with the prefect amount of acidity to make this refreshing, citrus, oak and spice filled wine interesting.

3,391 Views

Tasted

Apr 30, 2012

2008
Ramey Syrah (Sonoma Coast)

94% Syrah and 6% Viognier create a perfume packed with oak, truffle, strawberry, black raspberry, herb, pepper and jammy notes. With soft, round textures, the ends with a ripe, sweet sensation of fresh, spicy black and red berries.

2,014 Views

Tasted

Mar 15, 2012