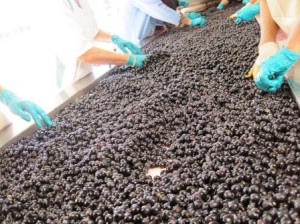 Jeff Leve How would you describe your 2012 La Couspaude?
Vanessa Aubert "First, it's a vintage with great aromatic richness. At the beginning of fermentation in the cellar, you can smell strawberries and the beautiful complexity of various red fruit and spice aromas. The other important fact for this vintage is the balance, with a good acidity and a coherent alcohol level."
Jeff Leve Can you compare 2012 La Couspaude with any previous year?
Vanessa Aubert "It's difficult to compare 2012 Couspaude with another vintage. For me, each vintage have its own personality depending the terroir."
Jeff Leve Was 2012 a difficult vintage for you in St. Emilion?
Vanessa Aubert "With the growing season for 2012 La Couspaude, we had two stressful times.  First in July, due to the difficult beginning of the growing season. The end of August was stressful as well because the maturity was late.  This year we harvested between 2 and 3 weeks later than usual."
Jeff Leve With the problems you had earlier in the year with the uneven flowering, what special vineyard techniques do you need to conduct?
Vanessa Aubert "With the 2012 La Couspaude, we needed to do more drastic green harvesting with a selection of the grapes that were not healthy after veraison. The consequence of an uneven bloom is the gap of maturity thinning of the leaves to help obtain a good balance between sugar and acid while waiting for the phenolic maturity."
Jeff Leve Did the late summer drought cause you problems?
Vanessa Aubert "It depended on the terroir.  With our clay and limestone soils, we were fine.  But on the terroir with a lot of gravel, we experienced difficulty at the beginning of September because the stress was too much for the vines and stopped maturing.  The late rain we received helped us to restart the process."
Jeff Leve When did you start and finish harvesting at your various estates?
Vanessa Aubert "We started harvesting October 6 at Château Lagrave-Aubert which is in Castillon Côtes de Bordeaux. That's always one of our earliest terroirs. In St. Emilion we started to harvest La Couspaude October 12.  The harvest finished October 30 at our Bordeaux Superieur property Château Saint Antoine."
Jeff Leve  What were the conditions like during the 2012 Bordeaux harvest?
Vanessa Aubert "We were stressed because of the rains. We had to interrupt the harvest for 3 days at the end of October in Château Saint Antoine because of the rain, but as we were near the end of picking, it wasn't a problem. We just needed to wait a little longer, which wasn't a bad thing."
Jeff Leve How many pickers did you employ at your various Right Bank estates?
Vanessa Aubert "We employed 45 pickers to work the harvest."
Jeff Leve Was this a vintage that required more sorting than usual
Vanessa Aubert "As we had to wait for the phenolic maturity, we were worried about botrytis. So we doubled the teams of pickers which let us harvest the grapes quicker and we definitely needed to sort more. To sort as much as we needed to do, we use 3 different sorting tables. We also have the Tri Baie which uses the principle berry density to sort.  We do this at La Couspaude as well as at our other estates, Jean de Gué (Lalande de Pomerol) and Messile-Aubert (Montagne St. Emillion), Lagrave-Aubert Castillon Cotes de Bordeaux and in Saint Antoine (Bordeaux Superieur). With all the sorting we did, our yields will be a little bit lower than usual."
Jeff Leve Out of all the grape varieties you grow, was one variety more successful in the 2012 Bordeaux vintage?
Vanessa Aubert "The Merlot performed better in this year."
Jeff Leve What are your alcohol levels?
Vaness Aubert "It depends on the estate.  They range from 12.5% to 14%."
What steps are you taking this year during vinification and the elevage?
Vanessa Aubert "For the 2012 La Couspaude, we chose to work gently, seeking a soft extraction. The pigeages will be shorter, but more frequent. Also the temperature of vinification should not exceed 28 degrees Celsius. The goal was to not extract too much this year because the seeds and tannins are not so interesting."
Jeff Leve Have you made decisions on your barrel aging program for the 2012 Bordeaux vintage?
Vanessa Aubert "We will use less new oak. The purpose is to preserve the natural wine balance and highlight the fruit. The amount of new oak depends of the terroir. Obviously, the 2012 La Couspaude with its naturally high tannins and concentration will need more new oak than some of our other properties to stabilize the wines structure."