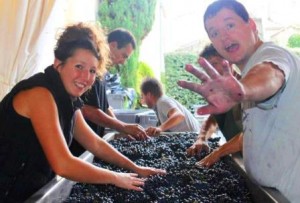 Jeff Leve Does a vintage like 2012, which is late, change how the wines show in April during the tastings?
Thierry Budin "The late harvest might affect the en primeurs tastings.  Today, we have no doubt that 2012 Bordeaux is a very promising vintage, but it might be harder to judge during the en primeurs tastings. Keep in mind, the wine will have suffered from one month less of ageing in comparison with 2011."
Jeff Leve Based on the growing season in the Medoc, which previous vintage does 2012 Bordeaux remind you of?
Thierry Budin "The 2012 Bordeaux vintage reminds us of the 2005 vintage for the problems caused by both dry and powdery mildew. It is also reminiscent of 2008, because like 2012 Bordeaux, that was also a late vintage."
Jeff Leve Can you describe the 2012 growing season?
Thierry Budin "The beginning of the 2012 Bordeaux growing season was marked by cold and cloudy weather, with below normal temperatures and abundant rain. These conditions retarded vine growth and caused considerable problems with due to and powdery mildew. Both flowering and veraison were affected. This caused ripening in select plots even within some bunches."
Jeff Leve How did you manage to control the problems with mildew?
Thierry Budin "These we managed to control thanks to our sustainable curative practices, associated with the right prophylactic measures."
Jeff Leve And what did you in Pauillac at Grand Puy Ducasse about the uneven flowering?
Thierry Budin "We focused on the Green Harvest. We had to visually sort and discard the late bunches and keep only the best ripening potential. We increased the number of times he berries before the harvest. This helped us gain a better idea of the ripening potential within each plot."
Jeff Leve "How did you deal with the drought in the late summer?
Thierry Budin "We had hot and dry weather in August and September. This caused hydric stress in some plots, and particularly in those planted with younger vines as well as in the free draining soils and gravel and sandy teroirs.  We added another round of green harvesting targeting these young vines to limit the stress on these plants."
Jeff Leve with numerous estates, when did you start and finish your harvesting?
Thierry Budin "In Sauternes, we picked Chateau de Rayne Vigneau from October 10 through November 2.  In the Medoc, at Chateau Grand Puy Ducasse, we harvested the Merlot from October 1 to October 12.  We started picking the Cabernet Sauvignon October 12 and finished 4 days later, October 16.  In St. Estephe at Chateau Meyney, it was quite similar. We started with the Merlot October 2, finishing October 11.  Cabernet Sauvignon was harvested from October 12 through October 18.  The Petit Verdot was harvested October 11.  At La Tour de Mons, we picked from October 1 through October 14 and at Chateau Blaignan, picking took place from October 9 until October 22."
Jeff Leve What were the conditions like for you during the picking of the 2012 Bordeaux vintage?
Thierry Budin "We experienced very rainy conditions while harvesting 2012 Bordeaux. It was crucial to be in the vineyard every day to judge of the optimal harvest date for each plot, which was mostly this year a fair compromise between the acceptable level of botrytis in the vineyard and the best ripening level possible."
Jeff Leve Did the rain during harvest cause you to pick earlier than you would have liked?
Thierry Budin "Yes. On the last plots that were left to harvest, we had to settle the date of the picking on a compromise between botrytis and ripeness."
Jeff Leve How many pickers do you employ at each estate?
Thierry Budin "Château de Rayne Vigneau: around 100 pickers, Château Grand Puy Ducasse: 60 pickers, Château Meyney: 80 pickers and at Château La Tour de Mons: 35 pickers."
Jeff Leve Didn't you implement optical sorting for the first time in the 2012 Bordeaux vintage?
Thierry Budin "Yes, we implemented optical sorting at Chateau Grand Puy Ducasse in Pauillac and Chateau Meyney in St. Estephe as well as at and Blaignan for the Cabernet Sauvignon. For the 2012 Bordeaux harvest, this was important as we had to finish the picking earlier than first planned to adapt to the rainy conditions.  Optical sorting is much faster.  For example, with the 2011 vintage at Chateau Grand Puy Ducasse, with hand sorting in the winery, we sorted 1 200 kg of grapes an hour. With optical sorting in the 2012 Bordeaux vintage, with Grand Puy Ducasse, we sorted 3,800 kg of grapes an hour!  We also invested in a new de-stemming machine, the Winery made by Pellenc, which allowed us to treat the grapes better."
Jeff Leve Is this a better year for Cabernet Sauvignon or Merlot for you?
Thierry Budin "The Merlot grapes performed better this year. The old vine Cabernet Sauvignon planted on clay and gravel terroir also performed well."
Jeff Leve With that in mind, with all your various properties, what are your alcohol levels in the 2012 Bordeaux vintage?
Thierry Budin "It is still a bit early to know for sure. We should end up with alcohol levels close the following:
Château de Rayne Vigneau: 14%
Le Sec de Rayne Vigneau : 13%
Château Grand Puy Ducasse: 13,5%
Château Meyney: 13,5%
Château La Tour de Mons: 13,5%
Château Blaignan: 13%."