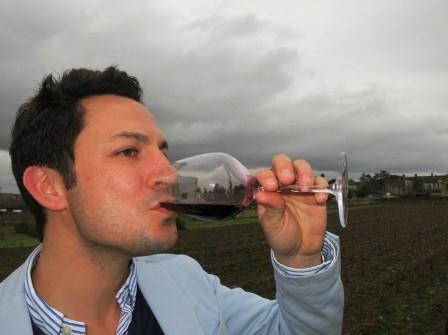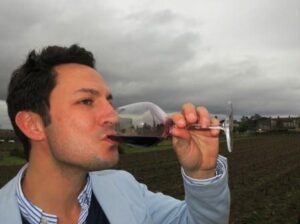 2011 Clos Fourtet – Coffee, black cherry, minerality, black raspberry liqueur with rich, silky, opulent textures, deep color and a long sensuous mouthfeel are found in this 2011 Clos Fourtet. From a blend of 85% Merlot, 10% Cabernet Sauvignon and 5% Cabernet Franc, the wine reached 14% alcohol and is aged in 60% new oak.  Licorice, sweet blackberry, jam, truffle, chocolate, floral and black cherry aromas are found in the aromatics of the 2011 Clos Fourtet. Very rich for the vintage, the 2011 Clos Fourtet is packed with sweet, ripe, juicy and luscious dark berries. Balanced and supple, there is a lot to like about this wine. 94-96 Pts
2011 Poujeaux  – Deep in color with spice, cassis, blackberry, flowers and truffle in the nose. With good concentration of flavor and ripe tannins, this remains one of the top values in quality Bordeaux wine with character. 90-91 Pts
Jeff Leve Have you changed your philosophy about your work in the cellars in St. Emilion at Chateau Clos Fourtet?
Matthieu Cuvelier "We have a moved a little bit hoping to obtain more freshness and purity. For example, we're using less oak. At one time the wine was aged in 100% new oak. Today, for the 2011 vintage, we used 60% new oak.".
Jeff Leve Interestingly, you work with Jean Claude Berrouet and Stephane Derenoncourt.  In many ways, they have very different philosophies when it comes to winemaking. How does that work?
Matthieu Cuvelier "Berrouet and Derenoncourt both bring a lot of experience to Clos Fourtet. While they look at the vineyards and wines with their own unique views, the truth is, they agree more often than not and all of us, including Tony Ballu work well together."
Jeff Leve How are your efforts with biodynamic farming coming along?
Matthieu Cuvelier "30% of Clos Fourtet is currently farmed using biodynamic techniques.  This is the fourth year we have used this technique. Our new plantings that you can see are all being bio dynamically farmed."
Jeff Leve Do you see changing the grape varietals in your St. Emilion or Moulis vineyards, with the continued change of climate?
Matthieu Cuvelier "We might add more Cabernet Franc to Clos Fourtet."