Chateau Reignac, perhaps the best known Bordeaux Superieur wine discussed the 2011 Bordeaux vintage with us.  2011 as they pointed out, is a wine makers vintage.  Most chateaux with the Bordeaux Superieur designation are not able to spend the money and time needed, or make the sacrifices called for to get the most from a difficult vintage like 2011.  That is not the case with Yves Vatelot and his team at Reignac.
Jeff Leve: How would you describe the 2011 Reignac Bordeaux wine vintage?
Yves Vatelot: "2011 Reignac is the product of a winegrower year, 90% of the work has been made in the field to get perfect berries".
Jeff Leve: When did you start your 2011 Reignac harvest?
Yves Vatelot: "We started the 2011 Reignac harvest with the white wine grapes on august 31, the Merlot on September 13 and we are still harvesting Cabernet Sauvignon as of September 30″.
JL: What is your team at Reignac trying to accomplish in the vineyards?
Yves Vatelot: "We harvest at optimum ripeness each yea. This was the case with 2011.  We have a lot of tannin potential. Our team ensures that each plot reached optimal ripeness by systematically tasting grapes. Michel Rolland has taught us to be patient, optimum maturity grapes harvest with attention will elaborate wines we love".
JL: What took place this year during the growing season?
Yves Vatelot: "2011 was atypical hot and dry in June with a change to cool and humid in July followed by a Indian summer "sunny September.  Throughout the growing season, removal of non fruit bearing shoot, de-leafing on each side of the rows and careful crop thinning are carried out by hand to enhanced the ripening process and create a better ventilation and sunlight exposure".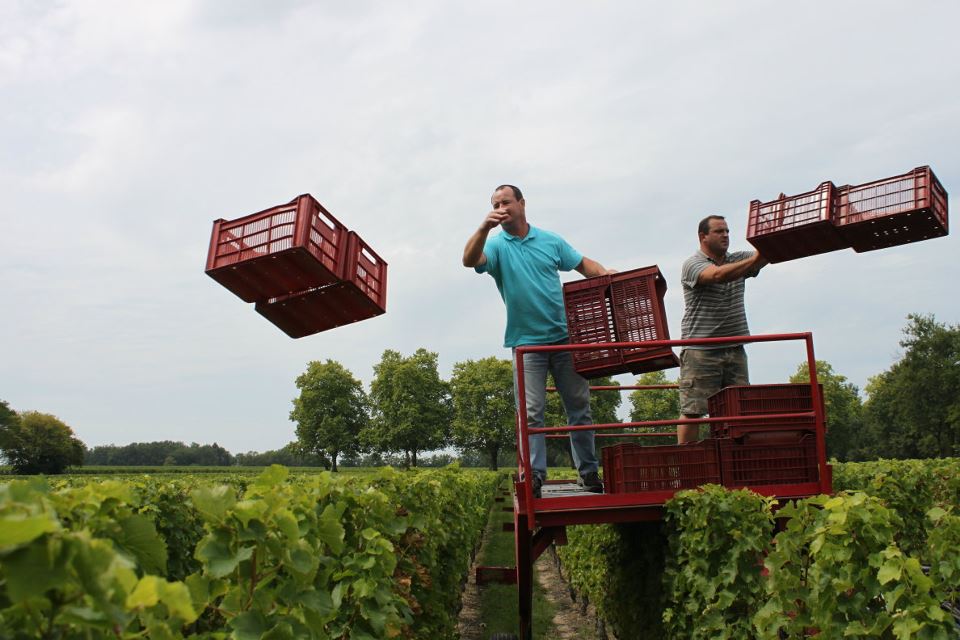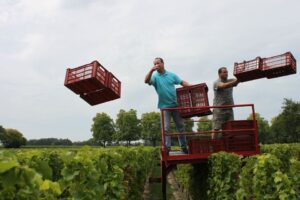 JL: Was the draught difficult on your vines?
Yves Vatelot: "The terroir at REIGNAC  helped our vines to resist June draught and July rain release hydric stress from vines".
JL: Do you have fears from rot with the humidity and tropical conditions?
Yves Vatelot: "Environmental protection and integrity of the vines is our main concern. We adapted treatment according to the need of each vine. We have initiated an agronomical and ecological method. All our work in the vineyard during the growing season assists us reducing and keeping rot to the minimum".
JL: Even though it is still early, what vintage does 2011 remind of you?
Yves Vatelot: "2011 tastes like 2008 at the same stage".
JL: For your first vats, what are you seeing with pH and alcohol potential?
Yves Vatelot: "The PH is 3.65 and potential alcohol is between 13° to 13.5°".