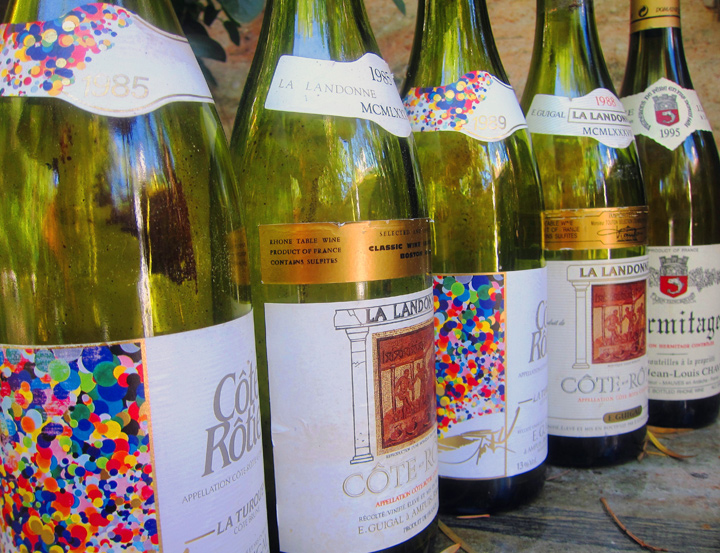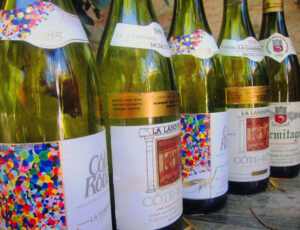 Most wines you
taste
or enjoy with dinner. Afterall, that is the purpose of wine. But every now and then, a wine lover experiences a wine that is so profound, they are stopped in their tracks and left speechless by what they have in their glass.
.
I've been lucky to have experienced so many great wines over the past several years.  I write a lot about
Bordeaux
wine on this web site. But the truth is, some of the best wines I've had the pleasure of
tasting
have not been Bordeaux wine.  They are from the
Rhone
Valley.
Cote Rotie
to be exact.  While I've tasted numerous stunning Rhone wines, the best examples that have left permanent impressions have all been from
Guigal
.  Tasted blind, 1985 Guigal
La Turque
left me without words to express myself.
.
1985 Guigal La Turque – Oh My God, I am speechless!  Words are not adequate to express the emotion, sensation, sensuality or exotic character of this mind-blowing wine!  The perfume grabbed your attention. Your nose finds it impossible to leave the glass with its powerful scents of 5 Spice, truffle, incense, smoke, jammy blackberry, iron, cherry and barbeque aromatics.  The erotic sensations that coat your palate, take your breath away.  Picture, dense, molten cherries, truffle, spice and earth. Add the viscosity of motor oil combined with intense purity and the perfect amount of lift to keep it fresh and you get a glimpse of what this hauntingly, beautiful blend of
Syrah
and
Viognier
 delivers.   The finish on 1985 Guigal La Turque lasts well over 60 seconds. 100 Pts
.
At 26 years of age, this is still young. If well stored, 1985 Guigal La Turque could easily remain at this level, or even improve for another 10-15 years.  It's not often that expensive wines deliver an experience equal to the cost of the wine.  If you ever wanted to know what one of the world's great wines taste like at maturity, this might be the wine to buy.
.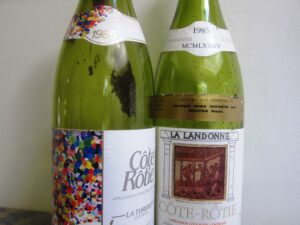 .
1985 Guigal La Landonne – Crushed stone, iron, cooked meat, spice, blackberry, black cherry liqueur, earth and pepper aromas were in full force with a minimum of swirling. Dense, thick, rich and concentrated, this pure, intense, structured, powerful Cote Rotie is still young. With a density of flavor and no hard edges, this animalistic,
sauvage wine ends with a long, dark, mineral and pure, spicy, intense black raspberry finish. 98 Pts
.
1989 Guigal La Turque – Black cherry liqueur, truffle, earth, jammy black raspberry, smoke, spice and fennel aromas caught your attention and kept it where it belonged. In the mouth, your palate was coated with layers of sensuous, ripe, red and black plums, spice and cherries. Purity, intensity and exotic textures are the hallmark of this stunning bottle of Cote Rotie. 98 Pts
.
1988 Guigal La Landonne – Time and time again it's proven, after 20 years, there is no such thing as a great wine, just a great bottle. For some wines, it's not such a big deal. But when it's 1988 Guigal La Landonne, that hurts. Beefy, powerful, intense, peppery, blackberry, earth, cherry and stone aromas led the way. But the wine fell flat in the mouth and finish. Having had better bottles of this stunning Cote Rotie in the past, this specific bottle was not correct and should not be seen as an indicator of where this is at today. 93 Pts
.
1995
Chave
white wine kicked off the night with lemon wax, honeysuckle, slate, petrol, vanilla, butterscotch and citrus scents that became evident with little effort. The honey colored, full bodied, concentrated and rich, round, thick, oily textured, powerful
Hermitage
wine ends with a long, spicy, fresh lemon sensation. 93 Pts