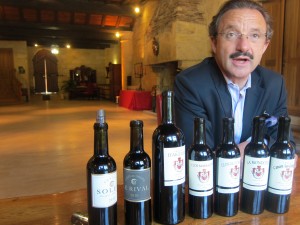 2010 Bordeaux Wine tasting notes, reviews and ratings for 2010 St. Emilion, 2010 Cotes de Castillon and 2010 Pessac Leognon for wines from Stephan von Neipperg
Tasting with Stephan von Neipperg is always one of the highlights from my Bordeaux tasting trips.  He is erudite as well as funny.  His views on Bordeaux wine, winemaking and the care of the vineyards is unique, as well as refreshing.  For Stephan, Bordeaux wines are made in the vineyard.  He practices organic farming techniques that enrich the soil. Healthy vines and soil, produce the best wines.
Some of the regular practices promoted by Neipperg are; no pesticides of any type are used. Vines are regularly earthed-up to promote aeration. The soil is not ploughed too deeply so as not to mix the two layers of topsoil. Organic compost, naturally low in nitrogen is used in carefully controlled quantities that add nutriments to help the soil regenerate itself (thanks to compost containing worms, bacteria, etc.). Cow manicure is mixed with straw and this is ready to use after 9 months. The topsoil's low density is compensated by the regular addition of clay.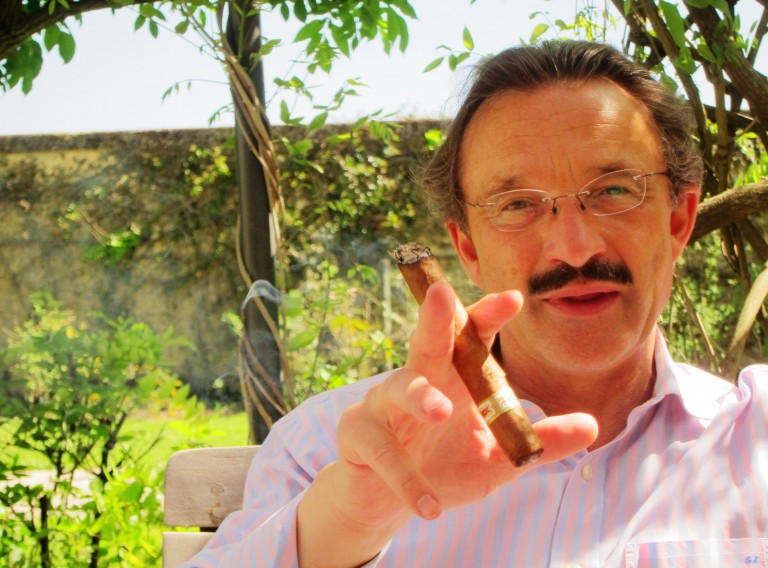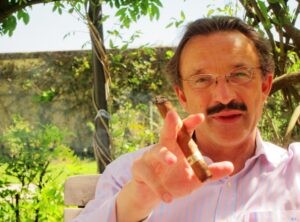 Neipperg believes in low yields. Second pruning's are done early in the growing season. Non -productive wood is removed regulating the current crop, as well as next year's crop. Severe pruning is done, (an average of 5-6 buds per vine) the second pruning helps maintain production at the desired 35 hectolitres per hectare. Bunch thinning is used as a last resort in the rare instances when the impending vintage looks to be plethoric.  Vineyard management is done plot by plot.
All of this hard work has rewarded Neipperg and his team with some of the finest wines of the vintage.  Wines like Canon La Gaffeliere and d'Aiguilhe could score better as the wines develop in barrel and bottle.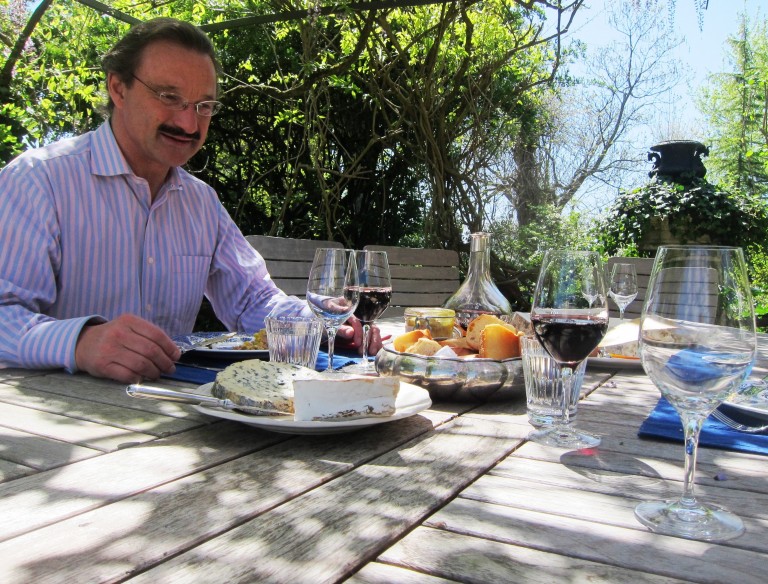 2010 Canon La Gaffeliere  Low yields of 28 hecoliters per hectare produced a blend of 55% Merlot, 35% Cabernet and 10% Cabernet Sauvignon that will be aged in 70% new oak. Licorice, chocolate mint, spice, jammy black raspberries, silky lush textures and long, fresh, sweet chocolate cherry expansive finish are the hall marks of this Bordeaux wine. 93-95 Pts
2010 Clos de l'Oratoire. From low yields of 30 hectoliters per hectare and a biodynamic approach, the property produced a Bordeaux wine from a blend of 95% Merlot and Cabernet Franc that will be  aged in 75% new oak. Vanilla, fennel, black cherry, fresh herbs, lush textures, silky tannins, sweet licorice covered jammy berries and chocolate 92-94 Pts
2010  La Mondotte comes from a 4.5-hectare vineyard that produced wine in this vintage from the ridiculously low yields of 20 hectoliters per hectare from vines that average 70 years of age. 80% Merlot and 20% Cabernet Franc formed the assemblage that will be aged in 100% new oak. The wine reached 14.% alcohol, but with one of the lowest pH numbers I found in this vintage,  3.2, there is a lot of freshness and pop to this wine.  Inky black with purple accents, licorice, stone, black fruit, jam, spice and mocha aromas rocket from the glass.  Concentrated with luscious, ripe, opulent berries, this tannic Bordeaux wine is expansive on the palate, finishing with waves of fresh, pure black cherry liqueur, licorice and minerality.  I asked Neipperg if producing a wine like this was risky.  He responded with a smile saying, "No risk, no fun."  96-98 Pts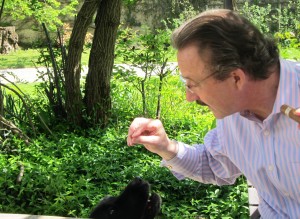 2010 d'Aiguilhe – This 50-hectare Bordeaux wine vineyard produced with a typical blend for the Cotes de Castillon appellation, 80% Merlot and 20% Cabernet Franc is aged in 50% new oak.  Dark, purple ruby in color, with a perfume of licorice, jammy dark berries and oak, the wine is round in texture and is filled with delicious ripe black and red fruits, chocolate and spicy, fresh berries.  90-92 Pts
2010 Soleil  80% Merlot, 10% Cabernet Franc, 10% Cabernet Sauvignon was used to create a wine with licorice, jammy black fruit and cassis with a milk chocolate covered, cassis finish. This wine is produced with the efforts of Stephan Von Neipperg. 86-88 Pts
2010 Soleil Le Rival From 45 year old vines planted on a bed of limestone terroir, this 90% Merlot and 10% Cabernet Franc blend offers a complex perfume of truffle, earth, blackberry and stone aromas. Concentrated with intense dark cherries and chocolate, the wine ends with a long, fresh, mineral, cassis and cherry finish. This wine is produced with the efforts of Stephan Von Neipperg. 90-92 Pts
2010 Clos Marselatte Produced from a blend of 50% Cabernet Sauvignon, 45% Merlot and 5% Cabernet Franc with the help of Stephan von Neipperg will be aged in 50% new oak. Smoke, cassis, anise, earth and forest floor on the nose, with a medium body, round tannins and a dark berry, licorice and cassis finish. 89-91 Pts