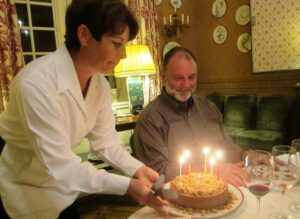 2010 Chateau Rauzan Segla, 2010 Chateau Canon 2010 Bordeaux Wine review, tasting notes and ratings.
John Kolasa, the managing director for Chateau Rauzan Segla in Margaux and Chateau Canon in St. Emilion celebrated his birthday in Bordeaux. The night was a blast. Fortunately, I was lucky to be seated next to the lovely Delphine Kolasa, who is not only the beautiful, charming wife of John Kolasa, but she's also in charge of Chateau Labegorce. Prior to the dinner, I was able to taste both wines John produced in 2010.
2010 Rauzan-Segla – Only 45% of the crop was used in the Grand Vin. Produced from an assemblage of 60% Cabernet Sauvignon, 37% Merlot, 2% Cabernet Franc and 1% Petit Verdot, the wine reached 14% alcohol, which is slightly higher than they achieved in 2009.
Alluring scents of fresh flowers, truffle, cassis and jammy black plums combine with silk and velvet textures to produce an opulent, powerful, sensuous Margaux that coats your mouth with sensations of supple tannin and intense purity. When comparing this with the highly regarded 2009, it is not a question of quality or score, it's a matter of style. The 2009 is more sensuous, while the 2010 offers more power and lift from higher acidity. 94-96 Pts.
Kolasa was worried about the potential alcohol level during fermentation, which caused to take care and not over extract. After tasting the wine he felt comfortable with how the wine turned out.
2010 Segla – Cassis, spice and oak scents, soft textures and a fresh berry finish are found in this very strong second wine. 2010 Segla should sell for about $25, which makes it a steal and it will be ready to drink on release. 89-91 Pts
2010 Canon – From 75% Merlot, 25% Cabernet Franc, (which is the same mix as found in the vineyards,) the wine is deep ruby in color and reached 14.8% alcohol. Yet, there is no sensation of heat. People who prefer tasting by the numbers could have problems with this wine, but I loved it! An intoxicating perfume filled with minerality, licorice, black raspberry jam, hints of oak and chocolate, this is the richest, most concentrated wine produced by the Kolasa team yet. Thick, intense and filled with fresh, perfectly ripe plums, blackberries and licorice, the wine feels great as it falls over your palate and coats your mouth. 94-97 Pts.
Kolasa stated this is not the usual style for Canon. During fermentation, Due to its unique style, Kolasa has some fears about the wines ability to age. Tempering his remarks, he added, this is probably how the winemakers felt about 1947, when that vintage was produced. We all know how that turned out.
Back to the birthday party for a moment. The night was a blast! Also in attendance was Rene Gabriel, the noted wine critic, who doubles as a magician. I promised Rene if he was able to repeat his trick on film, I'd publish pictures of how he magically turned one finger into two. I explained that I was used to seeing one finger pointed in my direction. Fortunately, he did not use that finger. At least not yet.
Rene Gabriel… Now you see it…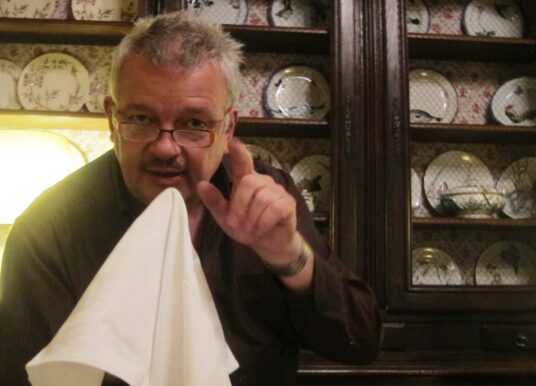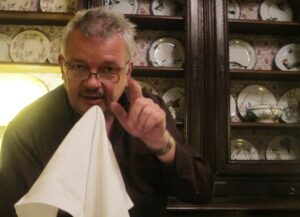 Rene Gabriel… Now you see it double…