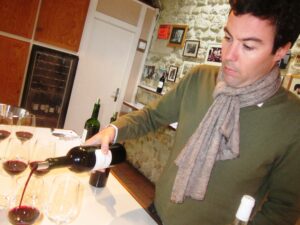 2010 Chateau Lynch Bages 2010 Bordeaux Wine review, tasting notes and ratings.
2010 Lynch Bages 79% Cabernet Sauvignon, 18% Merlot, 2% Cabernet Franc and 1% Cabernet Franc made up the blend for 2010.  Yields were close to 10% less across the board than in 2009 at 50 hectoliters per hectare. This explains the ability to maintain the same amount of merlot in a year that was difficult for that variety.  The wine will be aged in 70% new oak.  
Visually, the wine sports a deep ruby color. It's big, fat and concentrated, sweet ripe, blackberries and cassis. This is a masculine, powerful, structured vintage for Lynch Bages. The tannins are ripe, but this wine will require serious aging before becoming civilized. The wine ends with a blast of ripe, chewy cabernet fruit. 93-96 Pts
Jean Charles Cazes, when asked to compare 2010 with 2009 stated, 2010 is a more serious, bigger wine with more tannin and backbone that will age better. We agree on the aging potential, but I'm not sure I agree on a preference for 2010 over 2009. Cazes added, it will be a fun debate over the years to be decided by comparing the wines.  On that, we were in complete agreement, I look forward to that as well.
We spent a few moments discussing the recent appointment of his aunt Sylive Cazes as the director of Pichon Lalande. I asked if he felt there was a little bit of a competition with his aunt, Sylvie Cazes, as she also manages a different estate in Pauillac.  Cazes responded by reminding me that, years ago, his father was in charge of Pichon Baron and Jean-Michel never felt he was competing with himself.  Good point!
2010 Lynch Bages Blanc – With a higher portion of Sauvignon Blanc in this vintage,  67%, with 15% Semillon and 2% Muscadelle,  the wine offers scents of lemon, honey dew, orange rind, floral and pumpkin spice, ending with a refreshing, sweet lemon, citrus finish.  88- 90 Pts