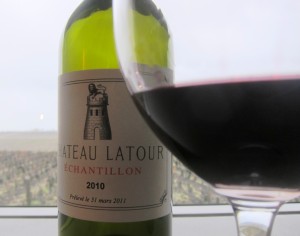 2010 Bordeaux wine buying guide for Pauillac with reviews, ratings and tasting notes from all the top chateaux tasted in barrel.
2010 d'Armailhac 60% Cabernet Sauvignon, 23% Merlot, 15% Cabernet Franc and 2% Petit Verdot produced a wine that opens with cedar, 5 spice, gravel and cassis scents. Filled with chocolate covered blackberries and sweet cassis, this Bordeaux wine offers depth and purity of flavor.  This is the second strong vintage in a row for this Pauillac.  92-94 Pts
2010 Clerc Milon 50% Cabernet Sauvignon, 36% Merlot ,11% Cabernet Franc, 2% Petit Verdot and 1% Carmenere make up the blend for the darkest color I recall seeing in Clerc Milon. Complex aromas of fresh herbs, cassis, forest scents, cedar wood and mocha open to smooth tannins, fleshy textures, brightness and a clean, cassis filled finish. 91-93 Pts
2010 Grand Puy Lacoste  83% Cabernet Sauvignon and 17% Merlot were blended to produce a deep colored wine that expresses toasty oak, cassis, coffee, jammy dark berries, tobacco and olive tapenade aromas that pair well with the full-bodied, bite of concentrated Cabernet Sauvignon, spice and cassis. Along with the stellar 2005, this is the best vintage of this Bordeaux wine since the outstanding 2000. 94-96 Pts
2010 Haut Batailey  From 70% Cabernet Sauvignon, 25% Merlot and 5% Cabernet Franc, the Borie family produced a Bordeaux wine that offers spicy cassis aromas, depth of flavor and a finish of ripe black and red fruits.  90-92 Pts
2010 Lafite Rothschild – Produced from a blend of 87.2% Cabernet Sauvignon and 12.8% Merlot, (which is close to what the estate used in 2005,) the wine opened with cedar, earth, minerality, cassis and forest floor aromatics.  In the mouth, the wine is suave, polished and fresh, with layers of pure blackberry and spicy cassis. This is pure refined elegance, which is what Bordeaux wine does at its best. While not the most powerful First Growth, it's the most regal in bearing. According to the Director, Charles Chevalier, part of the reason for the success in 2010 was due to less pumping over than usual. Chevalier added, with the high 13.5% alcohol level, his team spent more time watching over each individual vat during fermentation. 97-99 Pts
2010 Duhart-Milon  73% Cabernet Sauvignon and 27% Merlot, (which is also similar to what the property used in 2005,) the wine opens with sweet oak, truffle, cassis and tobacco notes. This medium/full bodied cassis filled Bordeaux wine has ripe tannins and a long, polished black fruit filled finish. 93-95 Pts
2010 Carruades de Lafite With cedar, earth, forest floor scents, this medium bodied wine offers cassis, cranberry and bright spicy flavors. 88-90 Pts
Lafite Rothschild sells for dizzying prices these days.  Current releases can sell for $2,000 per bottle in the Chinese market! Obviously, Lafite is not an everyday wine, nor is it often tasted by younger wine drinkers.  Charles Chevalier said Bordeaux is the perfect wine for beginners.  But his appellation of choice is surprising.  According to Chevalier, "New wine lovers should start with the sweet wine of Sauternes. They are perfectly balanced with alcohol, sweetness and perfumes. This will prepare them to start enjoying red wines."
We asked Chevalier a follow-up question.  What does he look for first, when tasting a wine? His wines are complex, but his answer was perfectly simple.  "Pleasure is number one."
2010 Latour    This special wine was crafted from only 36% of the harvest. Using 90.5 Cabernet Sauvignon, 8.5% Merlot and equal parts Cabernet Franc and Petit Verdot, the wine reached 14.4% alcohol.  In the glass, this inky, black colored wine is filled with truffle, cassis, chocolate fudge, leather, spice and Cuban cigar aromas. Combining delicacy, power, richness and elegance, (which is always difficult,) the palate is washed over by waves of intense pure cassis and spicy black plums that fill your mouth and coat your mouth. With ripe tannins, purity of fruit and freshness, this is so rich, concentrated and creamy, you can eat it with a spoon. Seamless, balanced and harmonious, the finish lasts for over one minute.  The essence of Pauillac, this is pure liquid intensity and a contender for the 2010 Bordeaux wine of the vintage . 98-100 Pts
2010 Les Forts de Latour is produced from 72.5 Cabernet Sauvignon, 25.5 Merlot and 2% Petit Verdot. This deeply colored, earth, oak, cassis and tobacco scented wine offers concentration, freshness, blackberry and chocolate flavors in the finish. This wine shares a resemblance with  its big brother, Chateau Latour.  90-93 Pts
2010 Pauillac de Latour – Produced from 55% Cabernet Sauvignon, 44.5 Merlot and a dollop of Cabernet Franc, this is an uncommonly rich third wine with cassis, tobacco, coca and dark cherry sensations. 89-91  Pts
2010 Lynch Bages 79% Cabernet Sauvignon, 18% Merlot, 2% Cabernet Franc and 1% Cabernet Franc made up the blend for 2010.  Visually, the wine sports a deep ruby color. It's big, fat and concentrated, sweet ripe, blackberries and cassis. This is a masculine, powerful, structured Bordeaux wine vintage for Lynch Bages. The tannins are ripe, but this wine will require serious aging before becoming civilized. The wine ends with a blast of ripe, chewy cabernet fruit.  Yields were close to 10% less across the board than in 2009 at 50 hectoliters per hectare. 94-95 Pts
This explains the ability to maintain the same amount of merlot in a year that was difficult for that variety.  The wine will be aged in 70% new oak.  Jean Charles Cazes, when asked to compare 2010 with 2009 stated, 2010 is a more serious, bigger wine with more tannin and backbone that will age better. We agree on the aging potential, but I'm not sure I agree on a preference for 2010 over 2009. Cazes added, it will be a fun debate over the years to be decided by comparing the wines.  On that, we were in complete agreement. I look forward to that as well.
We spent a few moments discussing the recent appointment of his aunt Sylive Cazes as the director of Pichon Lalande. I asked if he felt that he was in a little bit of a competition with his aunt, Sylvie Cazes, as she also manages a different estate in Pauillac.  Cazes responded by reminding me that, years ago, his father was in charge of Pichon Baron and Jean-Michel never felt he was competing with himself.  Good point!
2010 Lynch Bages Blanc – With a higher portion of Sauvignon Blanc in this vintage,  67%, with 15% Semillon and 2% Muscadelle,  the wine offers scents of lemon, honey dew, orange rind, floral and pumpkin spice, ending with a refreshing, sweet lemon, citrus finish.  88- 90 Pts
2010 –  Echo Light ruby in color, medium bodied, soft textured, this will drink well young. 88-89 Pts
2010 Mouton Rothschild represents the largest percentage of Cabernet Sauvignon used in blend in the history of the chateau at 94%. The remainder is Merlot.  The wine reached 14% alcohol, which is slightly higher than the estate achieved in 2009.  From 49% of the harvest, which already experienced low yields due to the weather, the wine achieved natural concentration.  Inky dark ruby with purple edges, abundant scents of cedar, truffle, tobacco, boysenberry, cassis, and hints of blueberry prepare your palate for a bath in pure Cabernet Sauvignon.  Rich silk textures, power and refined elegance with a suave, exotic, opulent style is the signature of this wine which explodes on your palate and continues to broaden and expand in flavor.  This is a great vintage of Mouton which competes with the sublime 2006. 97-100 Pts
2010 Petit Mouton From an assemblage of 68% Cabernet Sauvignon, 24% Merlot and 8% Cabernet Franc, the wine is spicy, with bright cassis, oak and earth in the nose. Medium bodied with fresh cassis and dark berries, this is the best vintage of this wine I recall tasting.  This Pauillac will show well young. 89-91 Pts
2010 Pedesclaux, a contender for the most obscure classified growth in Pauillac opens with earth, cassis and spice. This medium/full bodied wine ends with a tannic cassis and blackberry finish. 88-90 Pts
2010 Pichon Comtesse de Lalande produced from 41 hectoliters per hectare, which is low for the estate, the wine is an assemblage of 66% Cabernet Sauvignon, 24% Merlot, 7% Cabernet Franc and 3% Petit Verdot. Flowers, 5 spice, cassis, truffle, coca and tobacco scents open the aromatics. This rich, tannic vintage of Pichon Lalande offers a full bodied, fresh, concentrated wine brimming with ripe, juicy cassis, black raspberry  jam, vanilla and spice. This Bordeaux wine ends with a long, clean, supple finish. 94-96 Pts
Sylvie Cazes said she expects the renovations to the chateau and glass museum to completed by June.
2010 Pichon Longueville Baron utilized only 45% of the harvest to make a great 2010. The wine reached 13.75% alcohol, the same level as in 2009. From an assemblage of 79% Cabernet Sauvignon and 21% Merlot, this deep, dark, purple colored wine opens with cassis liqueur, oak, truffle, tobacco and walnuts Powerful, concentrated and stuffed with ripe cassis and licorice flavors, this dense, classic style of Pauillac ends with a long generous, round, tannic finish. The best wine from this estate since 2005, it will be aged in 80% new oak. 96-97 Pts
2010 Les Tourelles de Longueville from a blend of 60% merlot and 40% Cabernet Sauvignon, the wine offers a cassis, olives and spice perfumed wine with a medium body. This is a lighter style of ready to drink Pauillac. 86-88 Pts
2010 Pontet Canet  Produced from an assemblage of 65% Cabernet Sauvignon, 30% Merlot, 4% Cabernet Franc and 1% Petit Verdot, yields were down 10% from 2009.  Inky black in color, the wine stains the sides of the glass. Cassis, stone, forest floor, tobacco and cedar aromas effortlessly pop from the glass. This fills your mouth with flavor. Packed and stacked with layers of ripe, fat, plump fruit, voluptuous in style, with freshness and ripe tannins, the blackberry, blue fruit, cassis, licorice and spice filled finish grows in your mouth. 96-97 Pts
2010 marks the first vintage for Pontet Canet that the wine experienced 100% bio dynamic as well as organic farming. Pontet Canet is now officially certified biodynamic as well as organic. While the label will not mention it, according to the owner Alfred Tesseron, this is a fact. The organic certification was awarded by Ecocert. The bio dynamic certification comes from biodyvin.