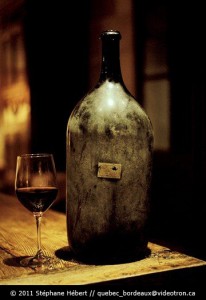 .
.
.
Old wines offer unique sensory experiences.  They deliver complex, unequaled aromatics and textures painted with the patina of age. 99% of the world's wines are meant to be enjoyed within the first year they are produced.  Of the remaining one percent, few of those wines improve with decades of age.  The amount of wines with the ability to age, evolve and offer pleasure after 100 years is miniscule.
.
.
.
1870
Margaux
 – From the cellars of Domaine de
Chevalier
. The owner of this historic
Pessac Leognan
estate, OlivierBernard shared this 6L bottle at a dinner for tasters of the GJE at the chateau. The bottle had been in the cellars of
Chevalier
for over a century!
.
The color of tea, potent, earthy, truffle, spice, tea, leather and tobacco notes were only the first scents to arrive. This elegant, soft, polished wine ended with a parade of fresh, ripe strawberries and raspberries in a rich syrupy texture. 100 Pts