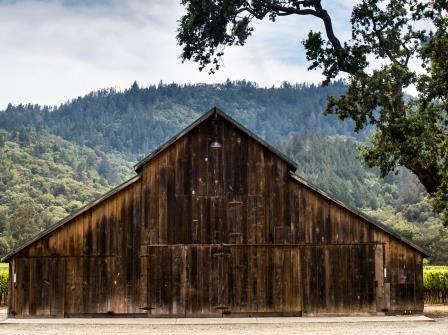 Everything about Ulysses Cabernet Sauvignon Napa Valley California wine producer profile, wine tasting notes, wine and food pairing tips, best vintages, history of the property, information on their wine making techniques, terroir and soil. You can also read about the Grapes used for California wine and learn about the extensive History of Napa Valley, California Wines
Ulysses History, Overview
Starting with the 2012 vintage, Christian Moueix introduced a new wine, Ulysses Estate. Christian Moueix is no stranger to the Napa Valley. He has been the owner of Dominus since 1983. That makes Ulysses, only his second project in almost 30 years in California. Over the past 3 decades, Christian Moueix has continued concentration more of his efforts in California. His son Edouard Moueix has taken a bigger role in managing their vineyards in St. Emilion and Pomerol, which include Chateau Trotanoy and Chateau La Fleur Petrus and of course their negociant company, Ets. Moueix.
Ulysses Cabernet Sauvignon comes from vines planted in the Oakville appellation, not very far from Dominus. The vineyards for Ulysses are located just north of the famous Napanook vineyards used by Dominus and west of Highway 29, the main road you take when traveling north to south in the Napa Valley.
The vineyard that is now used to produce Ulysses was previously known as Schmidt Ranch. Schmidt Ranch took its name from the previous owners that purchased the vineyard just before the depression in the 1920's. However, the vineyard has an even longer history in the region as it was first cultivated in 1873 by Charles Hopper. In fact, it was originally part of the famous Missouri Hopper Ranch vineyard. Prior to Christian Moueix purchasing the vineyard, the previous owners of Schmidt Ranch sold their grapes to Swanson.
Ulysses Vineyards, Wines, Winemaking
The vineyard of Ulysses has 31.5 acres of vines are planted in the Autres Rivages, which is next to the well-known vineyards of Missouri Hopper Ranch and Vine Hill Ranch on one side and the famous To Kalon vineyards on its other side. As you can see, they have very good neighbors. Ulysses is not the same wine as Dominus. And it is not supposed to be. While they are both gravel based soils in the Oakville Bench, Ulysses is harvested earlier, because it has a slightly warmer, micro climate during the summer months.
After Christian Moueix took over the Ulysses vineyards, he changed things up, increasing the amount of Cabernet Sauvignon planted in the vineyards and increased the vine density. Because the vineyards were now planted with a high level of vine density, they used the same double Guyot trellising that is also at Dominus. It is supposed to be helpful with the narrow rows of vines planted at Ulysses. The vineyard is 100% dry farmed.
The vineyard of Ulysses is currently planted to 85% Cabernet Sauvignon, 9% Cabernet Franc and 6% Petit Verdot. The same technical team that produces Dominus, Christian Moueix and Tod Mostero is also in charge of the vineyards and wine making for Ulysses Estate The wine is aged in an average of 45% new, French oak barrels for about 20 months before bottling. The current level of production is close to 800 cases of wine per year.
Serving and Decanting Ulysses with Wine, Food, Pairing Tips
Ulysses Cabernet Sauvignon wines are best served at 15.5 degrees Celsius, 60 degrees Fahrenheit. The cool, almost cellar temperature gives the wine more freshness and lift. Young vintages of their red wine can be decanted for 1-3 hours, depending on the character of the vintage. This allows the wine to soften and open its perfume. Older vintages might need very little decanting, just enough to remove the sediment.
Ulysses is best served with all types of classic meat dishes, veal, pork, beef, lamb, duck, game, roast chicken, ribs, hamburgers, barbecue, roasted, braised, grilled dishes and stews. Ulysses is also good with Asian dishes, hearty fish courses like tuna, salmon, mushrooms and pasta.
Ulysses Wine Tasting Notes
1 Vintage 4,872 Views Sort by Vintage-Rating
2013
Ulysses Cabernet Sauvignon (Napa Valley)
On the earthy, truffle side of the style range, with a wave of fresh squeezed black cherries on the palate, the wine is medium bodied and finesse in style, combining grace and elegance with freshness, purity and good weight. While the wine shares the same textural elegance as Dominus, Ulysses does the same density or concentration. But once you're done with the comparison, which is natural to do, this is a great style of wine that deserves to be tasted. As this wine ages, it cold be deserving of another point or two, as it is in such a fabulous style!
4,872 Views
Tasted

Sep 16, 2016