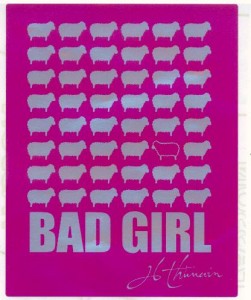 Jean-Luc Thunevin, the Bad Boy of St. Emilion has turned the lovely and formerly innocent, Murielle Andraud into a Bad Girl!
It was bound to happen sooner or later.  It was only a matter of time.  Think about it. What good is a Bad Boy without a Bad Girl? That's how the St. Emilion, Bordeaux wine making couple, Jean-Luc and Murielle see it. We agree and think its great that Bad Girl Murielle Andraud is now making this wine!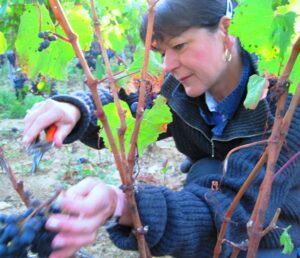 Murielle Andraud, who has taken over Bordeaux wine making responsibilities for Valandraud and Ets Thunevin Bad Boy , is in charge of producing the first, Cremant de Bordeaux wine from Jean Luc and Murielle. The sparkling wine is produced from grapes grown in the Entre Deux Mers appellation.  Several generations ago, white wines from Entre Deux Mers were highly sought after. They were considered quality wines.
Bad Girl is produced from a unique blend of; 70% semillon, 20% cabernet franc and 10 % muscadelle. Before deciding on the final blend, Murielle and Jean-Luc tasted a myriad of different combinations to find the style offering the combination of crisp and fresh flavors they were seeking.
To produce Bad Girl, the juice is clarified and filtered to obtain the must. 150kg of grapes yields 100 litres of juice. The wine is fermented at 18°C, following a "débourbage", (this allows the must from white grapes to fall to the bottom of the barrel before racking) with cold action. The wine did not undergo  malolactic fermentation. No fining, or sterile filtration were used as well.
Bad Girl made its debut vintage from grapes harvested in 2008.   Bad Girl was first bottled in April 2009. Since that date, it was aged on its lees in bottle, at a constant 12°C.  Nine  months later, December 19, 2010, the wine was disgorged and the liqueur d'éxpédition was added.  That is the same process allowing the wine to develop its bubbles that is used in making Champagne.  Close to 800 cases were produced. The wine will retail for under $20.
This Bad Girl has a future.  You can expect the wine to be produced from grapes harvested in 2009, 2010 and beyond.
The name Bad Girl is causing problems in America. They did not receive approval for the wine to use that name in America. They will need to come up with a different name before being cleared to sell the wine in the USA.