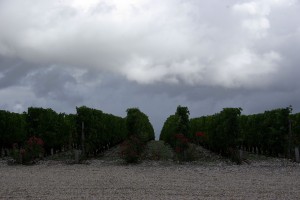 Good grapes need water for nourishment.  But they need it at the right time and in the correct amounts. Like Goldilocks, "Not too little, not too much, just right."   In the middle of the 2010 Bordeaux wine harvest, the Medoc, which is the home of Margaux,  St. Julien , Pauillac  and St. Estephe experienced a massive rainfall today. Close to one inch dropped in select locations in the Medoc. .
Rain at this point in the harvest is not necessarily a cause for concern.  Most of the merlot has already been picked.  Cabernet Sauvignon has thicker skins making it a more resilient grape.  The vines no longer take on nourishment, so the vines cannot feed and water down the potential wine.
What growers fear from the rain is the potential for the fruit to develop rot.  2010 is already a small vintage. Many chateaux have reported they will be producing close to 30% less Bordeaux wine this year.  What the growers in the Medoc are hoping for now is wind and cool temperatures to make everything dry. Heat and humidity would be a problem, as those are the conditions that promote rot. Bordeaux is a marine climate. It rains a lot. In fact, many famous vintages endured rain during the harvest, for example 1982 and 1990!
The game right now is, do you hurry and pick now, before additional rain falls, even though your tannins are not fully ripe? Or do you wait for more ripeness and risk additional rain?
More rain is forecast throughout the week.  Keep in mind, Bordeaux is a large area. What takes place in the northern Medoc in St. Estephe, does not mean the same conditions are being endured south in Margaux. Obviously, what takes place in Medoc does not always have a bearing on the weather in the Right Bank.  The rain that fell today in St. Emilion is a lot less than what they experienced in the Medoc.  That rain could be beneficial. 
In Pomerol most, if not all the harvest has been completed. In St. Emilion, the top properties have not done much harvesting yet. Most are waiting a few more days  for the tannins to ripen. 
Keep reading The Wine Cellar Insider for more 2010 harvest news as it develops.
Feel free to post your commetns or questions.