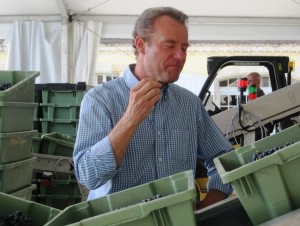 Chateau Margaux not only produces what many wine lovers say is the finest red  Bordeaux wine made, they also make an outstanding white wine.  2007 remains the best white Bordeaux wine from Margaux I have ever tasted.  They started the 2010 Chateau Margaux Harvest with the picking their sauvignon blanc and semillon September 9. Paul Pontallier, the managing director for Margaux compared the 2009 white wine harvest with his 2010, saying they shared much in common.  Pontallier added he did not feel quite the same when comparing 2009 with 2010 for their red wines for the 2010 Chateau Margaux Harvest.
September 23, Chateau Margaux began harvesting the grapes for their 2010 Chateau Margaux Harvest for the red wine at a small plot called l'Eglise.  Pontallier said, "That block always produces their finest merlot". He added, "Before picking, the workers spent more time sorting the grapes from the young plots as those vines were the ones that suffered the most during the summer draught". Margaux ceased harvesting for a few days, hoping for some much needed rain that had been forecast. They resumed September 27. The rain in the Medoc did not come, but they continued slowly harvesting. A slight amount of precipitation fell, which helped the grapes. At that point, Pontallier felt they had reached the end of the grapes' ripening cycle and there was no reason to wait longer to pick. They returned to harvesting September 30 with their full crew.  Decisions from this point forward said Paul, "will be made on a day by day and parcel by parcel basis".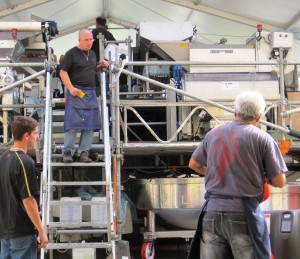 Chateau Margaux has been experimenting with biodynamic farming for a fews years. We asked Paul Pontallier how much of their vineyards were farmed in the 2010 Chateau Margaux Harvest using the technique.  "We've launched experiments on 2 different plots and are comparing 3 different modalities in a scientific way".  Could you please elaborate? "We are trying to apprehend this issue, as all the others, in a scientific way, and in this field, if I believe in something, it is experimental science".
Don't you already practice organic farming whenever possible at Chateau Margaux? "Our current techniques are very close to organic techniques".
What results have you seen from your experiments in biodynamic farming? "The grapes from these experiments are micro processed. The wines are analyzed then tasted. To this date, no conclusion can be drawn yet".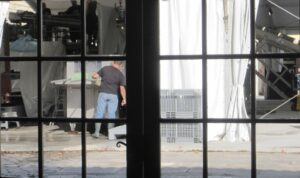 I know you are still involved in harvesting. While it's a little precipitous, what are your thoughts about what the potential for the 2010 Bordeaux wine at Chateau Margaux as of today? "Regarding 2010, it seems it will be an extraordinary vintage given the wonderful weather conditions we've had since June 20th. These conditions remind us those of 2005 and 2009".
What challenges has this vintage presented to you so far? "So far, life has been very easy to 2010. There hasn't been any particular challenge. Let's keep our fingers crossed".