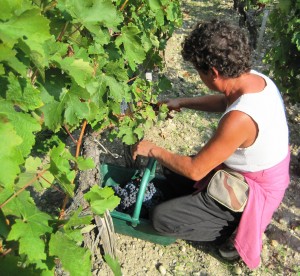 The 2010 Bordeaux harvest is about to start. Some white wine grapes in the Graves, Pessac Leognan appellation are already being picked.  At this stage of the game, it's still too early to call the game. But the comment most growers are making is, (especially in Pomerol), they need some rain at this point. Monday September 6 saw almost 2.3 inches of rain in Margaux overnight.
Is it too little, too late? Or is just enough at the right time? While precipitation is taking place, more rain is probably needed. The current prognostication shows a 30% chance of light rain this week.
2009 saw the debut of the Optical Sorting Machine. Will it become even more prevalent in with the 2010 harvest?
Gerard Perse, who owns a myriad of Bordeaux properties, most notably Chateau Pavie, helped develop the optical sorting machine over a 4 year period. The machine uses image analysis allowing unwanted elements to be removed. Thus operators can set the machine to remove foreign objects, vegetation, or unripe berries by size or color. The fruit moves along a conveyor belt with a blue background while a camera takes continuous pictures, analyzing the grapes. An ejection mechanism removes unwanted objects using high frequency, pneumatic nozzles.
The optical sorting machine is a welcome advance to many growers. But not every wine maker agrees. For example, Chateau Margaux prefers conducting most of their sorting in the vineyards. The argument against that practice is, with manual sorting, which takes longer than the optical sorting machine, growers run the risk of developing rot in the vineyards while waiting for full phenolic ripeness. That might not be the sole risk.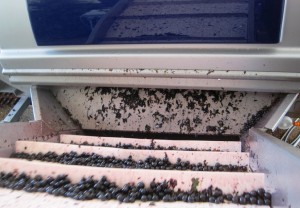 Manual destemming might have additional side effects which releases enzymes contained in the rot that could potentially lead to unclean fermentations and a potential loss of color. To combat this enzyme infection, mechanical destemmers, along with optical sorters, have been created to help with the process. The devices work in tandem. Because of the newness of the machines, their expense, and their limited availability, they are being used primarily in Pomerol and St. Emilion. But they are also being tested in the Medoc at Mouton and Leoville Las Cases.
Will Optical Sorting Machines see more use in 2010? Yes. With 2009, many properties did not require extensive sorting, due to the levels of ripeness achieved with their fruit. But with 2010, that is not the case.  Selection will play a bigger in the production of 2010 Bordeaux wine.
It's said that the next technical innovation could be the use of ultrasound, which might have the ability to sort fruit by color, size, and sugar content. These advances in harvesting, along with continued better understanding of the vineyards and of individual terroirs, are part of the reason for the continuing progress in wine making today.