2010 Château Latour Grand Vin Pauillac Bordeaux France Wine Tasting Note
70555 Views
Still showing a good depth of color, the wine pops with nuances of black currants, aged Cuban cigars, herbs, flowers, and oceanic influences. On the palate, the wine coats your palate with powerful layers of creamy, vibrant, refined, regal fruits with a touch of salt. The seamless finish delivers a non-stop barrage of black and red fruits that build, expand, and linger. This is the type of wine that stops you in your tracks, makes you think, and return for another swirl, sniff, and sip, because you could not believe the wine was that good. Still, an adolescent, another decade in the bottle will create an even better tasting experience. Drink from 2032-2075.
6,199 Views
Tasted

Nov 21, 2022
Inky and opaque in color, the wine screams with licorice, truffle, dark black fruits, Asian spice and wet forest scents. The wine is stunningly concentrated filling your mouth, coating your palate and staining your teeth with each delicious sip. There is not a single hair out of place. Everything is exactly where is should be. The sublime finish grows and expands for more than 60 seconds. This wine could possibly outlive anyone currently reading this tasting note!
22,550 Views
Tasted

May 8, 2013
2010 Latour Completely opaque in color, this stunning Chateau Latour is filled with scents of, licorice, blackberry liqueur, Asian spice, oak and gravel. The wine is packed with layers of concentrated, fresh, pure dark fruits, sweet cassis, spice, blackberries and dark, bitter chocolate. This wine ends with a sensation of your palate drenched in waves of perfectly ripe, dark berries. Everything is in balance and harmony. This is a seamless tasting experience. Over the years, this will be seen as another reference point vintage of Chateau Latour. 99-100 Pts
23,677 Views
Tasted

Jul 30, 2011
Latour - This special wine was crafted from only 36% of the harvest. Using 90.5% Cabernet Sauvignon, 8.5% Merlot and equal parts Cabernet Franc and Petit Verdot, the wine reached 14.4% ABV. In the glass, this inky, black colored wine is filled with truffle, cassis, chocolate fudge, leather, spice and Cuban cigar aromas. Combining delicacy, power, richness and elegance, (which is always difficult,) the palate is washed over by waves of intense pure cassis and spicy black plums that fill your mouth and coat your mouth. With ripe tannins, purity of fruit and freshness, this is so rich, concentrated and creamy, you can eat it with a spoon. Seamless, balanced and harmonious, the finish lasts for over one minute. The essence of Pauillac, this is pure liquid intensity. 98-100 Pts
18,129 Views
Tasted

Apr 20, 2011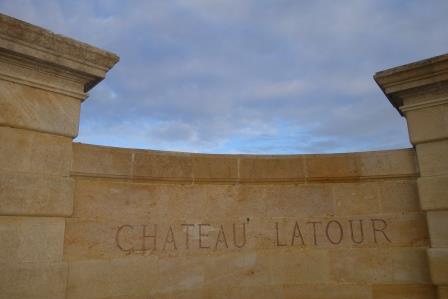 When to Drink Chateau Latour, Anticipated Maturity, Decanting Time
Chateau Latour is not a wine to drink on the young side. The wine is usually far too tannic, powerful and reserved during its youth. Young vintages can be decanted for an average of 3-6 hours, give or take. This allows the wine to soften and open its perfume. Older vintages might need very little decanting, just enough to remove the sediment.
Chateau Latour is usually better with at least 15 years of bottle age. Of course, that can vary slightly, depending on the vintage character. Chateau Latour offers its best drinking and should reach peak maturity between 18 and 60 years of age after the vintage.
Serving Chateau Latour with Wine and Food Pairings
Chateau Latour is best served at 15.5 degrees Celsius, 60 degrees Fahrenheit. The cool, almost cellar temperature gives the wine more freshness and lift.
Chateau Latour is best paired with all types of classic meat dishes, veal, pork, beef, lamb, duck, game, roast chicken, roasted, braised and grilled dishes. Chateau Latour is also good when matched with Asian dishes, rich fish courses like tuna, mushrooms and pasta.
In 2011, Chateau Latour added to their holdings in Pauillac when they purchased the 4-hectare vineyard of Chateau La Becasse from the Fonteneau family. The vines are used for the production of Forts de Latour.
Chateau Latour became one of the first major Bordeaux chateaus to embrace anti-counterfeiting measures with the use of the Prooftag system which is in place on the label, bottle and capsule of all future and current releases.
In 2015, Chateau Latour completed renovations which included new offices, tasting rooms and cellars. In fact, Chateau Latour became the first estate in the Medoc to maintain a cellar solely devoted to keeping magnums and other large-format bottling's dating back to 1900. The new cellars were a necessity as they allowed Latour to retain vast stocks of wines, for later releases.
The Pinault family also own other wineries through their holding company the Artemis Group. In Burgundy, they own Domaine d'Eugenie, previously known as Domaine Rene Engel. The vines are located in the Vosne Romanee appellation in the Cote de Nuits. Late 2017, marked another addition to their holdings in Burgundy when they purchased Clos de Tart for a record-setting price of more than 30 Million Euros per hectare!
In the Northern Rhone Valley, they own Chateau Grillet, which prior to their recent sale had been owned by the same family since 1830!
In July 2013, the family added to their list of vineyards with the purchase of Araujo Estate wines, in the Napa Valley. Araujo has since been renamed Eisele Vineyards. The following year, in 2014, The Artemis Group made their first purchase in the Right Bank, when they invested in Chateau Vray Croix de Gay, Pomerol, Chateau Siaurac, which is located in the Lalande de Pomerol appellation and Chateau Le Prieure in St. Emilion. They sold all their Right Bank vineyards, September 2020 to Suravenir Insurance, the owner of Chateau Calon Segur.