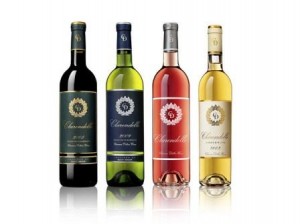 Learn everything about Clarence Dillon Clarendelle Bordeaux wine, with wine tasting notes, wine, and food pairing tips, best vintages, history, information on the vineyards, and winemaking. If you want to read about other important, Bordeaux Chateaux: Links to all Bordeaux Wine Producer Profiles
In 2002, close to 75 years after the purchase of the famous First Growth estate, Chateau Haut Brion by Clarence Dillon, created an affordable Bordeaux appellation wine, Clarendelle. Clarendelle offers consumers a full range of value-priced, Bordeaux wines that include red wine, white wine, rose' and sweet Bordeaux wine. CIn 2014, they expanded their production with the addition of 3 new wines.
Clarendelle Clarence Dillon Vineyards, Terroir, Grapes, Winemaking
On average, the red wine of Clarendelle is made from a blend of 82% Merlot, 13% Cabernet Sauvignon and 5% Cabernet Franc. However, the blend will change, depending on the character and quality of the vintage, and of course the specific wine.
The grapes are from vines planted in various Bordeaux regions including, St. Emilion, Haut Medoc and Pessac Leognan appellations. A portion of the fruit comes from Chateau Haut Brion, Chateau La Mission Haut Brion and Chateau Quintus.
Starting with the 2014 vintage, Clarendelle added 3 new wines to their portfolio of red wines, Clarendelle Medoc, dominated by Cabernet Sauvignon, Clarendelle Medoc, which is mostly Cabernet Sauvignon blended with other Left Bank grape varieties and a Right Bank wine, Clarendelle Saint Emilion, which is produced using a high percentage of Merlot.
It is interesting to note that all these new offerings have a special label that shows their connection to the First Growth they are related to, as the label reads, "Inspired by Haut-Brion."
Clarendelle also produces a dry white Bordeaux wine that comes from vineyards planted to a mix of blend of 64% Semillon, 24% Sauvignon Blanc and 12% Muscadelle. The fruit is from vines planted in Pessac Leognan, Graves and Entre Deux Mers appellations.
The blend can vary quite a bit, depending on the vintage conditions. With the 2016 vintage, the labels for Clarendelle were updated with new art that was inspired by the labels for Haut Brion Blanc.
The best vintages of Clarendelle are: 2022, 2021, 2020, 2019, 2018, 2017, 2016, 2015 and 2014.
Clarendelle also produces Clarendelle Amber, an affordable, sweet, white Bordeaux wine from the Monbazillac region, located not far from the famous appellation of Sauternes.
This sweet, white Bordeaux wine from Clarendelle is often produced from a blend of 80% Semillon and 20% Sauvignon Blanc. Although some vintages can include a percentage of Muscadelle as well.
Clarendelle also offers a rose' wine in their lineup as well, which is produced from typical red Bordeaux grapes.
When to Drink Clarendelle, Anticipated Maturity, Decanting Time
Clarendelle is vinified to drink well young, In fact, it is quite delicious on release. Should you wish, young vintages can be decanted for 20-30 minutes or up to 1 hour. This allows the wine to soften and open its perfume. Older vintages might need very little decanting, just enough to remove the sediment.
Clarendelle is usually best within 2-7 years after the vintage.
Serving Clarendelle with Wine, Food, Pairing Tips
Clarendelle Clarence Dillon red wine is best served at 15.5 degrees Celsius, 60 degrees Fahrenheit. The cool, almost cellar temperature gives the wine more freshness and lift.
Clarendelle is best paired with all types of classic meat dishes, veal, pork, beef, lamb, duck, game, roast chicken, roasted, braised, and grilled dishes. Clarendelle is also good when matched with Asian dishes, and rich fish courses like tuna, mushrooms, and pasta.
The white Bordeaux wine of Clarendelle, Clarence Dillon is perfect to serve with all types of fish, seafood, sushi, sashimi, shellfish, chicken, veal, and cheese.
The production and marketing of all the Bordeaux wines from Clarendelle are managed by much of the same team that produces Chateau Haut Brion and Chateau La Mission Haut Brion in the Pessac Leognan appellation as well as Chateau Quintus, the newest acquisition by the company, located in St. Emilion in the Right Bank of Bordeaux.
The team is headed by Jean-Philippe Delmas, the director of Haut Brion, and all the other Clarence Dillon properties.
Clarendelle Wine Tasting Notes
19 Vintages 45,199 Views Sort by Vintage-Rating
2021
Clarendelle Blanc (Bordeaux)

Crisp lemons, juicy pineapples, green apples and fresh, white peaches shine in the nose and on the palate of this frankly, delicious, well-priced, white Bordeaux. Drink from 2023-2026. 90-90

1,729 Views

Tasted

May 20, 2022

2021
Clarendelle (Bordeaux)

Medium-bodied, fresh, light bright, plums with cocoa on the nose and on the soft, easy-going palate. You can enjoy this fruit-filled, round wine on release and over the following 5-7 years. Drink from 2023-2036. 87-89

1,687 Views

Tasted

May 20, 2022

2021
Clarendelle (St. Émilion)

Light, fresh and forward, soft and easy to drink, you can enjoy this, plummy-charmer on release. Drink from 2023-2027. 86-88

1,563 Views

Tasted

May 20, 2022

2020
Clarendelle (Bordeaux)

Plummy, with chocolate overtones, black cherry and licorice on the nose. The wine is medium-bodied, forward, soft and already delicious to taste, finishing with chocolate covered cherries that stay through the endnote. You can enjoy this fruit-filled, round wine on release and over the following decade. 89-91 Pts

2,331 Views

Tasted

May 20, 2021

2020
Clarendelle Blanc (Bordeaux)

White peach and pomelo share the spotlight here in this fresh, sweet and open, delicious and refreshing white Bordeaux wine. 89 Pts

2,334 Views

Tasted

May 20, 2021

2019
Clarendelle (St. Émilion)

With a touch of mocha, wet earth and red plums, the wine is soft, round, forward and already a pleasure to taste. You should feel free to drink this easy-going, Merlot dominated crowd pleaser in its youth. This is made by the same team that produces Haut-Brion.

827 Views

Tasted

Mar 29, 2022

2018
Clarendelle (Bordeaux)

Forward, medium-bodied, accessible, early drinker with red fruit, cherries and just a bit of tobacco in the mouth as well as in the finish. 86-88 Pts

2,061 Views

Tasted

Apr 19, 2019

2018
Clarendelle (St. Émilion)

Round, forward, soft and showing a nice display of sweet, red cherries and licorice, drink this easy-going, Merlot-dominated crowd-pleaser in its youth. 86-88 Pts

1,721 Views

Tasted

Apr 19, 2019

2018
Clarendelle Blanc (Bordeaux)

Light, bright and fresh, enjoy this yellow citrus filled summer quaffer in the first year or two after it hits the shelf.

2,300 Views

Tasted

Apr 19, 2019

2017
Clarendelle (Bordeaux)

A medium-bodied, bright, fresh and soft-textured wine, replete with a dark cherry profile that will be best during its fruit-oriented formative years.

2,303 Views

Tasted

Apr 26, 2018

2016
Clarendelle (Bordeaux)

Fully ready to go, this delicious, early drinking wine of pleasure is primed for the dinner table, with its soft, open character. This is an excellent Bordeaux for restaurants.

2,828 Views

Tasted

Sep 21, 2019

2016
Clarendelle (Médoc)

With an earthy leaning, the medium bodied wine is all about its tobacco and soft, dark red fruit charm. For ordering in a restaurant, this is a nice choice.

2,788 Views

Tasted

Sep 21, 2019

2016
Clarendelle (Pessac-Léognan)

A hint of smoke, a bit of licorice and ripe, earthy red fruits are on the nose and palate. With its silky, soft tannins and open approach, this is already perfect for drinking. Enjoy it over the next few years.

2,216 Views

Tasted

Sep 21, 2019

2016
Clarendelle (Bordeaux)

A perfect example of a wine of pleasure. Forward, not really complicated, but offering some secondary tobacco and fruit notes, a medium body and a fruity finish. This is a wine to drink early in its life.

3,421 Views

Tasted

Apr 29, 2017

2016
Clarendelle (St. Émilion)

With its licorice and plummy profile, this medium-bodied, Merlot based, early drinker is already quite the charmer.

1,928 Views

Tasted

Sep 21, 2019

2016
Clarendelle Blanc (Bordeaux)

Fun, summer wine with fresh, bright, citrus and a hint of nutty flavors in the finish.

2,069 Views

Tasted

Apr 29, 2017

2015
Clarendelle (Bordeaux)

Ready for the dinner table tonight, this is light, soft, open and easy to drink. You already find hints of truffle, tobacco and ripe, plummy flavors. This is a perfect Bordeaux for restaurants.

2,745 Views

Tasted

May 21, 2018

Light, easy drinking, fun, Merlot dominated, daily drinker that is uncomplicated, yet fruity and open.

2,941 Views

Tasted

Apr 29, 2016

2013
Clarendelle (Bordeaux)

Already showing secondary notes of tobacco along with its red berries, this medium bodied, light, red berry oriented wine will be best consumed in its youth.

2,464 Views

Tasted

May 25, 2016

2010
Clarendelle (Bordeaux)

Likable, easy drinking, medium bodied and already open, with a bit of tobacco and oak on top of the black cherry notes. A nice, well priced value wine with character.

2,943 Views

Tasted

Nov 26, 2015