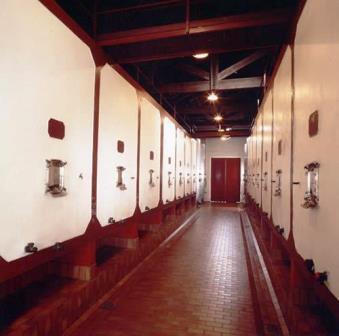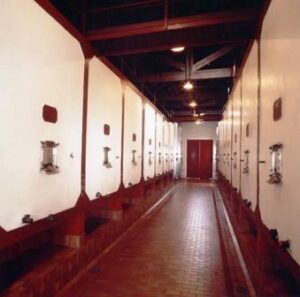 Learn everything about Chateau Caronne Ste. Gemme Haut Medoc with wine tasting notes and wine with food pairing tips. Learn the best vintages, a history of the property, and information on the vineyards and winemaking. If you want to read about other important, Bordeaux Chateaux: Links to all Bordeaux Wine Producer Profiles
Chateau Caronne Ste. Gemme History, Overview
Chateau Caronne Ste. Gemme is one of the older estates in the Medoc. In fact, its history can be dated all the way to the mid-1600s.
The estate takes its name from a water source in the commune, Carona. Chateau Caronne Ste. Gemme began to gain notice as a wine producer following the French Revolution.
At the turn of the 20th century, Chateau Caronne Ste. Gemme became the property of the Borie family in 1900. The Borie family is better known for their numerous estates in the Left Bank including, Chateau Ducru Beaucaillou and Chateau Grand Puy Lacoste. Chateau Caronne Ste. Gemme was owned by the Nony family until 2022. They sold the estate to Bernard Magrez who owns Chateau Pape Clement in Pessac Leognan as well as other vineyards in 2022.
Chateau Caronne Ste. Gemme Vineyards, Terroir, Grapes, Winemaking
The vineyard of Caronne Ste. Gemme is planted to 60% Cabernet Sauvignon, 34% Merlot and 6% Petit Verdot. The 40-hectare, Left Bank vineyard of Chateau Caronne Ste. Gemme is situated not far from the southwest corner of the St. Julien appellation close to Chateau Lagrange and not from Chateau Belgrave, Chateau Lanessan, and Chateau Camensac.
The vineyard is planted to a vine density of 10,000 vines per hectare. The terroir is gravel and sandstone-based soils. With its gentle slopes, the peak of their vines rises to 22 meters. The vines are on average 30 years of age. Harvesting is done using a combination of manual picking and machine harvesting.
To produce the wine of Chateau Caronne Ste. Gemme, vinification takes place in a combination of stainless steel tanks and traditional cement vats. Malolactic fermentation takes place in vat.
The wine is aged in 30% new, French oak barrels for 12 months. The production is close to 24,000 cases per vintage. There is a second wine, Les Viviers de Caronne. The family produces another wine, Chateau Labat, which is also located in the Haut Medoc appellation. Antoine Medeville is the consulting winemaker.
The best vintages of Chateau Caronne Ste Gemme are: 2022, 2021, 2020, 2019, 2018, 2016, 2015, 2010 and 2009 and 2005.
When to Drink Chateau Caronne Ste. Gemme, Anticipated Maturity, Decanting Time
Chateau Caronne Ste. Gemme needs to be decanted for an average of 1 hour or so. This allows the wine to soften and open its perfume. Older vintages might need very little decanting, just enough to remove the sediment.
Chateau Caronne Ste. Gemme is usually better with at least 3-5 years of bottle age. Of course, that can vary slightly, depending on the vintage character. Chateau Citran offers its best drinking and should reach peak maturity between 4-10 years of age after the vintage.
Serving and Decanting Chateau Caronne Ste. Gemme with Wine, Food, Pairing Tips
Chateau Caronne Ste. Gemme is best served at 15.5 degrees Celsius, 60 degrees Fahrenheit. The cool, almost cellar temperature gives the wine more freshness and lift. The wine of Chateau Caronne Ste. Gemme is best served with all types of classic meat dishes, veal, pork, beef, lamb, duck, game, roast chicken, roasted, braised, and grilled dishes.
Chateau Caronne Ste. Gemme is a perfect match with Asian dishes, hearty fish courses like tuna, mushrooms, and pasta as well as cheese.
Château Caronne Ste. Gemme Wine Tasting Notes
16 Vintages 58,295 Views Sort by Vintage-Rating
2021
Château Caronne Ste. Gemme (Haut-Médoc)

Medium-bodied with chewy red fruits, the wine is on the oaky side, giving it roundness, but also dryness in the finish. This is probably the last vintage for this popular Haut-Medoc as it was recently purchased by Bernard Magrez and it will probably be annexed into La Tour Carnet. Drink from 2023-2029. 83-85

1,609 Views

Tasted

May 20, 2022

2020
Château Caronne Ste. Gemme (Haut-Médoc)

Dried herbs, tobacco leaf, cedar, and peppery currants are easy to spot in the perfume and on the palate. Medium-bodied, chewy and savory, the wine leaves you with in herb-infused, minty, red currant finish. Drink from 2024-2039.

617 Views

Tasted

Mar 21, 2023

Medium-bodied, firm, chewy and with a strong savory accent to the crisp, red fruits on the palate, the wine leaves you with an herb-infused, minty, red currant finish. 85-87 Pts

1,843 Views

Tasted

May 20, 2021

2019
Château Caronne Ste. Gemme (Haut-Médoc)

Opening with espresso, smoke, cocoa and red pit fruits, the wine is medium-bodied, fresh, vibrant and crisp, with an elevated note of savory herbs, espresso, olives and spice on the palate and in the finish. Cigar wrapper and red fruits combine on nose and palate with a good blast of tobacco-infused red fruits and a hint of chocolate in the medium-bodied, fruity, savory finish. Drink from 2022-2031.

949 Views

Tasted

Mar 29, 2022

Cigar wrapper and red fruits combine on nose and palate with a good blast of tobacco infused red fruits in the medium-bodied finish. 86-88 Pts

3,248 Views

Tasted

Jun 16, 2020

2018
Château Caronne Ste. Gemme (Haut-Médoc)

Better from the bottle than the barrel, the wine shows off its fresh, bright, juicy, red berry, earth and espresso hints easily. Medium-bodied, fresh, juicy red fruits with a hint of olives and blackberry seal the deal.

1,619 Views

Tasted

Mar 9, 2021

Fresh, crisp, crunchy, bright red fruits are easy to find in this classic, medium bodied, lean, earthy wine. Lovers of old-school, classic Bordeaux will like this a lot more than I did. 85-87 Pts

4,709 Views

Tasted

Apr 19, 2019

2017
Château Caronne Ste. Gemme (Haut-Médoc)

Cranberry and cherry notes compete for space in a medium bodied, lean and classic wine. For those of you who enjoy the style, this is an early drinker.

2,346 Views

Tasted

Apr 26, 2018

2016
Château Caronne Ste. Gemme (Haut-Médoc)

Leafy, tobacco, herb and ripe, bright red fruits are found here from start to finish in this medium bodied wine. Give it at least a few years to soft and round out and it should be a better

1,650 Views

Tasted

Sep 21, 2019

Medium bodied, with lean to the bright, crunchy, red berry side of the style range, with a touch of espresso, tobacco and fresh, red fruits in the end note

3,619 Views

Tasted

Apr 29, 2017

2015
Château Caronne Ste. Gemme (Haut-Médoc)

Old school styled, medium bodied, bright, fresh, crisp, red berries are at the core of this wine, leaving you with a splash of cranberry in the endnote. 86 - 88 Pts

3,118 Views

Tasted

Apr 26, 2016

2014
Château Caronne Ste. Gemme (Haut-Médoc)

Medium bodied, firm, fresh, bright, moderately tannic red berry oriented wine, which already offers hints of tobacco and earth.

2,795 Views

Tasted

Jul 10, 2017

2013
Château Caronne Ste. Gemme (Haut-Médoc)

Cranberry and cherry compete in this sweet-versus-tart wine that has a strict personality and coffee bean accents. 82-84 Pts

2,730 Views

Tasted

Apr 23, 2014

2012
Château Caronne Ste. Gemme (Haut-Médoc)

Sharp, bright, herbaceous and tart, there is a crisp bite to the medium bodied, tart red fruit here.

2,368 Views

Tasted

Feb 9, 2019

2011
Château Caronne Ste. Gemme (Haut-Médoc)

Lean, sharp, bright and with a strong green streak that accompanies its crisp red berries and tobacco leaf character. The wine is more interesting on the nose than the palate.

2,097 Views

Tasted

Aug 12, 2020

2010
Château Caronne Ste. Gemme (Haut-Médoc)

There is a strong herbaceous quality to the dark fruits and rustic tannins that some tasters are going to like much more than others. The dusty, crisp, fruit in the finish is the best part of the experience. The wine was produced from a blend of 65% Cabernet Sauvignon, 30% Merlot, 5% Petit Verdot.

3,777 Views

Tasted

Feb 3, 2014

2009
Château Caronne Ste. Gemme (Haut-Médoc)

Medium bodied, with a licorice and cassis personality, the wine was simple and lacked distinction.

5,285 Views

Tasted

Aug 27, 2012

2008
Château Caronne Ste. Gemme (Haut-Médoc)

Lean, simple. tart, medium bodied, bright, spicy wine with a crisp cranberry/strawberry finish.

3,067 Views

Tasted

Feb 10, 2019

2005
Château Caronne Ste. Gemme (Haut-Médoc)

Easy going, simple, medium bodied wine, with a slightly rustic nature without faults, or virtues. Due to its low price and large production, the wine is quite popular.

5,971 Views

Tasted

Aug 8, 2013

2004
Château Caronne Ste. Gemme (Haut-Médoc)

Tough, tart and rustic, there was a greenness to the crisp, red fruits and cranberry finish.

4,878 Views

Tasted

Jan 4, 2015