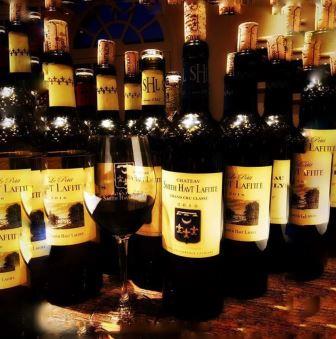 2010 Smith Haut Lafitte is the wine of the week! Since Florence Cathiard and Daniel Cathiard purchased the vineyard in 1990, things have only continued improving. The Cathiard family chose Chateau Smith Lafitte to purchase because the vineyard was able to produce both red and white Bordeaux wine. You know the old saying about patience is a virtue, well that is certainly the case here. In fact, it took 10 years of hard work, replanting and updating the cellars before they began producing quality wines here. However, at least in my eyes, it took an additional 5 years before Smith Haut Lafitte really stepped up their game.
With the spare no expense attitude of the Cathiard family and the help of Fabien Teitgen, the Technical Director, the Pessac Leognan estate has really turned things around for both red and white wine grape varietals. The vineyards are organically farmed, and they continue experimenting with biodynamic methods as well. To make the wine, they have a lot of cooks in the kitchen, but that has proven to be a good thing as both Michel Rolland and Stephane Derenoncourt are used as consultants.
Each year in Bordeaux, I taste close to 500 different wines En Primeur. After tasting wines in barrel for so many years, I have a good idea on how the wines are going to develop, as they age. Part of the fun with tasting wine is watching how wines can evolve over the years, as they age peacefully in cellars. Even though I have a good idea as to the wines will change over time, it is best when I can taste wines over the years to watch their development. 2010 Smith Haut Lafitte continues putting on weight and gaining nuances and complexities. The tannins are softening and the oak is much better integrated. This is already a stunner, and it is only 7 years old. By the time this wine hits 15, it should be a little rockstar of a bottle!
2010 Smith Haut Lafitte is showing better than ever. The wine is incredibly a lush, opulently textured, intense experience. Yet there is that much desired, and hard to obtain purity of fruit. The wine is powerful, elegant and has silky tannins. This remains quite youthful. You notice that right away due to the inky, dark almost black, purple color. At this stage, you will experience a primary character, but things continue slowly moving in the right direction. The last few years in the cellar have helped the wine fill out, expand and gain subtle nuances. The wine was made from blending 64% Cabernet Sauvignon, 30% Merlot, 5% Cabernet Franc and 1% Petit Verdot. Today, 2010 Smith Haut Lafitte about potential, but it is clear that this wine is going to be something special when it matures. You just wait and see! 97 Pts