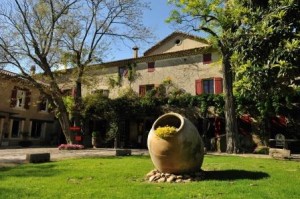 Philippe Cambie is perhaps the most famous consultant working in Chateauneuf du Pape today. advice as a consultant is taken as gospel by many of the top growers in the region. Philippe Cambie has the chance to taste more Chateauneuf du Pape wines than anyone I can think of.  When he offered to share his comments on two decades of Chateau Cabrieres, we jumped at the chance to share it with you as well.  But more than tasting notes, as you'll see, Philippe Cambie also provides ideas for wine and food pairings as well!
Philippe Cambie  poetically described the vineyard  as a beautiful tray of pebbles. The terroir, located in the Cabrieres section consists of alpine diluvium and chalky miocenian soil with large flint pebbles that cover the entire surface. These pebbles conserve the heat of the day during the night thus avoiding too much evaporation. The wines get much of their character from their old vines, which range from 60 to 90 years of age. Today, following in the family tradition, Chateau Cabrieres is managed by Agnes Arnaud-Vernier and Patrick Vernier.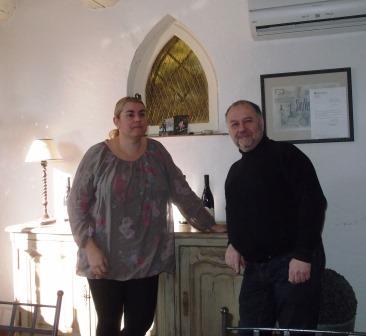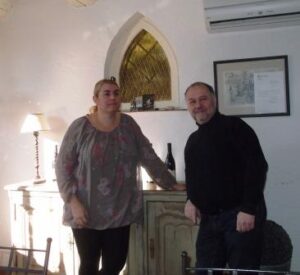 Chateau Cabrieres has a long history in the southern Rhone Valley dating back hundreds of years.  According to Philippe Cambie, while the estate grows 13 different grape the top three varieties each deliver unique character to the wines.
Grenache: 60% forms the basis of the vinestock and gives structure, body and alcoholic strength.
Syrah: 15% gives subtlety, tannin and fragrance.
Mourvedre: 15% provides powerful fragrances during the ageing of the wine. This becomes increasingly mellow with age.
Cinsault: 10% giving fruitiness, suppleness and elegance.
The blends included in the Cuvee Prestige, Counoise, Muscardin, Picpoul and Black Terret which are used for their fragrance, freshness and fullness. Yields are low. The average real yield is about 25 hectoliters per hectare.
The following wines were tasted by Philippe Cambie.
1972 Cabrieres –  We discover a beautiful limpid, brown mahogany, with superb brightness. This wine has a beautiful nose of leather, walnut liqueur and spice. This wine has a beautiful mouth, the redcurrant jelly, strawberry jam and candied quince, with hints of pepper.   This would pair perfectly with duck l'orange!
1974 Cabrieres The 1974 has a dress paler than the 1972. You find nuance of caramel and amber in her dress. It develops a nose of walnut liqueur, mushroom wood and black tobacco. We discover a beautiful mouth on freshness, fruit jam black, blueberry and maple syrup. This is the perfect wine to accompany your "pot au feu."
1979 Cabrieres Very deep on rusty and ripe fig, we have a special nose Sental wood, undergrowth in the forest, fungus winters. The wine is powerful, with nice tannins. Aromatic persistence has called accompany jugged hare or wild boar.
1981 Cabrieres We discover a brick red color with clear reflection. The nose is discreet, smoked meat, graphite. The palate is fine and elegant wine is a very Burgundian side, it looks like a Volnay. It would be perfect accompanied by veal with morels or roasted Bresse chicken.
1982 Cabrieres The color has a hint of dried orange peel. The wine has notes of brandy, cocoa, as well as blackcurrant and blackberry. Very beautiful in the mouth, creamy, with volume, we find orange marmalade and candied fruit cookie. A nice idea would be to pair this with eggs and truffles.
1985 Cabrieres Deep red in color, with slight orange tones, the nose is delicate on the notes of oregano, sweet spices. The palate is powerful, we find liquor fig, prune, with a lot of length, wine still has a future. Pair this with oven roasted pheasant, or quail with grapes.
1990 Cabrieres Prestige In color, the wine is deep red with a bit of onion. In the mouth the wine is creamy, with volume and hints of date jam and fig confit. Pair this with beef or pork cooked on the spit.
1992 Cabrieres The robe is deep copper with red. Very nice nose, sweet spices, cocoa bean, light notes of coffee grounds. The wine offers roundness and volume with sweetness and velvet, a great wine.  This would work well with roast beef, duck breast with cranberries or roast wild goose.