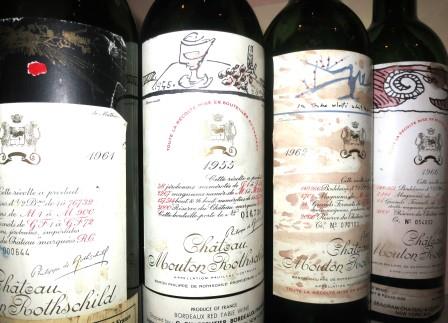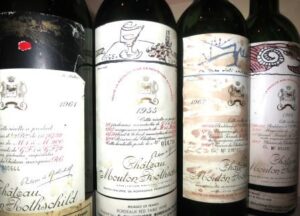 Some bottles thrive on their reputation. Over the years, their fabled qualities and characteristics capture the attention of wealthy wine lovers and lucky nepotistic, collectors who inherit their parents cellars.  Auction houses build reputation on these fabled legends that sell for ever increasing prices.  Having tasted and written tasting notes on a fair number of famous wines over the years, many of these exalted bottles have long since slipped into senility. But at their best, they offer a handful of lucky collector's more than bottled history.  They provide incredible tasting experiences that remain etched into their memories.  1961 Mouton Rothschild is one of the bottles that continue offering thrilling tasting experiences.
Chateau Mouton Rothschild occupies a unique place among wine lovers.  The recipient of the most famous change to the 1855 Bordeaux Classification of the Medoc, elevating it to First Growth status, there are some wine lovers that claim Chateau Mouton Rothschild is not worthy of First Growth status.  Nonsense!  For all the right reasons, Chateau Mouton Rothschild was correctly upgraded.
The problem with the wines of Mouton Rothschild over the years was the lack of consistency and perhaps over production.  That is no longer the case. Today, production has decreased and the level of quality has increased.  Since Philippe Dhalluin took over management of the Pauillac estate, the wines on a consistent level have never been better.  In 2006, at least for this taster, it's the wine of the vintage!
But with a historic property, the wines made today are important.  However, the wines made for previous generations are equally important, as they allow you a glance into not only what the wines tasted like from years gone by, but they allow collectors a forward look into how the wines made today could age and evolve over the decades.
The following wines were tasted at a few sittings. The 4 oldest bottles were tasted blind!  That was one intrepid host.
1955 Mouton Rothschild – The color of rubies and tea, a beautiful perfume of smoke, incense, spice box, cloves, old wood, cloves, cherries, tobacco, cinnamon and wet earth keep you focused on the glass, as if you might miss a note, if you turn away.  Pure silk and elegance on the palate, the wine ends with a sweet, round, polished, sensuous, ripe, red berries and spice.  97 Pts
1961 Mouton Rothschild – Still dark in color, the impossible to forget aromatics were filled with Asian spice, truffle, cigar box, cedar wood, fresh strawberry jam, incense, coffee and mint.  Packed with layers of sweet, rich, intense, pure, exotic spices and fruit, with plush, opulent, sexy textures, the wine remains on your palate for more than 60 seconds!   100 Pts
1962 Mouton Rothschild – I've wanted to taste the wine for years, especially after the stunning bottle of 1962 Latour tasted last year.  How would it measure up, against that giant?  It was close, but… Light in color, the nose delivered cigar box, sweet jammy berries, spice, forest floor and cherry notes. Medium/full bodied, the fruit, while exotic in texture was starting to fade.  Still, it was quite nice for a 51 year old wine. 92 Pts
1966 Mouton Rothschild – Produced when Bordeaux was in the middle of its missing decade, or decade and a half, depending on your point of view, the aroma was much more interesting than the palate, with its cedar chest, cassis, leaf, earth, cigar box and cassis, fully mature, with some rusticity to the tannins and touch of green in the finish, this requires consumption.  90 Pts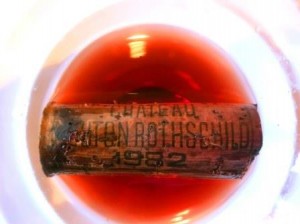 1982 Mouton Rothschild – Still young at 31 years of age, as hard as it is to believe, this stunning wine will benefit from another decade of age!  With a nose packed with cedar wood, wet forest floor, coffee bean, blackberries, cassis, incense, earth, tobacco, stone and spice, with air, the wine takes on elements of 5 Spice further complicating the nose.  Powerful, full bodied, deep, concentrated, long and intense, the is a perfect example of elegance coupled with muscle, ending in pure silk and velvet, in other words, a text book Pauillac, on the exotic side. 99 Pts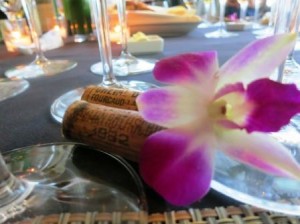 1986 Mouton Rothschild – Rapidly approaching 30 years of age, this is still an adolescent!  While fun to drink now, at maturity, which could come in another 10-15 or 20 years, this is going to be a stunning wine!  It's got it all starting with smoke filled bouquet, complicated with lead pencil, cigar box, spice, dark chocolate, cassis and dark berries.  Still tanninc, the tannins are ripe, but there is a light chalky quality feel in the incredibly long, intense, structured finish.  The 4 hour decanting was about right. 98 Pts
1996 Mouton Rothschild – With a high percentage of Cabernet Franc at 10% of the blend, cigar box, leaf, mint, cassis, blackberry, spice, smoke, coffee and tobacco notes come to the forefront without much effort.  On the palate, the wine is deep, rich, concentrated, long, powerful and structured to age. Still on the young side, while approachable now, if you like young Bordeaux, I'd give it 5 – 10 more years to soften and come together before popping another bottle. 96 Pts
I know, it's a tough job, but someone has to do it!  And after having tasted these wines, I'm glad it was me. In a touch of serendipity, on the day I published this article, 2010 Screaming Eagle was released for a whopping $850 per bottle to their best mailing list customers. Even at that price, I expect it to sell out! Why mention this? Perhaps for those with enough disposable income, it offers some perspective, in an odd way. While the great vintages of Chateau Mouton Rothschild are very expensive, when measured against the prices being paid for other great wines, for those with the money seeking unparalleled tasting experiences, maybe they are not that much money, for people in that world.