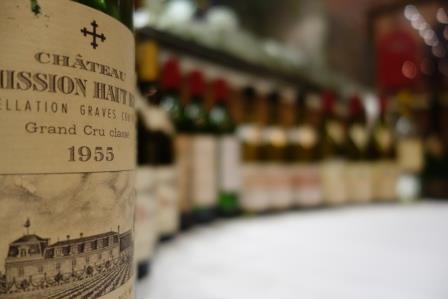 1955 Bordeaux Wine Vintage Summary with harvest information, vintage characteristics, buying tips and links. If you are seeking more in-depth information on anything and everything related to the Bordeaux wine region please see the: All About Bordeaux Wine Guide
1955 Bordeaux wine remains one of the better, older, mature vintages.  Strong wines were produced from the Medoc, Pomerol, St. Emilion  and Pessac Leognan appellations.  The 1955 Bordeaux wine growing season enjoyed warm, dry and sunny conditions. In fact, the summer was close to perfect. It was hot for most of June, July and August. Some rain fell in September, but the rain came at right moment and helped the dry vintage to reach maximum levels of ripeness. 1955 Bordeaux wine is the result of an above average sized crop.
1955 Bordeaux wine produced wines of high quality on both the Left Bank and the Right Bank. In fact, the wines of Graves were also strong. The wine of the vintage is clearly Chateau La Mission Haut Brion. However, Chateau Mouton Rothschild is not far behind and as should be expected, Chateau Haut Brion is right up there in quality as well.  In a recent tasting, Chateau Ausone performed well and the 1955 Chateau d'Yquem was a knockout!
If the wines are well stored, 1955 Bordeaux wine is a vintage worth taking a look at in auctions. It's not 1959 Bordeaux or 1961 Bordeaux, but the vintage sells for a lot less money too. To read about other Bordeaux vintages from 1945 to today: Bordeaux Year to Year Detailed Vintage Reports & Guide 1945 to Today