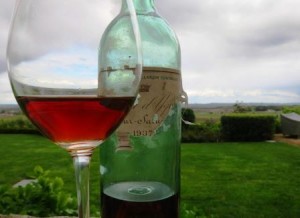 Putting together a list of the top ten wines tasted in 2012 was not easy.  The wines included on this list of the top 10 best wines tasted in 2012 combine quality with the memory of the moment.  It's easy to pick the best wines. But the special bottles that offer a lasting memory that remains etched in your mind, long after the bottle's are finished are the truly special wines.
The memories include a perfect bottle shared with my dad, Don Leve on Father's Day, to wines tasted over the summer in my backyard with friends.  A few of the wines were tasted blind with my favorite wine tasting group, 7 Blind Men along with wines opened by a friend for my birthday. A couple of the wines were enjoyed in Bordeaux during my annual tasting visit.
While all the wines on this list are stunning, the memories attached to each experience are what placed them on my list of the top 10 best wines tasted in 2012. When you think about it, the true gift wine offers is its incredibly ability to let us remember the special moments in life. That is what this list represents for 2012.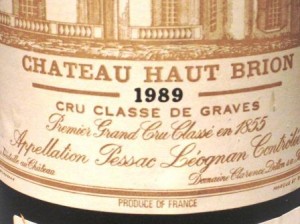 1989 Chateau Haut Brion – Clearly this legendary Pessac Leognan wine is a strong possibility for wine of the decade. It does not take long for to taster to understand why, with its intense aromas of smoke, hot bricks, cassis, spice, truffle, cigar box and forest floor scents. If that wasn't enough to get you going, countless layers of powerful, rich, intense, pure, velvet and silk berries are packed into each sip. The wine is expansive, growing better and becoming more interesting and complex with each, sniff, swirl and sip. 1989 Haut Brion deserves to be looked at with the same reverence as the legendary 1945 and 1961. It is that good! 100 Pts
1991 Guigal La Turque – If a wine is going to score 100 Pts, it should make its qualities known with the first sniff, swirl and sip. It took that long or less to know this Cote Rotie was sheer perfection in a glass. When the explosive perfume roared from the glass, pure black raspberry liqueur, truffle, black cherry, violets, smoke, vanilla, mint and licorice took over your senses. Sensuous, supple, opulent textures and a long seamless, sweet finish, was almost overflowing with pure, spicy, ripe black and red fruits. Those sensations remained in your mouth for over sixty seconds.  100 Pts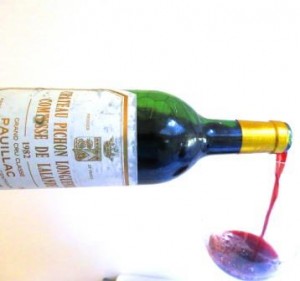 1982 Chateau Pichon Lalande – Smoke, tobacco, cigar box, cassis, wet earth, truffle, spice and forest floor pop from the glass the moment the wine is poured. The real fireworks start with the luxurious, glycerin filled, sensuous, silk and velvet textures. Layers of opulent, polished perfectly ripe dark berries remain on your palate for close to 60 seconds. If you want to know why people spend big money on Bordeaux, this is the wine to experience. 100 Pts
2009 Chateau Cos d'Estournel – Shiny ink in color with purple edges, the wine comes alive with only a splash decanting. The perfume explodes with a drawer full of spices, smoke, coffee bean, incense, truffle, blackberry, blue fruit, vanilla, clay, earth and liqueur scents. Intense, the wine is packed and stacked with flavor. Powerful, pure and mouth filling, the wine coats your palate with layers of pure black and blue fruit, licorice, lead pencil and spice. This wine offers a beautiful expression pure fruit, balance, harmony and perfectly ripe tannins. The wine has changed since it was first tasted in barrel. The layers of baby fat have morphed into a beautiful, complicated wine that due to its unique style, can be enjoyed young, yet it has the ability to age and evolve for decades. I've read comments stating the wine does not represent St. Estephe. I cannot agree with that sentiment.  For me, while it's  a unique expression of St. Estephe, it's St. Estephe at its best!  Now that Jean Guillaume Prats has departed the estate he helped create, regardless of your view on the wine, this will be the wine is remembered for. 100 Pts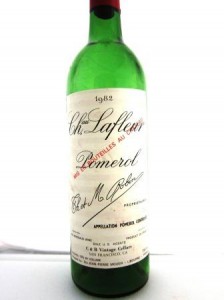 1982 Chateau Lafleur – This great wine can be summed up with one word, "Exotic!" With a kinky nose packed with hints of blueberry, wild strawberry, red, black and white cherries, truffle, stone, spice and wet earth, it's difficult to pull your nose out of the glass. Thick, powerful, rich and intense, this Pomerol wine fills your mouth and coats your palate with seemingly endless layers of ripe and over ripe fruit. It's amazing to think this wine was produced at a time when not much, if any selection was used, and no new, oak was used as well. Clearly, this is the Right Bank wine of the 1982 vintage! 100 Pts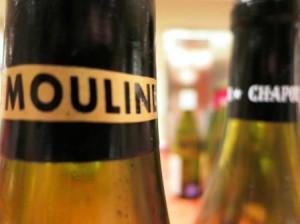 1985 Guigal La Mouline – The nose alone was 100 Pts. An endless array of earthy, spicy, floral, peppery, smoky scents with fresh, pure, ripe red cherries, black cherries, raspberry and bacon fat tossed in for good measure. In the mouth, there is an exotic texture that cannot be found in any other wine. The pure, sensuous, hedonistic, fresh mouth feel builds to a crescendo that lasts over sixty seconds. Few legendary wines live up their status. 1985 Guigal La Mouline not only lives up to its billing, it might even surpass it! 100 Pts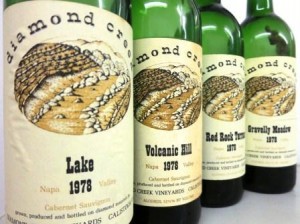 1978 Diamond Creek Lake Vineyard – 1978 Diamond Creek Lake grabbed your attention as soon as your nose met the glass. The complex aromas of scorched earth, smoke, tobacco, cassis, blackberry, caramel, black cherry and charcoal let you know this was a stunning wine. In the mouth, its concentrated, full bodied, rich, deep and packed with flavor. The long, pure finish was filled with endless layers of cassis, earth and spice. This is probably the best bottle of mature Cabernet Sauvignon I've had the privilege of tasting. Needless to say, I was blown away when the bottle was revealed. 1978 marked the debut vintage for Diamond Creek Lake vineyard bottling. Very little of this magical California wine was made and only a handful of bottles remain. It was a wine I thought I'd never see. 99 Pts
1982 Chateau Latour – If a wine deserved more than 100 Pts, this bottle was a contender for that honor. One of the clear indicators for a sublime wine is, it starts off great and continues improving and keeps on getting better than you could have imagined. This bottle of 1982 Latour was all that and more! Tobacco, earth, truffle, wet gravel, cassis, blackberry, cedar and spice box was elevated to new level. The intense, perfectly balanced, potent, mouth filling waves of fresh, ripe, pure flavors expanded on your palate for over 60 seconds! Silk and power, with everything in perfect balance and harmony. This incredible Pauillac continued to improve in the glass for hours. This is what great Bordeaux is all about! This was one of those bottles that you remember forever. 100 Pts
1990 Jaboulet La Chapelle – I've been blessed to have tasted this majestic wine several times this year. In fact, I had this wine twice last week!  Even more amazing is the remarkable level of consistency the wine continues to perform at.  With only a few days to go before it celebrates its 23rd birthday, this amazing Northern Rhone is really starting to come into its own, with its showy display of ripe blackberry, plum and cherries complicated by wet earth, smoke, garrigue and spice.  On the palate, the wine is incredibly dense, with polished textures and no hard edges.  The finish is expansive, seamless and long, lasting for over 60 seconds!  Over the years, this wine continues to develop layers of complexities, intensity of flavor and silky textures.  If you've never tasted an Hermitage that blew you away, if you have the money, this is the wine to buy. 100 Pts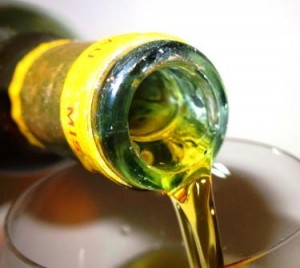 While this list was not complied in any specific order, the wine of the year award goes to the life changing bottle of 1937 Chateau d'Yquem tasted at the property.  The wine, tasted in April had a finish that lasts to this day!  I can still remember it.  That is the mark of a great wine!
1937 Chateau d'Yquem – With a deep copper hue, the aromatics are explosive! Chocolate, coffee, crème brulee, orange, caramel, flowers, spice, butterscotch, earth and cocoa are revealed.   Silky, velvet drenched layers of orange coated with cocoa and chocolate remain on the palate for well over 60 seconds.  Chateau d'Yquem is in a class by itself.  It is the only First Growth without peer, where all the other chateaux in the region agree on the best wine. It is expensive. Some consumers feel that when compared to other Sauternes, Chateau d'Yquem does not warrant the difference in price.  That is because they have never experienced a fully mature vintage of Chateau d'Yquem.  At 75 years of age, this wine is still going to improve for another 25-50 or even 75 more years!  100 Pts