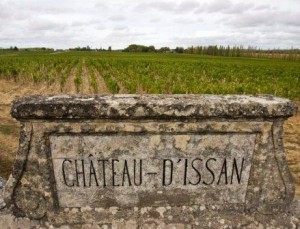 Jeff Leve What was the most difficult or stressful part of the growing season this year?
Emmanuel Cruse "We experienced spring conditions until mid-July.  The flowering was difficult, uneven and spread out."
Jeff Leve Did that eventually lead to the need for more sorting to produce the 2012 d'Issan?
Emmanuel Cruse "We always take a special care in our selections.  Having said that, for the 2012 Bordeaux vintage, we did not make any green harvests this year, only a quick clean up.
Jeff Leve Since you began managing Chateau d'Issan in 1998, you've experienced more than your fair share of vintages. Does the 2012 d'Issan vintage remind of any previous Bordeaux year?
Emmanuel Cruse "It's still early, so it's hard to say. But there are things that remind me of 2006 for Chateau d'Issan."
Jeff Leve That's an interesting comparison.  Why?
Emmanuel Cruse "For us, at d'Issan in Margaux, we have some vats of Cabernet Sauvignon with the same level of purity and structure we experienced in 2006. There is another comparison we can make. It's not about the wine. It considers the press and the public perception of the vintage.  At that time, perhaps coming after the 2005 vintage, consumers were not very interested in the 2006 vintage. Yet 2006 turned out to be one of the better vintages we've made at Chateau d'Issan!"
Jeff Leve Jumping back to the growing season, did you experience any specific problems during the year?
Emmanuel Cruse "Only with a single parcel of young vines.  Those vines suffered from a lack of water in August. Those vines are located in the Haut Medoc appellation.  We had no problems at all with our Margaux parcels."
Jeff Leve Have you experienced similar conditions before?
Emmanuel Cruse "In the past, we experienced vintages that were a lot more challenging and complicated."
Jeff Leve Are you referring to the drought?
Emmanuel Cruse "As far as the drought is concerned, we had rain until the middle of July. Therefore we had enough water in the soil.  On top of that, the terroir at Chateau d'Issan helps avoid any stress.  Even in 2003, the vines did not suffer from the lack of water.  The vines are slopping down towards the river which is only 800 yards away. We are able to truly benefit by a natural microclimate."
Jeff Leve When did you start harvesting?
Emmanuel Cruse "We started picking October 1 and finished October 16."
Jeff Leve What were the conditions like?
Emmanuel Cruse "The first week was warm, sunny and dry.  Things changed to warm and humid after that."
Jeff Leve Did that rapid change in conditions influence your choice to pick quicker than anticipated?
Emmanuel Cruse "Yes!  The rhythm suddenly changed over the week-end of October 5 and 6.  We had to work longer hours and quicker.  We are very well organized and we also have our student team from Denmark.  They are 'ours' for the entire time we are harvesting."
Jeff Leve Along with your student team that you bring in every year, how many workers do you hire for the harvest?"
Emmanuel Cruse "We hire 80 pickers to work in the vineyards and another 18 to manage the sorting tables."
Jeff Leve For the 2012 d'Issan, do you think any variety performed better?
Emmanuel Cruse "The Merlot grapes are very good this year. But there isn't any specific vat which is absolutely brilliant. On the other hand, we are impressed by our Cabernet Sauvignon!"
Jeff Leve What are your alcohol levels and yields with the 2012 d'Issan?
Emmanuel Cruse "We reached about 14% alcohol. Our yields are 36 hectoliters per hectare."
Jeff Leve What is going on with your vinification at the moment?
Emmanuel Cruse "The vinification was made under moderate temperature, about 26 degrees Celsius. The Cabernet Sauvignon spent 28 days in maceration while the Merlot took 21 days.  We are very happy with the quality of 2012 d'Issan. The Merlot continues to show well. The Cabernet Sauvignon is also very good and a few vats are close to exceptional!"