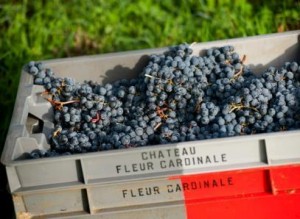 Jeff Leve It's safe to say, 2011 and 2012 were both the product of difficult vintages. With that in mind, even though it's early, for Fleur Cardinale, which of these difficult years is looking like the better vintage?
Florence Decoster "The 2012 does not remind us a specific vintage, but we already think it will be better than 2011."
Jeff Leve What was the growing season like for you with the 2012 Bordeaux vintage in St. Emilion?
Florence Decoster "The changing weather for the 2012 Fleur Cardinale was preoccupying from spring to autumn, because of excessive and continual rains followed by heat waves on August.
Jeff Leve Did the drought and stress present you with any unique challenges with the 2012 Fleur Cardinale?
Florence Decoster "Not particularly. This is because our limestone terroir provided us with an ample water supply. Even with the summer heat and lack of rain, the vines did not suffer from hydric stress."
Jeff Leve At Fleur Cardinale, you have what could be called a cooler terroir which allows you to harvest late for the Right Bank. When did you start harvesting?
Florence Decoster "We started to harvest the Merlot grapes October, 22. We finished November 3."
Jeff Leve Does that mean the 2012 Bordeaux vintage was a this a late harvest for you?
Florence Decoster "With our terroir, we cannot talk about the 2012 Fleur Cardinale as a late harvest because we are used to it. In fact, we were quite serene just before we started the harvest. Thanks to the work we did during the growing season, things turned out well. It's important to know, our philosophy has always been to wait for the optimal ripeness. As the sanitary state of the vineyard was healthy, we waited, as usual."
Jeff Leve Now that you are making three wines, how many pickers do you employ at your St. Emilion vineyards?
Florence Decoster "For the 2012 Fleur Cardinale harvest, we brought in 35 pickers."
Jeff Leve Do you think any grape variety performed better in this year?
Florence Decoster "In fact, our Cabernet grapes are particularly beautiful this year."
Jeff Leve On average, what are your alcohol levels for the 2012 Bordeaux vintage?
Florence Decoster "We did not reach over 14%."