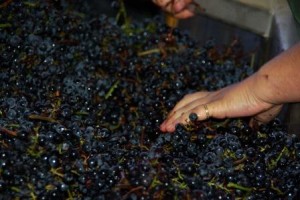 Things have been busy at Chateau Clerc Milon with the 2011 vintage. Aside from the normal, frantic pace that harvest time demands, this is the first time, Managing Director Jean-Emmanuel Danjoy will enjoy their new, green cellars.  Earlier this year, after close to two years, the estate completed renovations of their wine making facilities.  Designed by noted architect, Bernard Mazières, the new winery at Clerc Milon in Pauillac, includes 300 square meters of solar panels that are capable of creating enough electricity for 100% of their energy needs. In fact, the chais earned the coveted HQE,  (High Environmental Quality) certification . With all that going on, Jean Emmanuel Danjoy fills us in on what took place during the 2011 Clerc Milon harvest.
Jeff Leve:  Clerc Milon is one of the few estates with plantings of 5 different grape varietals.  When did you start and complete your 2011 Clerc Milon harvest?
Jean-Emmanuel Danjoy "We started with Merlot on September 13 and finished with that September 19. Cabernet Franc was harvested from September 17 through September 19. Cabernet Sauvignon was picked September 20 to September 24. Carmenere was harvested in a one day September 23 and we finished with Petit Verdot, September 23 until September 28".
Jeff Leve: Was the harvest for the 2011  Clerc Milon an early vintage for you?
Jean-Emmanuel Danjoy "2011 Clerc Milon is an early harvest only by looking at the calendar. It's important to remember that bloom was about three weeks earlier than normal. The harvest was only 10 days ahead. So 2011 Bordeaux allowed for a long hang time which helped the tannins reach full ripeness ".
Jeff Leve: How would you describe the 2011 Clerc Milon growing season?
Jean-Emmanuel Danjoy "Upside down".
Jeff Leve: What happened?
Jean-Emmanuel Danjoy " For 2011 Clerc Milon, we experienced the summer in the spring and the spring during the summer. Then the early fall was more reminiscent of a sub-tropical climate. This weather created some great challenges to keep the vines healthy and nutritionally balanced".
Jeff Leve: As a matter of style, what are you seeing with the 2011 Bordeaux wines?
Jean-Emmanuel Danjoy  "2011 definitely presents a high phenolic content as we would expect from a dry year. The wines also offer a great and more traditional balance of alcohol and acid levels".
Jeff Leve:  How important was sorting for you in the vines and during harvest this year?
Jean-Emmanuel Danjoy "The heat spell in late June caused some berries to never ripen. This was the main reason why sorting was paramount this year".
Jeff Leve: Did you take advantage of Optical Sorting?
Jean-Emmanuel Danjoy "We experimented with optical sorting this year. We obtained great results due to the ability to differentiate colors. This allowed us to eliminate green or pink berries. Going forward, this equipment will be integrated in the process at Clerc Milon and will come as a complement to hand sorting".
Jeff Leve: What yields do you expect this year?
Jean-Emmanuel Danjoy "Yields at harvest and at pressing have both been lower than expected, particularly with our old vine Cabernet Sauvignon planted on gravelly soils.
Jeff Leve: Why are your yields lower than normal with the old vine Cabernet Sauvignon?
Jean-Emmanuel Danjoy "The water deficit in the spring generated very low berry weights. However the upside was a high skin to juice ratio which gave us great phenolic richness".