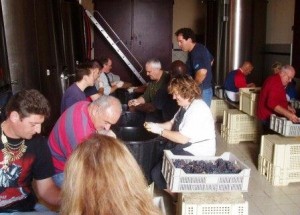 Chateau La Fleur Morange, located on the extreme east side of St. Emilion has some of the oldest vines in the entire Bordeaux appellation. In fact, more than half of the estates vines are over 100 years old! The estate also produces La Fleur Morange Mathilde, which is a contender for the top Bordeaux value wine in almost every vintage.  To find out how they handled the tricky 2011 Bordeaux harvest, we spoke with Jean Francois Julien.
JL: How would you describe the 2011 Bordeaux growing season?
JFJ: "A season fraught with various dangers: searing heat in June, cold and rain in July and August, hail in early September and we came close to catastrophe more than once!"
JL: Was it an early harvest for you?
JFJ: "2011 Bordeaux really isn't as early as some people are claiming. In May and June the grapes were maturing ahead of schedule. But July and August were fairly cold and this slowed down the vines' development. Some of my fellow winemakers sent their workers off on holiday too early, thinking they would be harvesting in early August. The phenolic quality of this year's wines is very promising. We have nice color, good alcohol content and a good pH which gives us a successful balance".
JL: With that in mind, what are your early thoughts on the vintage?
JFJ: "The 2011 Bordeaux vintage seems to conform to the standards we expect from a good quality Saint Emilion. But we're nowhere near the quality of 2005, 2009 or 2010".
JL: That's refreshingly honest!  As a matter of style and quality, where does 2011 fit in?
JFJ: "Probably 2008 Bordeaux is the closest."
JL: Were you able to take advantage of the warm weather Bordeaux experienced at the end of the harvest?
JFJ: "Yes! At La Fleur Morange we started our 2011 harvest Saturday September 24 with the Merlot. We finished harvesting October 5 with our Cabernet Franc. This allowed us to pick fruit with an excellent level of maturity".
JL: What are the potential alcohol and pH numbers you're getting?
JFJ: "I think the Mathilde will come in at around 13.5 alcohol with a pH of 3.60, and the Fleur Morange  will be 14° or 14.5 with a pH of 3.5 or 3.6". 
JL: With the 2011 Bordeaux harvest, what do you do in the vineyards this year?
JFJ: "1 We did not trim the leaves in June to avoid ending up with raisins scalded by the sun.
2 We trimmed back the leaves at the end of July, then thinned out the bunches to avoid botrytis.
3 In August we eliminated the grapes which didn't look up to standard. This awarded us with a more consistent crop."
JL: What specific choices will you need to make during the vinification of your 2011 Bordeaux wine?
JFJ: "Racking is always a crucial moment with a big impact on the wine's quality. I am tasting samples from the vats every day to get it just right".