Chateau Cheval Blanc unveiled their new cellar and Bordeaux wine making facilities during Vinexpo. They released their 2010 Bordeaux wine shortly after. Both events caused quite a reaction. One was more hoped for than the other.
Their new cellar was designed by the Cheval Blanc team and architect Christian de Portzamparc. de Portzamparc was chosen for the project because he already had a relationship with Cheval Blanc. He recently designed the LVMH building in New York.
The stunningly beautiful cellars stand out on the St. Emilion, Pomerol border. Elegant and refined, like Cheval Blanc is an apt description. Even though the structure is modern, this new, cellar, which cost close to $20,000,000 is nothing like the modern cellars seen at Chateau Cos d'Estournel in St. Estephe. Situated under a hill, with dramatic access to natural light, it's curvaceous lines are stunning.
According to the Cheval Blanc technical director, Pierre-Olivier Clouet, some of the upgrades include the addition of more vats. For the first time, the chateau has more vats than plots, allowing the estate to vinify each parcel to its specific needs.  They now have 52 temperature controlled, cement vats that vary in size. The 9 different sized vats that range from 20 hectoliters to 110 hectoliters are perfect for Cheval Blanc. This allows the team to get the most from the estates 44 different parcels from all three terroirs of gravel, sand and clay.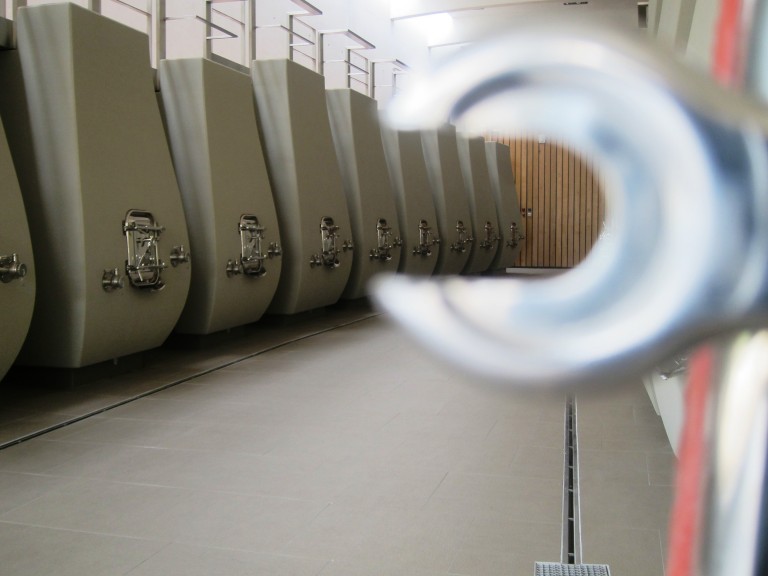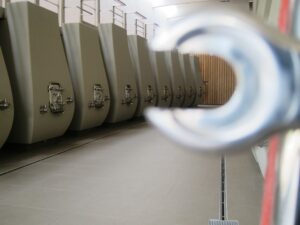 The sexy, sensuous, refined shapes of the cement vats capture the essence and elegance of Cheval Blanc. That curvy design is continued through to the unique, underground barrel cellar. Cheval-Blanc retained their traditional cement vats while other Bordeaux wine producers switched to stainless steel and oak vats.  The new cement vats are a sight to behold.  Pierre Lurton insisted on a conical shape with temperature controls located in the rear walls of the vats.  The look of the vats is eye-catching.  They were custom-designed by de Portzamparc. The vats were created for Cheval-Blanc at a factory located close to Venice, Italy.
Downstairs is an underground aging cellar, which needs relatively little energy to regulate temperature and humidity.
Cheval Blanc hosted a series of events showcasing the new cellars. A myriad of small, elegant lunches were held before and during Vinexpo that allowed visitors to experience the new cellars, as well as enjoy different vintages of Cheval Blanc and their sister property, Chateau d'Yquem. Different vintages were opened on different dates. Depending on which date you were invited, vintages of Cheval Blanc ranged from 1989, 1990 and 2000. Every lunch started off with unlimted amounts of 2002 Dom Perignon Champagne.  It was a beautiful day to be in the St. Emilion vineyards.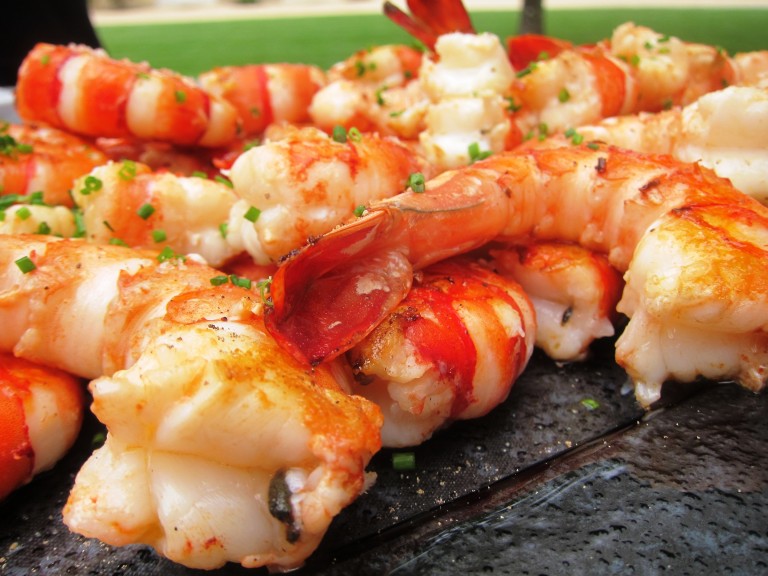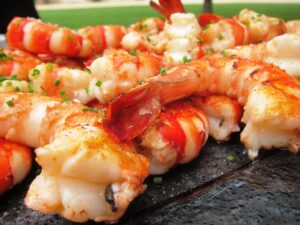 Cheval Blanc made additional news with their high release price for their 2010 wine. However, unlike the opening of their cellars, the press for their release price was not filled with praise. It was derision. The wine was offered for sale at the shockingly high price of 900 euros! That was 21.4% higher than the very expensive 2009 vintage which was released at 700 Euros. Stephan Browett of Farr Vintners in London told reporters the estate got the price wrong. He only sold 40 cases and half those cases were sold to buyers in Hong Kong.
Berry Brothers refused to offer the wine for sale due to the high price being asked. Other merchants have not purchased the wine for resale as well. Arnaud de Laforcade, the Chief Financial Officer told reporters that it was too early to tell what the reaction would be to the price. I remain a firm believer that the market sets the price. The market is saying it's not willing to pay that much money at this time for 2010 Cheval Blanc. It's possible the wine will sell through to consumers when it's available in bottle. But as a future, it's not a smart buy.
That being said, 2010 Cheval Blanc is one of the true stars of the vintage. I tasted the wine in April and again in June and both times, the wine is close to perfection.In fact, the wine showed improvements from my previous tasting.
2010 Cheval Blanc – An intriguing perfume filled with stone, flowers, blackberry liqueur, dark plums, licorice, smoke, oak and hints of bitter chocolate, asks and receives your attention. Lush, sensuous, silk and velvet drenched fruit drenched with opulence that borders on decadence coat your palate. The pure, intense, sensuous finish lasts at least 60 seconds. This sublime Bordeaux wine has become a better tasting experience since last tasted in April. 98-99 Pts
2010 Le Petit Cheval – With a perfume consisting of minerality, cocoa, plums, red and black plums with licorice. In the mouth, the soft, round, sophisticated wine ends with a fennel coated, red and black fruit finish. 92-94 Pts
2000 Cheval Blanc – With a complicated perfume featuring flowers, herbs, juicy black and red plums, stone, earth, spice and coconut, your attention is riveted on what comes next. Rich, refined, opulent and elegant, this unique expression of Bordeaux wine is balanced, long and intense ending in a beautiful finish filled with pure ripe dark berries and sensuous textures that stays with you for close to a minute. Still young, this will only get better! 98 Pts.
1996 Chateau d'Yquem opens to exotic scents of honey coated, apricots, vanilla, white peaches, flowers, roasted nuts, orange rind and pineapple.  This rich, sweet, thick, full bodied wine is filled with honey drenched, tropical fruit with the perfect amount of acidity to give it lift.  Still young, another decade will add a lot to this stunning Sauternes. 96 Pts