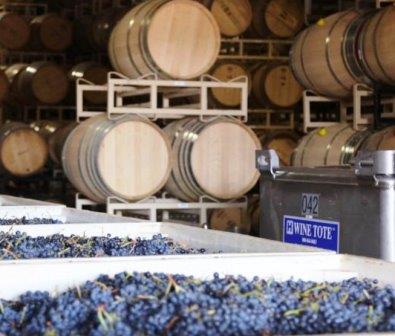 Everything about Schrader Cellars, Napa Valley California Cabernet Sauvignon wine producer profile, wine tasting notes, wine and food pairing tips, best vintages, history of the property, information on their wine making techniques, terroir and soil. You can also read about the Grapes used for California wine and learn about the extensive History of Napa Valley, California Wines
Schrader Cellars History, Overview
Schrader Cellars, like many of the world's best wineries grew from a passion for wine. Fred Schrader, the wineries founder came to the conclusion that he wanted to make wine in 1988 when attending the famous Napa Valley Wine Auction. In a few short years, Fred Schrader founded his first winery with Ann Colgin, Colgin Schrader Cellars which made their debut wine in 1992.  Colgin and Schrader dissolved their partnership and marriage. Ann Colgin retained Colgin Cellars and Fred Schrader founded Schrader Cellars in 1998 and hired Thomas Rivers Brown as his winemaker and consultant.
In June, 2017, Schrader Cellars was sold to Constellation Brands for a whopping $60 million Dollars! This record setting price is even more incredible when you consider Schrader Cellars does not own vineyards, just contracts to purchase grapes! While it is expected thatvThomas Rivers Brown will continue as their consultant and winemaker, it is hoped that the high level of quality wine produced here will continue.
Schrader Cellars focuses on Cabernet Sauvignon, producing several unique wines. With the assistance of Thomas Rivers Brown, Schrader Cellars uses some of the best fruit from the famed Beckstoffer Vineyards, primarily from the famous To Kalon vineyard.
It can prove to be difficult to follow some of the various releases of Schrader Cellars as they are numerous. The purpose of these wines is that they are focusing on different clones designed to show how different clones perform within a single vineyard parcel. Schrader Cellars also produces wine with fruit from single blocks in various vineyards.
Schrader Cellars Vineyards, Wines, Winemaking
Aside from Schrader Cellars Beckstoffer To Kaylon, Schrader Cellars also uses fruit from the George III vineyards located in Rutherford, Dr. Crane and Las Piedras. Las Piedras produces 2 wines, LPV Beckstoffer which comes from clone 337 and the stunning, Colesworthy Las Piedras which comes from clone 337 and is aged in 100% new, French oak barrels from Darnajou. RBS Beckstoffer is produced from clone 337. Schrader Beckstoffer To Kalon Vineyard T6 earns its name because it uses the T6 clone.
Schrader CCS Beckstoffer To Kaylon comes from specific blocks of the vineyard that uses clone 4 Clone 6 and 337. The name CCS comes from Cellars Cabernet Sauvignon. Old Sparky, which is the nickname friends have given Fred Schrader, which he proudly calls his top wine is produced from clone 6 and clone 337. Schrader Vineyards Old Sparky is aged in 100% new, French oak barrels for an average of 20 months before bottling. Schrader Cellars Old Sparky is only produced in magnum. Very little of most of these wines is produced. Production averages between about 100 cases on the low end to about 650 cases per year for the larger production wines from Schrader Cellars.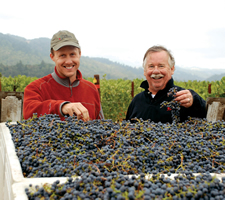 In 2012, Schrader added a Chardonnay wine to their ever expanding portfolio of wine. Boar's View Chardonnay is made in a partnership with Thomas Rivers Brown. The vineyard for Boar's View is located almost adjacent to the same vineyards Marcassin uses for their grapes to produce their wine. Very little Chardonnay is produced. In fact, only 50 cases a year are available at this point. This Sonoma Coast project also makes Pinot Noir from old clones taken from Calera, Mt. Eden, and Joseph Swan. Fortunately, there is an abundant amount Pinot Noir, as close to 1,000 cases are produced each year.
The style of Schrader Cellars wine is big, bold, ripe, fruit forward and plush, with rich, silky textures. However, what really sets the wine of Schrader Cellars apart from the majority of wineries in Napa Valley is the incredible purity of fruit, opulent textures, concentration and balance. The wines are ripe and high in alcohol, yet there is no sensation of heat or over ripeness in the wines. They are powerful, yet elegant and graceful. While Schrader Cellar wines will easily age for 15-20 years, they can also be enjoyed in their exuberant, fruit forward youth.
While much of the production of Schrader Cellars is sold via a mailing list to customers, a portion of their portfolio is also sold at auctions by the owner. This practice was met with mixed reviews from consumers who initially saw this is an additional way to increase the price and profits of the winery. However, as time wore on, the practice became accepted. It's also important to note that today, even with the numerous 100 Pt ratings from Robert Parker, for those lucky enough to be on the popular mailing list of Schrader Cellars, they sell their wine for well below the aftermarket price, giving consumers the rare combination of value, coupled with extremely high quality, stylish wines from the Napa Valley.
Serving and Decanting Schrader Cellars with Wine, Food, Pairing Tips
Schrader Cellars wines are best served at 15.5 degrees Celsius, 60 degrees Fahrenheit. The cool, almost cellar temperature gives the wine more freshness and lift. Young vintages of their red wine can be decanted for 1-3 hours, depending on the character of the vintage. This allows the wine to soften and open its perfume. Older vintages might need very little decanting, just enough to remove the sediment.
The red wine of Schrader is best served with all types of classic meat dishes, veal, pork, beef, lamb, duck, game, roast chicken, ribs, hamburgers, barbecue, roasted, braised, grilled dishes and stews. Schrader is also good with Asian dishes, hearty fish courses like tuna, salmon, mushrooms and pasta.
The white wine of Schrader is best served with all types of seafood and shellfish, sushi, sashimi, chicken, veal, pork and cheese.
Schrader Cellars Wine Tasting Notes
36 Vintages 177,051 Views Sort by Vintage-Rating
2014
Schrader Cellars Cabernet Sauvignon T6 Beckstoffer To Kalon Vineyard (Oakville)

Deeply colored, the wine is full-bodied, concentrated, opulent, sweet and rich. From the get-go, the layers of ripe, flamboyant, black, red and blue fruits deliver their essence along with copious amounts of licorice, chocolate, vanilla and spicy nuances on the nose and in the long, fruit-packed finish.

3,021 Views

Tasted

Jul 8, 2021

2013
Schrader Cellars Cabernet Sauvignon CCS Beckstoffer To-Kalon Vineyard (Oakville)

Speechless is one way of looking at it. Opaque in color, light might reflect off this wine, but it's not getting through. The intoxicating perfume is all about the truffle, smoke, black cherry liqueur, blue fruits and wet earth notes. The texture is polished velvet, with the weight of motor oil and a fruit filled finish that remains for more than 60 seconds. This is a benchmark style of Cabernet Sauvignon.

8,086 Views

Tasted

Jan 26, 2016

2013
Schrader Cellars Cabernet Sauvignon Colesworthy Beckstoffer Las Piedras Vineyard (St. Helena)

Off the hook, off the charts, either way you put it, this wine is insane. The black, purple colored juice stains your palate. The molten fruits are more than intense. The texture is polished, lush, velvety and sexy, yet there is an obvious beauty, balance and sense of purity to the wine, it's impossible not to be wishing you had some of this elixir in your cellar.

5,441 Views

Tasted

Jan 26, 2016

2013
Schrader Cellars Cabernet Sauvignon "Old Sparky" Beckstoffer To-Kalon Vineyard (Oakville)

The perfect blend of amazing power, elegance, restraint and a boatload of concentrated, perfectly ripe, silky textured fruits. The wine coats your mouth, teeth, gums and palate with flavor, and yet, the opulence never takes over its elegance. This is my style of Cabernet Sauvignon.

8,233 Views

Tasted

Jan 26, 2016

2013
Schrader Cellars Cabernet Sauvignon T6 Beckstoffer To-Kalon Vineyard (Oakville)

Just stunning in every sense of the word. Still inky dark in color, the wine is opulent, silky, sexy, lush and pure. Concentrated, balanced and energetic, the texture is polished velvet and the fruit tastes as good as it feels. It's a knockout wine! The last time I tasted this was in 2016 and I noted it could eventually hit triple digits. Today, I no longer wonder as this is so above and beyond, it deserves 100 Pts.

4,141 Views

Tasted

Aug 27, 2019

Opaque in color, the inky black, purple is something to marvel at. Pure silk and velvet, with stunning levels of concentration, opulence and length. On the palate, the wine reminds me of molten essence of fruit. This could hit triple digits in time. It's a knockout wine!

4,235 Views

Tasted

Jan 26, 2016

2013
Schrader Cellars Cabernet Sauvignon RBS Beckstoffer To-Kalon Vineyard (Oakville)

Packed and stacked with layers of dense, intense, incredibly ripe, black and fruits that manages to remain balanced, fresh, complex and exuberant. I like how this is showing today, but holding it for more softness and aromatic development is not going to be a problem either.

5,158 Views

Tasted

Nov 24, 2018

The second time I've had this stunner recently and it reminded why I liked it so much the first time. It offers great density of raw materials, a boat load of sweet, fat, pure fruits and silky tannins galore. This is a beauty!

6,109 Views

Tasted

Feb 19, 2016

Inky in color, thick, fat, rich, ripe, opulent and ostentatious, the wine serves up an incredible wealth of flashy, fleshy fruit, yet everything is in balance and harmony. The purity of fruit in the cassis and blackberry finish is almost off the charts!

6,626 Views

Tasted

Jan 26, 2016

2013
Schrader Cellars Cabernet Sauvignon Beckstoffer To-Kalon Vineyard (Oakville)

Filled with smoke, black cherry liqueur, underbrush, thyme and waves of ripe, juicy, fat fruits and freshness that leaves you wanting another pour before your glass has even been emptied. How they get this much balance and acidity in a wine with such high levels of sugar, ABV and ripeness is a mystery.

3,898 Views

Tasted

Jan 26, 2016

2013
Schrader Cellars Cabernet Sauvignon RBS Beckstoffer To Kalon Vineyard (Oakville)

Showing just great right out of the bottle, the wine is full-bodied, rich, opulent and lusciously textured. The perfectly ripe, black, red and blue fruits are vibrant, opulent, sweet and fresh, ending with black cherry liqueur, chocolate and licorice notes. While this is clearly on the ripe, powerful side, everything is in balance and harmony, making this quite easy to imbibe.

4,117 Views

Tasted

Jul 8, 2021

2013
Schrader Cellars Cabernet Sauvignon GIII Beckstoffer Georges III Vineyard (Rutherford)

2013 is the vintage to buy for Schrader. Every wine has been a stunner and this was no exception. Inky in color, concentrated, fleshy, flashy and full of ripe black and blue fruits, cherries, cocoa, smoke and licorice, the wine fills your palate and ends with a long, sensuous, fruit filled finish.

4,245 Views

Tasted

Feb 19, 2016

Good color, with licorice, espresso bean, truffle and sweet, ripe, black with blue fruit in the nose and on the silky, rich, fleshy palate.

2,750 Views

Tasted

Jan 26, 2016

2013
Schrader Cellars Cabernet Sauvignon LPV Beckstoffer Las Piedras Vineyard (Napa Valley)

Dark in hue, the wine is tight and needs coaxing to wake it up. On the palate the wine is lush, fat, ripe, deep, round and loaded with ripe, dark red and blue fruits.

5,067 Views

Tasted

Jan 26, 2016

2013
Boars' View Chardonnay (Sonoma Coast)

With more concentration, freshness and flavor than the 2012, the wine is lush, rich, ripe, sensuously textured and all about its fresh, sweet, buttery, floral, lemon zest, vanilla and pear profile.

1,718 Views

Tasted

Jan 26, 2016

2013
Boars' View Pinot Noir (Sonoma Coast)

Fresh, lusciously textured, sweet cherries, spice and a long, concentrated, juicy, ripe, red berry berry finish are found in this seductive charmer.

3,372 Views

Tasted

Jan 26, 2016

2012
Schrader Cellars Cabernet Sauvignon "Old Sparky" Beckstoffer To-Kalon Vineyard (Oakville)

My second time tasting this stunner. The striking color is inky, with deep purple and black accents. The wine shows off a mineral driven side, complicated by wet earth, cigar wrapper, dark chocolate and fresh boysenberries. Rich, concentrated, long and packed and stacked with layer after layer of sweet, ripe, dark fruits, the wine builds in intensity of flavor as the silky, velvet drenched fruits linger in the finish.

5,320 Views

Tasted

Jan 26, 2016

Stunning in every sense of the word! This is pure, liquid velvet that coats your mouth with layers of sweet, juicy, ripe, plush, fresh, vibrant fruit. The wine is rich, deep, concentrated and powerful, yet perfectly balanced, leaving you with a finish that lingers.

6,441 Views

Tasted

Feb 6, 2015

2012
Schrader Cellars Cabernet Sauvignon RBS Beckstoffer To-Kalon Vineyard (Oakville)

Mouthfilling, fleshy and flashy, with layers of opulently textured, sweet lush fruits, silky tannins and a long, ripe, black and blue fruit filled finish. While quite young, this is already a stylish treat to enjoy.

4,732 Views

Tasted

Feb 19, 2016

2012
Schrader Cellars Cabernet Sauvignon Colesworthy Beckstoffer Las Piedras Vineyard (St. Helena)

Strangely, this has more acidity and freshness, along with a lighter touch than the otherworldly 2013. While the wine has loads of deep, rich, sweet dark berries, the vibrant, chocolate covered boysenberry finish is the best part of the experience.

3,053 Views

Tasted

Jan 26, 2016

2012
Boars' View Chardonnay (Sonoma Coast)

Fresh, mineral driven, precise, medium/full bodied, citrus filled wine with a personality that delivers, honeysuckle, lemon peel, rocks and assorted yellow fruits and apple in abundance.

1,784 Views

Tasted

Feb 6, 2015

2011
Schrader Cellars Cabernet Sauvignon Beckstoffer To-Kalon Vineyard (Oakville)

Given the reputation of the difficult, 2011 vintage, I was not expecting a wine with this much richness, plush, ripe tannins and concentration, but that is what you get when you cull your yields down to 3/4 a ton per acre. The wine delivers a blast of sweet, black and blue fruits, licorice, espresso and chocolate covered berries in every sniff, swirl and sip.

2,621 Views

Tasted

Jul 31, 2015

2010
Schrader Cellars Cabernet Sauvignon "Old Sparky" Beckstoffer To-Kalon Vineyard (Oakville)

This is a rock star expression of California Cabernet Sauvignon. The show nose, with its fresh flowers, blackberry liqueur, blueberry, espresso, vanilla, licorice, lead pencil and spice was sublime. And that was not the best part of the experience which came once the layers of fat, opulent, velvet drenched, polished, pure sweet fruits hit you palate! The purity of fruit and silky textures really make this wine stand out.

3,830 Views

Tasted

Feb 6, 2016

2010
Schrader Cellars Cabernet Sauvignon GIII Beckstoffer Georges III Vineyard (Rutherford)

Lavishly oaked, with a blast of sweet, jammy, black cherries, licorice, vanilla and smoke, soft, smooth, sensuous textures and a long fruit finish.

2,383 Views

Tasted

Feb 19, 2016

2010
Schrader Cellars Cabernet Sauvignon T6 Beckstoffer To-Kalon Vineyard (Oakville)

While it lacks to concentration of the best years, the ample levels of ripe, round, sweet black and blue fruits is quite stylish. The textures are polished, round and sensuous, ending with ripe black cherries, chocolate covered coffee beans and jam

2,309 Views

Tasted

Feb 19, 2016

2009
Schrader Cellars Cabernet Sauvignon Beckstoffer To-Kalon Vineyard (Oakville)

Showy nose of black and blue fruit with smoke. licorice, toast, licorice and candied berries. Rich, fat and dense, but not overbearing. The fruit is lush, concentrated, sweet and fresh, with a long, fruit-filled flamboyant finish. Popped and poured, not sure it needs decanting. This is drinking great right now. If you have a bottle, why wait?

3,232 Views

Tasted

Apr 26, 2020

2009
Schrader Cellars Cabernet Sauvignon RBS Beckstoffer To-Kalon Vineyard (Oakville)

Polished, silky, lush and rich, with layers of ripe, sweet, juicy black and blue fruits, licorice, espresso, vanilla and smoke. Deeply colored, with fat, polished textures, this is showing well today.

4,123 Views

Tasted

Feb 19, 2016

2009
Schrader Cellars Cabernet Sauvignon T6 Beckstoffer To-Kalon Vineyard (Oakville)

Black cherry, licorice, jam, blue fruit and chocolate work well the massive, balanced wall of ripe chocolate covered fruit. Suave and sophisticated, this forward styled wine is already drinking well.

5,278 Views

Tasted

Dec 25, 2012

2008
Schrader Cellars Cabernet Sauvignon T6 Beckstoffer To-Kalon Vineyard (Oakville)

Powerful, concentrated and deeply colored, this wine offers intensity, purity and length There are no hard edges to be found, The wine takes over your palate with layers of ripe, sweet, black and blue fruits There is nothing timid with this wine. Yet, somehow, everything remains balanced. This is still young and vinbrant at ten years of age.

3,070 Views

Tasted

Feb 11, 2018

2008
Schrader Cellars Cabernet Sauvignon GIII Beckstoffer Georges III Vineyard (Rutherford)

Massive, palate staining and intense, scents of oak, licorice, smoke, jammy dark berries, incense and blueberry pop from the glass. There is a minor touch of heat in the dense, dark chocolate covered cherry finish.

3,142 Views

Tasted

Oct 24, 2012

2007
Schrader Cellars Cabernet Sauvignon "Old Sparky" Beckstoffer To-Kalon Vineyard (Oakville)

If the scale was adjusted for the occasional 101 Pt wine, 2007 Schrader Old Sparky would be a contender to hit that end of the scale! This benchmark California Cabernet Sauvignon kicks in with a floral, black cherry, blue fruit, earth, espresso, smoke and thyme perfume. When the wine hits your palate, that's where it really shines, due to its liqueur like, motor oil weight textures and silky, sensuous finish that goes on well past the 60 second mark. This is pure hedonism at its finest.

5,996 Views

Tasted

Jan 26, 2016

2007
Schrader Cellars Cabernet Sauvignon RBS Beckstoffer To-Kalon Vineyard (Oakville)

Inky in color, with dark purple accents, explosive scents of licorice, vanilla, black cherry, truffle, blueberry, jam, smoke and wet earth fill your glass. Powerful, full bodied and concentrated with massive layers of dense, ripe, sweet, black and blue fruits, this California, Cabernet Sauvignon coats your palate with flavor. Intense, yet balanced, packed and stacked, but not quite over the top, there is a lot going on in this stunning wine.

4,467 Views

Tasted

Feb 10, 2012

2007
Schrader Cellars Cabernet Sauvignon GIII Beckstoffer Georges III Vineyard (Rutherford)

A beautiful example of a lush, ripe, fat, sweet, rich, flamboyant, concentrated bottle of Cabernet Sauvignon that has entered its primetime drinking window.

3,860 Views

Tasted

Feb 19, 2016

2007
Schrader Cellars Cabernet Sauvignon Beckstoffer To-Kalon Vineyard (Oakville)

Developed and ready for primetime drinking with its flashy, mocha, black raspberry, floral, vanilla and coffee filled personality.

3,634 Views

Tasted

Feb 19, 2016

2006
Schrader Cellars Cabernet Sauvignon "Old Sparky" Beckstoffer To-Kalon Vineyard (Oakville)

Displaying secondary nuances at 10 years of age, the wine offers a smoke filled, cigar box, black and blue fruit, licorice and truffle aromatic profile. Fresh, silky, concentrated and rich, the wine is complete from start to finish.

4,516 Views

Tasted

Jan 26, 2016

2006
Schrader Cellars Cabernet Sauvignon RBS Beckstoffer To-Kalon Vineyard (Oakville)

Pitch black in color, with a pungent perfume packed with coffee, vanilla, blackberry jam and sweet, chocolate covered plums with hints of blueberries in the background. This is rich, fat, intense and packed and stacked with layers of dense, ripe dark berries and chocolate. This is a hedonistic style of California Cabernet Sauvignon.

7,699 Views

Tasted

Dec 23, 2011

2005
Schrader Cellars Cabernet Sauvignon CCS Beckstoffer To-Kalon Vineyard (Oakville)

Still holding on to its deep color, the wine is lush, fresh and opulent in character. The sweet boysenberries are dripping with dark chocolate, the cherries are more like cherry liqueur and the long, intense finish keeps on going. The wine does not seem to have aged a bit. The only minor drawback is the small touch of heat in the finish.

4,483 Views

Tasted

Jan 26, 2016

2005
Schrader Cellars Cabernet Sauvignon T6 Beckstoffer To-Kalon Vineyard (Oakville)

Rich, concentrated and lushly textured, it's easy to find the multiple layers of sweet, juicy, ripe, black raspberries, smoke, licorice, coffee bean and jam.

3,460 Views

Tasted

Feb 19, 2016

2004
Schrader Cellars Cabernet Sauvignon RBS Beckstoffer To-Kalon Vineyard (Oakville)

Rich, lush, opulently styled wine, with a blast of licorice, blackberry, jam, dark chocolate and smoke that is truly delivering the goods today.

3,138 Views

Tasted

Feb 19, 2016

2001
Schrader Cellars Cabernet Sauvignon RBS Beckstoffer To-Kalon Vineyard (Oakville)

Finesse style of Cabernet Sauvignon, with a floral, black cherry, smoke, licorice and cocoa character. There is no reason to age this supple wine any longer.

3,296 Views

Tasted

Feb 19, 2016

The endless layers of deep, rich, ripe, plush black and blue fruit along with the fat, silky textures grabbed your attention and kept it there. This is drinking perfect today.

2,636 Views

Tasted

Apr 15, 2006

1999
Schrader Cellars Cabernet Sauvignon Upper Block Gaudeamus Vineyard (Napa Valley)

From a magnum, this lighter styled Schrader was medium bodied, mature and served up its sweet, fresh, bright, dark red cherry and earthy profile, with ease. This is not a wine that needs decanting or further aging.

2,331 Views

Tasted

Nov 17, 2017