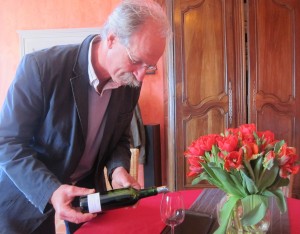 2010 Chateau Lafleur Bordeaux wine reviews, ratings and tasting notes.
2010 Lafleur  set a record for this legendary Pomerol Bordeaux wine when they blended 62% Cabernet Franc 38% Merlot, 14% alcohol, same as 2009 this is the highest concentration of Cabernet Franc ever used at Lafleur. For those that like to compare, in 2009, the wine was produced from 53% Cabernet Franc and 47% Merlot.
The owner, Jacques Guinaudeau said, "They used more Cabernet Franc at Chateau Lafleur in 2010 to remain a Bordeaux wine, as it offers better balance." He added, "At Lafleur, we focus on ripeness and the textures of tannins, We strive to achieve elegance, balance and purity." That's three good things in my book.
2010 Lafleur  A cornucopia of fragrances pop from the glass, cherry blossoms, sweet black raspberry, earth, truffle, forest floor, leaves and plum liqueur are found in abundance.  Intense and concentrated, the wine pairs power and purity ending with a long, fresh, ripe sweet red and black fruit finish. With its unique texture, this is the essence of Pomerol. 97-100 Pts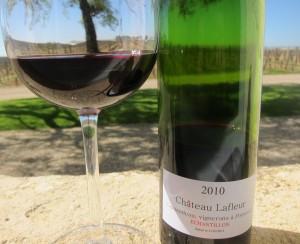 2010 Pensees de Lafleur is produced from 65% Merlot and 35% Cabernet Franc. Pensees de Lafleur comes from a selection of terroir, not young vines.  Aside from a shorter maceration time, the wine is produced with the same care that is received by Lafleur. The wine shows truffle, black cherry liqueur and minerality that couples with soft textures  ending with black cherries 90-92 Pts