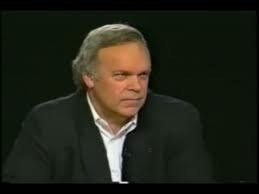 If you would like to comment or discuss Robert Parker Quits California or others articles, or any wine related issue, please visit our new Wine Talk Forums 
Robert Parker Robert Parker Quits California! Robert Parker announced he was handing over the responsibility of reviewing California wine to Antonio Galloni, February 5, 2011. Robert Parker issued his final review of young California wines as promised, February 28.
How did a simple lawyer from Monkton Maryland become the world's most important critic?
Before Bob, the wine buying world was different than it was today. There was no single trusted voice.  The famous wine writers prior to Parker, (who were mostly British,)  were involved in buying and selling wine. It could easily be argued they had a vested interest.  In America, the situation was worse.  Enter Robert Parker.
Bob started out in 1978 with a self published journal called the Baltimore-Washington Wine Advocate. His inspiration came from his passion for wine. His wine epiphany came when he was in France with his girlfriend Pat. He tasted a French wine and like many of us, he wanted to know more.  Parker went to school for his law degree. But for wine, he was self taught. He was obsessed in learning everything possible about wine.  He tasted every wine he could, joined tasting groups and read all the books he could find. He started traveling to France just to taste wine.  What best describes Bob is, he was not only interested in visiting the top chateaux, if he heard about a small wine that was rumored to be great, he tracked it down so he could taste it too! 
Bob married Pat and as we all know, he stuck with wine too. Eventually, Parker, who was a lawyer at the time, was not happy with the bad wines being made that were sold to consumers on the strength of being a famous brand.  It's important to remember that there was no real trusted voice in America at the time. 
1982 Bordeaux Wine
Parker was doing moderately well with the Wine Advocate. But he was not making money. Success is a blend of hard work and luck. Bob had both. His first break came after being offered the job as the wine writer for The Washington Post. This helped him gain subscribers. His second break was the now legendary 1982 Bordeaux wine vintage.
In 1983, America did not have a dominant voice writing about wine.  Before Bob, there was Robert Balzer, Robert Finigan and Terry Robards. Balzer worked from the west coast. Finigan published his own newsletter and Robards covered Bordeaux for The Wine Spectator, which started one year after Bob founded his journal.
Prior to the 1982 Bordeaux wine vintage, the Bordeaux wine trade was different than it is today.There was no organized en premier tastings in April. Interested tasters booked appointments to taste at a time when it was convenient to be in Bordeaux. Or for the top British merchants, some negociants bought samples to London.  Few American writers traveled to Bordeaux to barrel taste. The reason was, there was no demand by American's to buy futures. With that in mind, why would anyone travel to France to taste and write about wines few people were interested in buying or reading about?   If people were not going to buy futures, of course there was little need for anyone to write them. The 1982 vintage changed the entire game and Parker was ready.
Buy, buy buy!!!
Horace Greely a famed newspaper man in the 19th century commented "When the legend becomes the fact, print the legend."  Some people think Parker claims he was the sole writer that saw the greatness of the 1982 vintage.  Parker does not make that claim. Bob and others are fully aware that several people, mostly Europeans, were also enthralled with the vintage.  The legendary professor Emilie Peynaud and Michel Bettane raved about the wines.  Bettane is France's most important and famous wine writer critic was interestingly born not far from Bob in Baltimore.  There must have been something in the water at the time for that to occur.  However, things were different in America.  In his newsletter, Finigan wrote that he did not like the wines saying, "They were too alcoholic and oafish for his palate." In Parker's Wine Advocate he took a different view telling everyone to "BUY!"
The dollar was strong and the wines were great. Parker devoted most of his report to 82 Bordeaux repeating his advice to buy, time and time again. Bob commented on the high alcohol levels for the vintage. I bet even he would not have believed what we are seeing with 2009 and now 2010! But that's a topic for another day.
At The Wine Spectator, Terry Robards recommended readers spend their money on 78, 79 and 81. Several months later, Parker returned to Bordeaux to re taste the wines.  He was even hotter for the vintage, writing, it's not a question of whether to buy, but when to buy. Parker advised his readers that the vintage would jump as much as 70%!   Roads wrote a follow up article calling the wines flabby. Finigan continued insisting while some wines were OK, 1982 was not a vintage of the century.
We all know how 1982 turned out. This was the beginning of Parker's to fame.  Retailers wanted to sell wine. They began promoting Bob's calls on 1982. The chateaux heard about it as well and they began raising prices, quoting his notes. There was no turning back now. Bob was on his way up, while the other American writers were on the way out.
The birth of the 100 Pt system
The next big event that propelled Bob was his use of the 100 Pt system.  Bob used his scores in his journal. With few exceptions, the merchants quoting his scores to sell wine were far and few between. To help sell the 82 campaign, his scores were now being quoted in ads all over the place. Merchants took out ads with the line, "Parker's Picks."  The wines sold like hot cakes! Suddenly America was a major player in the Bordeaux futures game and Bob was the official crowned prince. 
The widespread usage of the 100 Pt system causes severe consternation to some wine consumers.  It makes others happy. It remains one of the hot debate issues on the Internet. Why? That's the million dollar question and there is no million dollar answer.  When any critic scores a wine, they are offering their opinion on that specific wine vis a vis its peers.  Scoring wine does not reduce wine to a level of scientific certainty. Scores do not dictate taste. 
Scores are intended to let readers known that in a specific peer group, the wine scoring 96 Pts is slightly better than the wine that earned 95 Pts. Regardless of your opinion on the value of the 100 Pt system, the world wide adoption of the system was the final shot propelling Parker into the spotlight. By 1983, the 100 Pt system was in place and so was Parker.  The Parker affect on wine prices was also starting to happen. 
When Bob started using the 100 Pt scoring system, he had no idea it would eventually turn out the way it did.  It was considered so insignificant, he did not even mention it until the second page.  At the time Parker starting using, few writers, especially in America were scoring wines. They preferred using puffs of smoke or stars. Even the British writers held back scoring wines. The 20 Pt system, which is used by many European writers was reserved for important tastings.
Parker remains enamored by California wine.  His love for the region was sparked by a $4 bottle of 1970 Parducci Cabernet Sauvignon.  He covered California wines in the debut issue of The Wine Advocate in 1978.  He's been writing about the regions wines for the past 4 decades.
Was the Parker effect good for the development of the California wine industry?
Yes.  If only it was that simple.  Before Bob began writing about California wine, there were some producers making outstanding California wine.  Note the word "some." Today, hundreds of strong wines are being produced in the golden state. The wines are produced in a myriad of styles, from rich, ripe, bold and  concentrated, to fruit bombs, and wines displaying higher levels of acidity and freshness.  It's popular with some people to contend that Parker dictates the styles of wine being made in California.  It's not true. This is evidenced by the myriad of styles available to consumers.  I'm not a fan of some wines Parker raves about.  Some wines that received high scores from Bob taste over oaked, jammy and hot to me. I would never buy them.  Others love them.  It all comes down to personal taste. At the end of the day, there are more than enough wines being produced in a divergent array of styles to please the majority of people.
What about the dark side?
The dark side of Parker's praise is spiraling prices.  Such is life. I do not like it. I remember buying Harlan at $60 and thinking it was expensive at the time.  Those were in the days when 1989 Haut Brion, 1990 Margaux and 1990 Cheval Blanc were available at retail for $100.  It's unfair to place the blame for high prices on Bob.  Quality comes at a price. There will always be a demand at the top end from wealthy people for the best in life.  If I cannot afford the best, (and with wines like Screaming Eagle I can't,) I'm happy to buy something else.
I will miss his reviews. At their best, they excite wine lovers to try something new. Bob is able to convey his passion for a wine like no other writer. When Parker raves about a wine with unbridled enthusiasm, his words make you want to experience it as well.  A big part of a wine critic's job is to separate the wheat from the chaff, informing consumers on what wines are better than other wines.  The other important part of the job is letting readers know about the unique sensory experiences some wines offer.
Parker's prose has enticed two generations of wine consumers to try, taste and buy wines from one of the world's most exciting wine regions.  Thanks to his writings, the level of quality found in California wine has never been better.  While some outstanding wines were made before Parker, the number of great California wines being produced today has never been higher.
The ultimate wine geek
After more than 30 years as a wine writer, he remains enthusiastic about wine.  He's not jaded.  His face lights up when he tastes something he likes and he's equally happy when his friends enjoy a wine as well.  The best thing about tasting, eating and drinking with Bob is getting to know him and discovering he is no different than you or I. When you get down to it, Parker is the ultimate wine geek.  Bob left the playing field on a high note.
Parker is not giving up writing about California wine. His focus on the region has shifted to covering mature vintages.  Antonio Galloni has some big shoes to fill. We wish him the best of luck on his new responsibilities and look forward to his take on California wines.