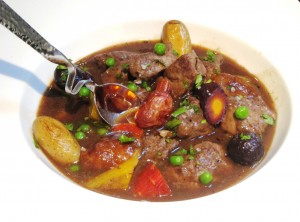 Having fun in the kitchen, cooking together and sharing Bordeaux wine, is a great way to get to know someone special. Whether you are already in a relationship, or you're in that special, exciting state of "starting to fall for each other," the kitchen is the perfect place to discover how well you work together.
Cooking is about fun and a willingness to try something new. At least that's how it is in my kitchen. I strive to create flavorful dishes offering intensity, purity and a good canvas for wine pairing. Lamb and Bordeaux wine have worked well together for centuries. Lamb and Cote Rotie are equally successful, especially when it Guigal La Turque! The richness of the lamb feels more luxurious when paired with the right wine. In this case, we opened L'Evangile . Lamb Stew can be a decadently, rich, tactile dish. At its best, there is a sauce that demands crusty French bread to sop up the remaining sauce.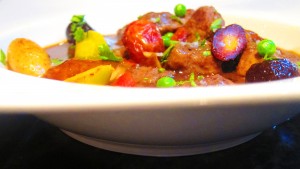 Winter root vegetables, with their crunch, sweet, earthy flavors and vibrant array of colors aids the experience. Add a Rhone wine or two, good friends and someone special that's seated next to you and voila, you have a perfect recipe for creating memories to savor. Isn't having experiences you want to remember a good part of what life's all about?