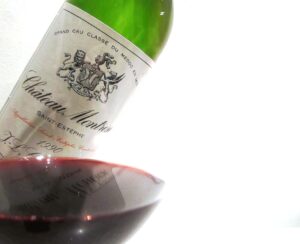 Since the day this
Bordeaux
wine was released, I have always felt 1989
Montrose
the better wine of the dynamic duo.  21 years after the 1990 Montrose was made, my view has suddenly changed.
1990 Chateau Montrose remains a deep ruby color. An intoxicating perfume of smoked meat, tobacco, blackberry, barnyard, gritty earth, spice and cassis pops from the wine as it spills into your glass.  This wine is powerful, dense and masculine, as well as refined. There are no hard edges to be found. Layers of flavor float all over your palate, teeth and gums.  This stunning wine ends with a long, pure, clean cassis, blackberry and spice sensation that seems to last for close to 50 seconds. The wine continued improving in the glass for several hours.
The problem with this wine has been the massive wall of tannin and amount of brett many bottles have displayed. This example was a very clean wine. As you can see from my comments, the tannins have integrated into this
St. Estephe
wine.
While secondary aromas are clearly developed, this is only now starting to become civilized. As good as this bottle is today, it will be better with 10-20 or even 30 more years of bottle age.  99 Pts
.
1989  Chateau Montrose –  Tobacco, truffle, cassis, wet earth and BBQ aromas reveal themselves without much effort.  Full bodied, dense and filled with blackberry, cassis and earthy flavors, this mouth filling wine coats your palate with layers of rich, ripe, roasted, spicy black fruit. Tobacco, truffle, cassis, wet earth and BBQ aromas reveal themselves without much effort.  This
Medoc
wine is full bodied, dense and filled with blackberry, cassis and earthy flavors, this mouth filling wine coats your palate with layers of rich, ripe, roasted, spicy black fruit. Still young and fresh, this beautiful example of Montrose that perfectly pairs power with elegance will evolve for decades.   97 Pts