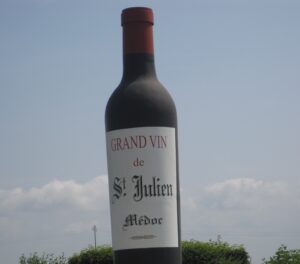 The 2009 St. Julien vintage is the best year for the appellation since 2000. The wines are outstanding across the board with power, balance, freshness and complexity.  There are values from the region worth buying at all price levels. For other wines, even though the quality is there with the 2009 St. Julien Vintage, they are over priced for the market.
2009 Beychevelle offers spice, cedar, cassis, oak and black raspberry aromas.  Full bodied, soft tannins and freshness, the wine ends with a fresh, dark berry finish. Beychevelle is one of the few non First Growths that is popular in the Asian market. In part, this is due to the wines logo. The image shows a boat that was used to ferry barrels of Bordeaux.  In China, the boat is called a Dragon boat, which is a symbol of good luck.  June 16, 2010 marked the official date of the Dragon Boat festival in China.  It is possible that was the same day 2009 Beychevelle was offered for sale as a future.  90/92 Pts
2009 Branaire Ducru is dark in color with fresh scents of boysenberry, dark chocolate, spice, cassis and mocha.  This elegant Bordeaux wine feels round in the mouth, finishing with flavors of licorice, black and blue fruit and spice. This is a polished style of St. Julien.  This outstanding wine is probably not going to reach the same level as the sublime 2005. That being said, 2009 Branaire Ducru is one of the better values for serious wine in 2009.  93-95 Pts
2009 Ducru Beaucaillou is midnight black with deep purple accents. Filled with fresh dark berry aromas, cassis, spice and ground espresso beans, this full bodied, lush, intense Bordeaux wine fills your mouth and coats your palate with dense layers of fat, juicy berries, dark chocolate, licorice and spice sensations.  95-97 Pts
2009 Croix de Beaucaillou is not considered a second wine the estate. Due to the fact that the fruit sources are from different parcels than those used to create Ducru Beaucaillou.  With aromatics of spicy dark fruit, round textures and a cassis with chocolate finish, this should offer ample pleasure shortly after release.  89-91 Pts
2009 Clos du Marquis, in a continuing theme is another wine that is probably the example ever produced by the property. Deep ruby in color, soft textures, cassis, fennel and fresh strawberry flavors round out the wine.  90-92 Pts
2009 Gloria offers earth, berries and fennel in the nose. This medium bodied, elegantly textured St. Julien should drink well early. 89-91 Pts
2009 Gruaud Larose is deep ruby in color.  Cassis, coffee and earthy aromas are easy to spot. This full bodied, structured wine ends with sweet black raspberry finish. This is the best Bordeaux wine from the property since the 2000. 92-93 Pts
2009 Leoville Las Cases from a blend of 76% Cabernet Sauvignon, 15% Merlot and 9% Cabernet Franc at 13.8 ABV is deep ruby in color with purple accents. There is no sensation of heat from the alcohol. Boysenberry, tobacco, minerality, earth, cedar and blackberry jam scents pop from the glass. This is very concentrated with an essence of purity.  The structured wine is round and without a single hard edge. The intense finish includes chocolate, boysenberry, blackberry and blue fruit. This Bordeaux wine remains on your palate for over :60!  2009 was the first vintage using the Optical Sorting Machine.  97/99 Pts 
In a discussion with Delon, he said reverse osmosis was not utilized every year. The method is only used in select vintages. 
2009 Clos du Marquis, in a continuing theme is another wine that is probably the example ever produced by the property. Deep ruby in color, soft textures, cassis, fennel and fresh strawberry flavors round out the wine.  90-92 Pts
2009 Le Petit Lion with its tobacco, cassis and berry scents offers a pleasant mouthful of fresh dark fruit and cherries. 88/89 Pts
2009 Leoville Poyferre, according to Didier Cuvelier owes some the quality for 2009 to changes at the winery. To obtain more precision in the vinification, Didier exchanged 20, 200 hectoliter vats for 40 stainless steel vats ranging in size from 40 HE to 160 HE. 
This Bordeaux wine is black with purple tints and springs forth with potent aromatics of blackberry, black raspberry, cassis, licorice, sweet oak and minerality. The style of the wine is fat, rich, sweet and sexy, with a plush mouth feel that ends with long, pure, ripe, spicy, black fruit notes. Didier compares 2009 with his 1982.  96-98 Pts.
2009 St. Pierre continues its path of improvement since 2005. Because the property is not as well known as many St. Julien wines, the wine remains well priced for its quality.  In fact, along with Branaire Ducru, it offers one of the better deals for fine wine from the Medoc in 2009.   With deep ruby hues, the wine smells of fresh picked dark berries, cassis, anise, cracked black pepper and oak.  Rich, fresh and round, this full bodied wine finishes with lush cassis, boysenberry, spice and chocolate flavors.  94-95 Pts.  
2009 Talbot is earthy, offering licorice covered, dark berries with soft opulent textures and a sweet, cassis and spicy, fennel filled finish. 90-92 Pts